The show's run may have been cut short due to Netflix opting not to continue on with their Marvel-themed shows, but Frank Castle is still getting a set of trading cards. 2020 Upper Deck Punisher Season 1 follows in the footsteps of previous sets for Daredevil and The Defenders with a mix of autographs and a variety of insert styles.
Hobby boxes, which come with 15 packs, promise either an autograph or sketch card. There's also a premium insert in the form of either a manufactured patch or metal card.

2020 Upper Deck Punisher Season 1 Overview
After spinning out of Daredevil, the first season of The Punisher follows Frank Castle (played by Jon Bernthal) as he seeks revenge for his family's murder all the while diving deeper into crime and conspiracy.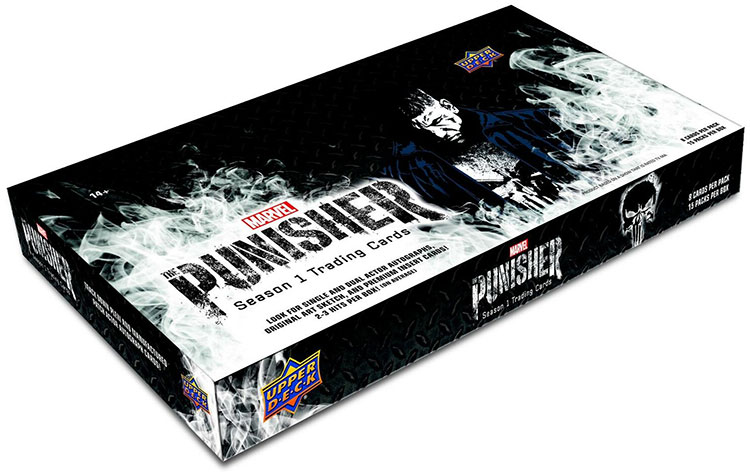 Like Upper Deck's other Marvel Cinematic Universe sets, which The Punisher is a part of, autographs play a key role. Actor signatures come in a few different forms. For the Corps, which have both single- and dual-signed versions. Select cards also have plexiglass versions.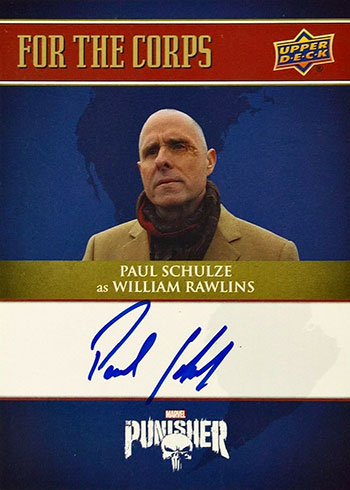 Patch-Work takes a couple of approached to manufactured patches. Some work as standalone cards. Others are puzzles targeting set builders that go together to form a large patch. Some also have autographs.
Gun Metal Grey is another place that present an added challenge with some cards being more common than others. Short prints and SSP cards bring another layer of rarity to the cards.
A handful of other insert sets combine with parallels to land one per pack.
Episodic Art offers a different look at the show. Artist Tim Bradstreet lent his signature to select cards. These have 99 copies each.
2020 Upper Deck Punisher Season 1 isn't exclusively about the TV show. Castle Crash Course delves into key moments from the character's comic book adventures.
Additional inserts include Cerberus, Memento Mori, Micro Tech and Spec Ops.
2020 Upper Deck Punisher Season 1 trading cards at a glance:
Cards per pack: 8
Packs per box: 15
Boxes per case: 12
Set size: 100 cards
Release date: April 22, 2020
What to expect in a hobby box:
Autographs or Sketch Cards – 1
Gun Metal or Manufactured Patch Cards – 1
Additional Inserts and Parallels – 15 Total
2020 Upper Deck Punisher Season 1 Checklist
Base
Base Set Checklist
100 cards.
Parallels:
Agent Orange – (#1-50 – 1:4 hobby, 1:4 e-Pack; SP #51-85 – 1:15 hobby, 1:15 e-Pack; SSP #86-100 – 1:60 hobby, 1:60 e-Pack)
1 Unfinished Business
2 Hey Sleepyhead
3 Pete Castigilione
4 Ahmed Zubair
5 Mind Your Own Business
6 The Perfect Crime
7 Hell Broke Luce
8 Do What You Have To
9 It's Nonsense
10 Hipster
11 A Wolf in Sheep's Clothing
12 Two Dead Men
13 Hammer and Anvil
14 David Lieberman
15 The Promotion
16 Frank
17 This Is a Mistake!
18 Personal Delivery
19 Dogs of War
20 Betrayed
21 Unmarked Grave
22 I'm Sorry, Frank
23 Ambushed
24 One Condition
25 Procurement
26 An Old Friend
27 A Good Night's Sleep
28 Insurance Paperwork
29 Toe the Line
30 Application Denied
31 Game of Chicken
32 Another Work Day
33 A Home Cooked Meal
34 Old Cases and a Dead Man
35 Not Gonna Lie
36 Where Does It End?
37 Skeletons in the Closet
38 I Just Want to Talk
39 Tough Day
40 Thanksgiving Dinner
41 A Losing Battle
42 Memory of a Dead Man
43 Thank You For Your Service
44 Chu Lai Airbase
45 Blackbird Calling Raven
46 Misery Loves Company
47 More Than Something
48 The Third Wheel
49 A Matter of Duty
50 IED
51 Early Retirement
52 Bug Hunt
53 Safe House
54 Cross Hairs
55 Bill Rawlins
56 No Signal
57 Coal, Iron and Steel
58 Guitars and Love Stories
59 A Lesson in Discipline
60 A Sprung Trap
61 Go Long
62 Chasing Ghosts
63 The Ricky Langtry Show
64 Sic Semper Tyrannis
65 Doing the Right Thing
66 A Target On Your Back
67 17 Funerals
68 Front Towards Enemy
69 The Punisher Lives
70 Reflections and Recollections
71 Shows Over
72 Home Soil
73 Stand Off
74 Dead Man's Switch
75 Virtue of the Victorious
76 A Day to Remember
77 Heads Down, Mouths Shut
78 Lawyers are for the Guilty
79 Castle Tip Line
80 It Ends Tonight
81 A Matter Integrity
82 Family Reunion
83 Infiltration
84 Countdown
85 Confession
86 Prisoner Exchange
87 Crossfire
88 New Gloves
89 Honor and Loyalty
90 It's Done
91 Come Home, Frank
92 Betrayal
93 Penthouse Pauper
94 A New Start
95 Morning Coffee
96 Painted Ponies
97 Billy the Kid
98 Merry-Go-Round
99 A Broken Man
100 Home Sweet Home
Autographs
2020 Upper Deck Punisher Season 1 Autographs Checklists
Episodic Art Autographs Checklist
14 cards.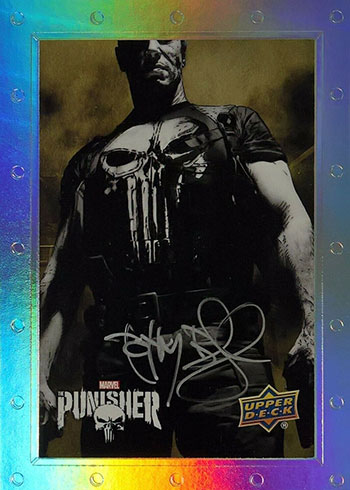 EA-1 3 AM /99
EA-2 Two Dead Men /99
EA-3 Kandahar /99
EA-4 Resupply /99
EA-5 Gunner /99
EA-6 The Judas Goat /99
EA-7 Crosshairs /99
EA-8 Cold Steel /99
EA-9 Fron Toward Enemy /99
EA-10 Virtue of the Vicious /99
EA-11 Danger Close /99
EA-12 Home /99
EA-13 Memento Mori /99
EA-14 Season 1 Recap /99
For the Corps Autographs Checklist
10 cards.
1:26 hobby, 1:26 e-Pack.
Group A – 1:1,471, Group B – 1:892, Group C – 1:213, Group D – 1:31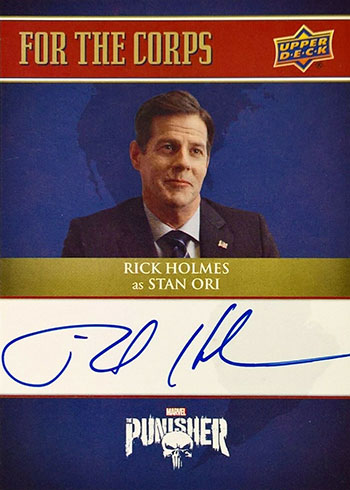 FTC-EM Ebon Moss-Bachrach C
FTC-JB Jon Bernthal B
FTC-JM Jordan Mahome D
FTC-JN Jaime Ray Newman D
FTC-KF Kobi Frumer D
FTC-ME Ebon Moss-Bachrach C
FTC-MN Michael Nathanson D
FTC-PR Jon Bernthal A
FTC-PS Paul Schulze D
FTC-RH Rick Holmes D
For the Corps Autographs Variations Checklist
8 cards.
1:240 hobby, 1:240 e-Pack.
Group A – 1:9,984, Group B – 1:4,279, Group C – 1:632, Group D – 1:444
FCV-EM Ebon Moss-Bachrach C
FCV-JB Jon Bernthal A
FCV-JM Jordan Mahome D
FCV-JR Jaime Ray Newman D
FCV-KF Kobi Frumer B
FCV-MN Michael Nathanson C
FCV-PS Paul Schulze C
FCV-RH Rick Holmes D
For the Corps Dual Autographs Checklist
3 cards.
1:460 hobby, 1:460 e-Pack.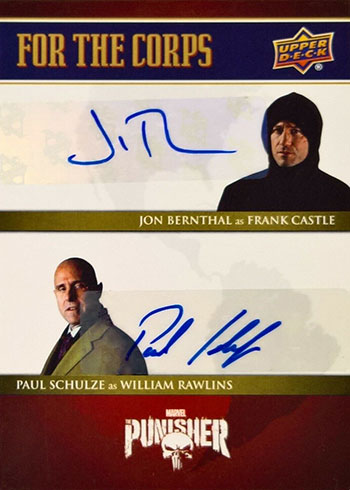 FTC-FW Paul Schulze, Jon Bernthal
FTC-JE Jon Bernthal, Ebon Moss-Bachrach
FTC-KE Ebon Moss-Bachrach, Kobi Frumer
For the Corps Plexiglass Autographs Checklist
9 cards.
FTP-EM Ebon Moss-Bachrach /50
FTP-JB Jon Bernthal /50
FTP-JM Jordan Mahome /50
FTP-KF Kobi Frumer /50
FTP-ME Ebon Moss-Bachrach /50
FTP-MN Michael Nathanson /50
FTP-PS Paul Schulze /50
FTP-RH Rick Holmes /50
FTP-SS Michael Nathanson /50
Patch-Work Autographs Checklist
4 cards.
PW-EM Ebon Moss-Bachrach /10
PW-JB Jon Bernthal /10
PW-PS Paul Schulze /10
PW-RH Rick Holmes /10
Inserts
2020 Upper Deck Punisher Season 1 Inserts Checklists
Castle Crash Course Checklist
17 cards.
1:9 hobby, 1:9 e-Pack.
CC-1 Punisher War Journal #1
CC-2 The Punisher #1
CC-3 The Punisher #2
CC-4 The Punisher #3
CC-5 The Punisher #4
CC-6 The Punisher #5
CC-7 Punisher #4 (1987)
CC-8 The Punisher: Year One #4
CC-9 The Amazing Spider-Man #129
CC-10 The Punisher #1 (2000)
CC-11 The Punisher: Year One #1
CC-12 Civil War: Punisher War Journal #1
CC-13 The Punisher: Year One #3
CC-14 The Amazing Spider-Man Annual #15
CC-15 The Punisher #10
CC-16 Marvel Preview #2
CC-17 The Punisher #1
Cerberus Checklist
10 cards.
1:7.5 hobby, 1:7.5 e-Pack.
C-1 Frank Castle, Billy Russo, William Rawlins
C-2 Dinah Madani, Sam Stein, Rafael Hernandez
C-3 Curtis Hoyle, Lewis Wilson, Frank Castle
C-4 Frank Castle, David Lieberman, Sarah Lieberman
C-5 Sarah Lieberman, Zach Lieberman, Leo Lieberman
C-6 Maria Castle, Billy Russo, Frank Castle
C-7 Maria Castle, Frank Castle Jr., Lisa Castle
C-8 Ray Schoonover, Frank Castle, Karen Page
C-9 Puniser, Billy Russo, William Rawlins
C-10 Micro, Carson Wolf, Punisher
Episodic Art Checklist
14 cards.
1:11 hobby, 1:11 e-Pack.
EA-1 3 AM
EA-2 Two Dead Men
EA-3 Kandahar
EA-4 Resupply
EA-5 Gunner
EA-6 The Judas Goat
EA-7 Crosshairs
EA-8 Cold Steel
EA-9 Fron Toward Enemy
EA-10 Virtue of the Vicious
EA-11 Danger Close
EA-12 Home
EA-13 Memento Mori
EA-14 Season 1 Recap
Gun Metal Grey Checklist
15 cards.
1:90 hobby, 1:90 e-Pack.
SP (#GG-9 to GG-13) – 1:210 hobby, 1:210 e-Pack.
SSP (#GG-14 to GG-15) – 1:1,080 hobby, 1:1,080 e-Pack.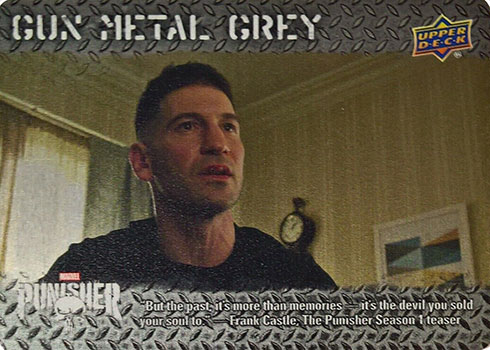 GG-1 Punisher
GG-2 Support Group
GG-3 Truth
GG-4 Torture
GG-5 Beats
GG-6 Better off
GG-7 Care
GG-8 Kill
GG-9 Sold Your Soul SP
GG-10 Ruined It SP
GG-11 Same SP
GG-12 Latin SP
GG-13 Hope SP
GG-14 Remember SSP
GG-15 Admit it SSP
Memento Mori Checklist
10 cards.
1:7.5 hobby, 1:7.5 e-Pack.
MM-1 Frank Castle
MM-2 Dinah Madani
MM-3 David Lieberman
MM-4 Billy Russo
MM-5 Sarah Lieberman
MM-6 Lewis Wilson
MM-7 Sam Stein
MM-8 William Rawlins
MM-9 Curtis Hoyle
MM-10 Karen Page
Micro Tech Checklist
12 cards.
1:6.25 hobby, 1:6.25 e-Pack.
MT-1 CCTV
MT-2 Diner Phone
MT-3 DVD
MT-4 Computer
MT-5 Cellphone
MT-6 Micros Base
MT-7 Retina Scan
MT-8 Password
MT-9 Hacking
MT-10 Radio Jammer
MT-11 Drone
MT-12 Radio Scanner
Patch-Work Puzzles Manufactured Patch Checklist
15 cards.
1:20 hobby, 1:20 e-Pack.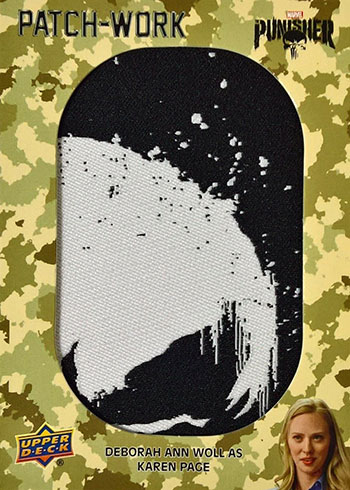 PWP1 Frank Castle
PWP2 Gunner Henderson
PWP3 Billy Russo
PWP4 William Rawlins
PWP5 Ray Schoonover
PWP6 Morty Bennett
PWP7 Micro
PWP8 Dinah Madani
PWP9 Sam Stein
PWP10 Curtis Hoyle
PWP11 Lewis Wilson
PWP12 Sarah Lieberman
PWP13 Karen Page
PWP14 Turk Barrett
PWP15 Rafael Hernandez
Patch-Work Singles Manufactured Patch Cards Checklist
12 cards.
1:75 hobby, 1:75 e-Pack.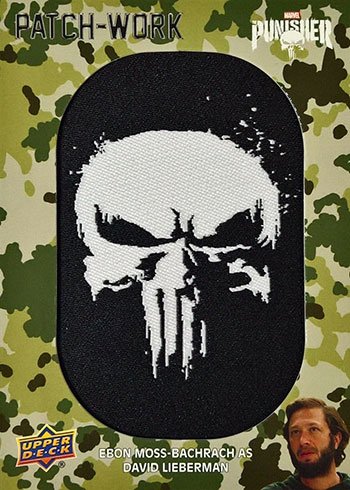 PW1 Frank Castle
PW2 Punisher
PW3 Billy Russo
PW4 David Lieberman
PW5 Lewis Wilson
PW6 Curtis Hoyle
PW7 Sam Stein
PW8 Karen Page
PW9 Dinah Madani
PW10 Ray Schoonover
PW11 Brett Mahoney
PW12 Carson Wolf
Sketch Cards Checklist
45 artists.
1:60 hobby, 1:60 e-Pack.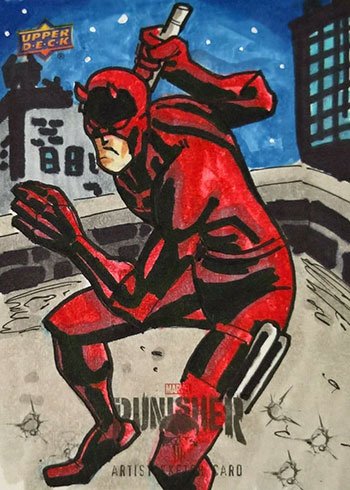 Irma Suriani Ahmed
Keith Akers
Mitch Ballard
Andy Carreon
Peejay Catacutan
Alvin Cleofas
Dan Curto
Ed Mark F. dela Cruz
Charles Drake
Robert Duque
Mason Easley
Sean Forney
Eric Fournier
Ulisses Gabriel
Timothy Geathers
GetAtom
Abdul Ghofur
Mick and Matt Glebe
Rich Hennemann
David Hindelang
Apri Kusbiantoro
Cleber Lima
Daniel Logan
Matthew Lopez
Jim O'Riley
Othell
Chris Papantoniou
Gener Pedrina
Darrin Pepe
Ian Quirante
Raymundo Racho
Giovanni Ricco
Ivan Rodriguez
Jezreel Rojales
Ernest Romero
Erwin Ropa
Mike J. Sealie
JoJo Seames
Bryan "SilverBaX" Sheppard
Jason Sobol
Omar Soto
Bryan Tillman
Huy Truong
Luke Welch
Myles Wohl
Spec Ops Checklist
5 cards.
1:30 hobby, 1:30 e-Pack.
SO-1 Kandahar
SO-2 Resupply
SO-3 Crosshairs
SO-4 Fron Toward Enemy
SO-5 Danger Close