2020 is going to be a year where politics are everywhere — more so than normal. But that's what happens when you're in an election year. Trading cards are getting in on the action including 2020 Upper Deck Presidential Weekly, a set exclusive to the company's online e-Pack platform.
Much like the lead-up to the election, the set will slowly roll out with a new mix of cards releasing every Tuesday. Each week brings a new base card featuring a U.S. President. Only one base card is available each week so building a full set will take the full 45 weeks.
White (/99) and Blue (/45) parallels are randomly inserted.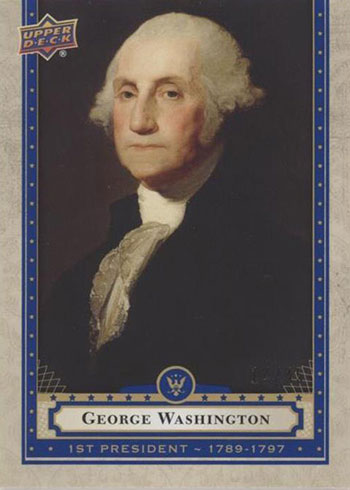 Packs also have a digital Predictor Winners State card. After the election in November, those who redeem a full set of state cards won by the winning presidential hopeful get a special 2020 Winner Achievement card.
During the first six weeks that 2020 Upper Deck Presidential Weekly is available, there are also bonus World of Politics cards. These short prints highlight different primary candidates. Packs with these have two physical cards instead of just one.
Achievement Cards
There are additional rewards for building the full base set and it parallels. Those who complete the 45-card set through e-Pack can choose to redeem it for a Presidential Campaign Relic Achievement card. The 13-card set features original campaign pins.
A 2020 Winner Vice President Achievement is available to those with a full set of White parallels. A Blue version of the Vice President card is the base Blue achievement.
2020 Upper Deck Presidential Weekly packs release every Tuesday at 9 AM PST. There's a limit of 499 packs each week.
2020 Upper Deck Presidential Weekly trading cards at a glance:
Cards per pack: 1 physical, 1 digital
Set size: 45 cards
Release date: January 7, 2020
2020 Upper Deck Presidential Weekly Checklist
Base
Base Set Checklist
45 cards.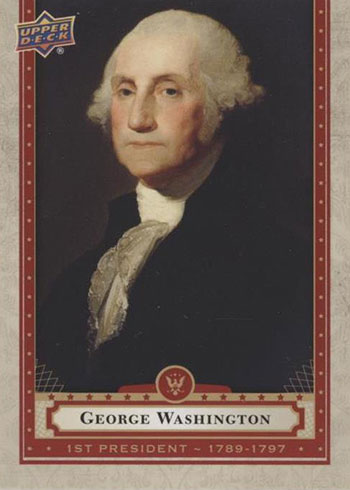 Parallels:
1 George Washington
2 John Adams
3 Thomas Jefferson
4 James Madison
5 James Monroe
6 John Quincy Adams
7 Andrew Jackson
8 Martin Van Buren
9 William Henry Harrison
10 John Tyler
11 James K. Polk
12 Zachary Taylor
13 Millard Fillmore
14 Franklin Pierce
15 James Buchanan
16 Abraham Lincoln
17 Andrew Johnson
18 Ulysses S. Grant
19 Rutherford B. Hayes
20 James A. Garfield
21 Chester Arthur
22 Grover Cleveland
23 Benjamin Harrison
24 Grover Cleveland
25 William McKinley
26 Theodore Roosevelt
27 William Howard Taft
28 Woodrow Wilson
29 Warren G. Harding
30 Calvin Coolidge
31 Herbert Hoover
32 Franklin Delano Roosevelt
33 Harry Truman
34 Dwight D. Eisenhower
35 John F. Kennedy
36 Lyndon B. Johnson
37 Richard Nixon
38 Gerald Ford
39 Jimmy Carter
40 Ronald Reagan
41 George H.W. Bush
42 Bill Clinton
43 George W. Bush
44 Barack Obama
45 Donald Trump
Inserts
2020 Upper Deck Presidential Weekly Inserts Checklists
Predictor Winner States Checklist
50 cards.
Digital only.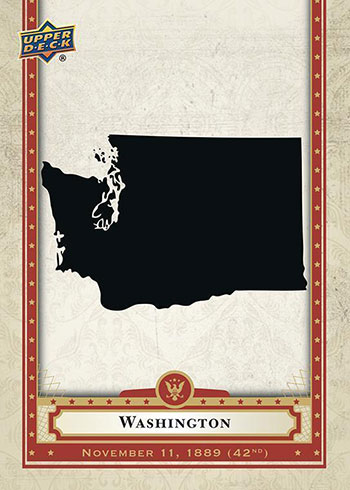 1 Alabama
2 Alaska
3 Arizona
4 Arkansas
5 California
6 Colorado
7 Connecticut
8 Delaware
9 Florida
10 Georgia
11 Hawaii
12 Idaho
13 Illinois
14 Indiana
15 Iowa
16 Kansas
17 Kentucky
18 Louisiana
19 Maine
20 Maryland
21 Massachusetts
22 Michigan
23 Minnesota
24 Mississippi
25 Missouri
26 Montana
27 Nebraska
28 Nevada
29 New Hampshire
30 New Jersey
31 New Mexico
32 New York
33 North Carolina
34 North Dakota
35 Ohio
36 Oklahoma
37 Oregon
38 Pennsylvania
39 Rhode Island
40 South Carolina
41 South Dakota
42 Tennessee
43 Texas
44 Utah
45 Vermont
46 Virginia
47 Washington
48 West Virginia
49 Wisconsin
50 Wyoming
World of Politics – Primary Candidates Checklist
12 cards.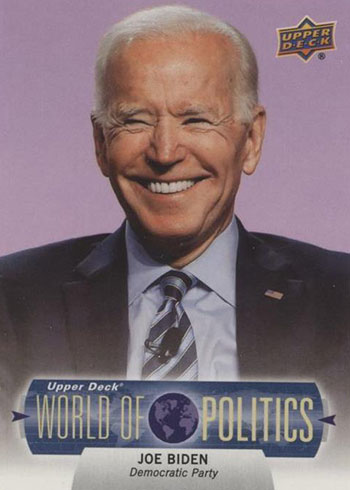 PC-AK Amy Klobuchar
PC-AY Andrew Yang
PC-BS Bernie Sanders
PC-CB Cory Booker
PC-EW Elizabeth Warren
PC-JB Joe Biden
PC-JC Julian Castro
PC-JD John Delaney
PC-MW Marianne Williamson
PC-PB Pete Buttigieg
PC-TG Tulsi Gabbard
PC-TS Tom Steyer
Achievements
2020 Upper Deck Presidential Weekly Achievements Checklists
Presidential Campaign Relic Achievements Checklist
13 cards.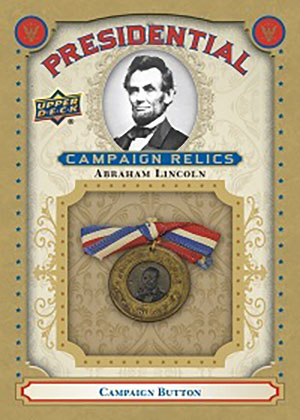 CR-AL Abraham Lincoln
CR-DE Dwight D. Eisenhower
CR-GB George H.W. Bush
CR-GC Grover Cleveland
CR-GF Gerald Ford
CR-HH Herbert Hoover
CR-JC Jimmy Carter
CR-JK John F. Kennedy
CR-LJ Lyndon B. Johnson
CR-RN Richard Nixon
CR-RR Ronald Reagan
CR-WM William McKinley
CR-WW Woodrow Wilson