2020 Topps WWE Road to WrestleMania Checklist and Details
2020 Topps WWE Road to WrestleMania recaps another year of wrestling through the trading card medium. It's about moments and matches, building the storylines instead of most other wrestling card sets that center on the wrestlers themselves.
Typical for most Topps WWE releases, though, hobby boxes carry a pair of hits, at least one of which is an autograph. The product also has a full range of  retail configurations, including blaster-style value boxes that have a relic card.

2020 Topps WWE Road to WrestleMania Base Set Basics
The main set starts right around where the 2019 Road to WrestleMania set left off, with the lead-up to WrestleMania 35. Over the course of 100 cards, it delves into the stories, title changes and other events that shaped the year in WWE.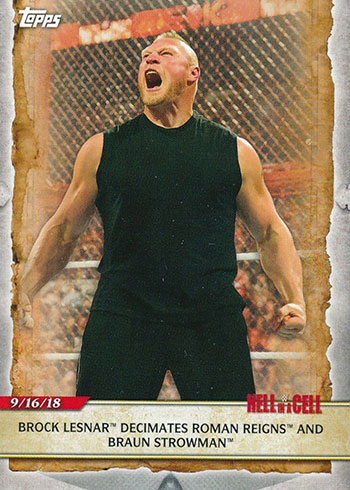 Parallels are one per pack and come in Foilboard, Blue (/99), Silver (/25), Gold (/10), Printing Plates (1/1) and Red (1/1).
Inserts, Autographs and Memorabilia Cards
Regular chase cards are plentiful in the release, landing two per pack. The biggest of these sets are the WrestleMania Roster cards. A total of 60 Superstars appear, covering those from past events and those you can expect to see take to the ring in Tampa at WrestleMania 36.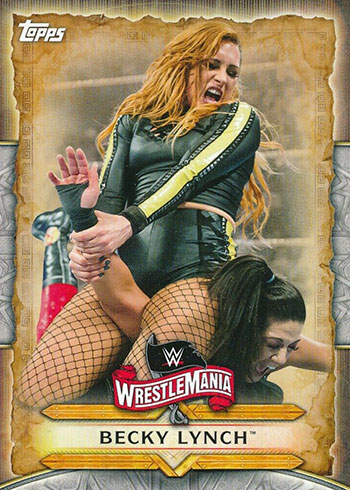 Winningest Superstars in WrestleMania History is a new insert set. Totalling ten cards, these spotlight the wrestlers with the best records in the history of the marquee event. Select cards also have Autograph (/10) and Autograph Red (1/1) versions.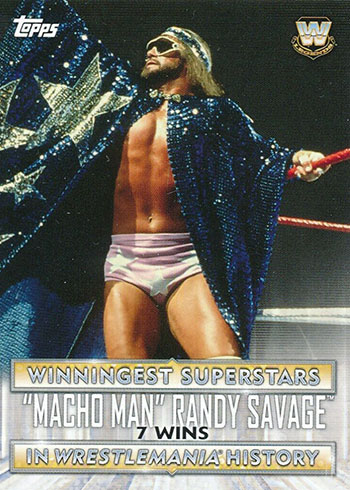 Available only in certain retail configurations, Yearly Records delves into the 2018 numbers and stats of WWE Superstars.
Autographs cover the various parts of the WWE roster. In addition to the base versions, there are Blue (/50), Silver (/25), Gold (/10), Printing Plates (1/1) and Red (1/1) parallels.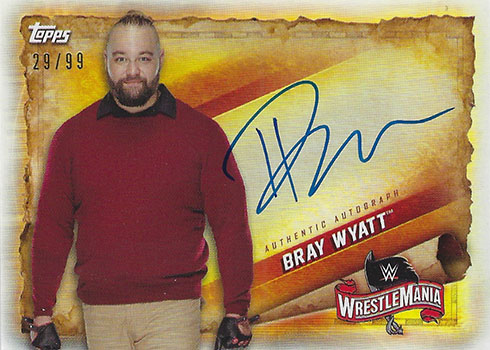 Dual and Triple Autographs are numbered to 25 and have Gold (/10) and Red (1/1) versions. There's also a Six-Person Autograph Book card (/10) available in packs.
Memorabilia cards take on two forms. Shirt Relics have swatches of clothing worn by stars. Mat Relics include canvas pieces from WrestleMania 35 and NXT TakeOver: New York.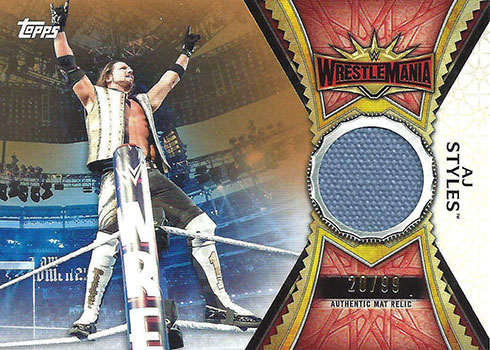 2020 Topps WWE Road to WrestleMania has two separate but similar commemorative relics, Andre the Giant Battle Royal and Women's Battle Royal Trophy cards. Both of these highlight participants from the respective WrestleMania 35 matches along with a trophy medallion.
Relics, both of the memorabilia and commemorative varieties, have Bronze (/99), Blue (/50), Silver (/25), Gold (/10) and Red (1/1) parallels with Autographs (/10, Red – 1/1) available for some cards as well.
2020 Topps WWE Road to WrestleMania trading cards at a glance:
Cards per pack: Hobby – 7, Retail: Display – 7, Blasters – 7, Gravity Feed – 7, Fat Packs – 21
Packs per box: Hobby – 24, Retail: Display – 24, Blasters – 10, Gravity Feed – 36
Boxes per case: Hobby – 8, Retail: Display – 16, Blasters – 40, Gravity Feed – 6
Set size: 100 cards
Release date: March 11, 2020
Buy 2020 Topps WWE Road to WrestleMania boxes on eBay:
What to expect in a hobby box:
Autographs – 1
Additional Autographs, Memorabilia Cards or Manufactured Relics – 1
Inserts – 48
Parallels – 24
2020 Topps WWE Road to WrestleMania Checklist
Base
Autographs
Memorabilia
Inserts