2020 Topps WWE 3:16 Day Highlights Stone Cold Steve Austin's Championship Wins
It's a catchphrase that became so big that they named a holiday after it — at least one of those ones born during marketing meetings. 2020 Topps WWE 3:16 Day is a mini set dedicated solely to one of pro wrestling's biggest stars, Stone Cold Steve Austin.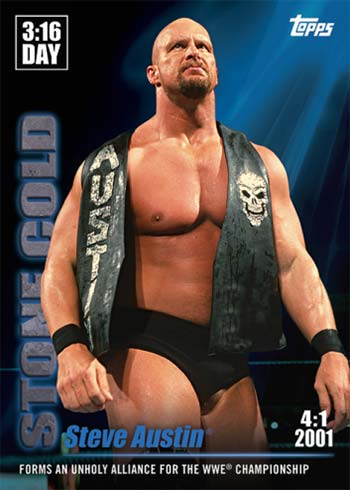 Available for one week on the Topps website starting March 16 (3/16), the checklist has just six cards. The first five highlight Austin's five WWE Championship wins from 1998 through 2001. The final card is a Topps Now-themed card for his return to Monday Night Raw on March 16, 2020, a surreal episode shot in front of no audience from the WWE Performance Center.
The cost of the set is $19.99 from Topps.
Like most of the company's other online exclusives, print runs are determined by the number of sets ordered. Topps usually announced this after the sales window ends.
2020 Topps WWE 3:16 Day at a glance:
Set size: 6 cards
Release date: March 16, 2020
2020 Topps WWE 3:16 Day Checklist
Base Set
5 cards.
1 Stone Cold Steve Austin def. Shawn Michaels for His First WWE Championship (3.29.1998)
2 Stone Cold Steve Austin def. Kane for the WWE Championship (6.29.1998)
3 Stone Cold Steve Austin def. The Rock in a No Disqualification Match (3.28.1999)
4 Stone Cold Steve Austin Forms an Unholy Alliance for the WWE Championship (4.1.2001)
5 Stone Cold Steve Austin Wins the WWE Championship for the Alliance (10.8.2001)
Monday Night Raw Topps Now
12 Stone Cold Steve Austin – Celebrates #316Day with Becky Lynch