2020 Topps Wacky Packages Weekly Series Checklist and Details
In recent years, things on the Wacky Packages front have been relatively quiet. A couple of small online releases have arrived as well as several appearances alongside Garbage Pail Kids in similar print-on-demand sets. 2020 Topps Wacky Packages Weekly Series keeps with the online exclusivity trend. However, it also broadens its scope to be something bigger, albeit with incremental steps.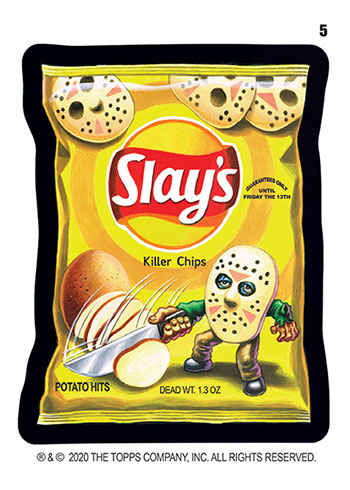 2020 Topps Wacky Packages Weekly Series: How to Get Cards
Each week, a new batch of five cards are released through the Topps website. But with each week, the checklist continues to grow with more gags for more products. So, individual batches are small. However, when complete, 2020 Topps Wacky Package Weekly Series should resemble something closer to a traditional full release. That said, each month the checklist resets back to #1.
In addition to the five base cards, each batch has a pair of inserts. These come from three possible places: Ludlow Backs, Coupon Backs and Wonky Packages. Guest Artist inserts were introduced in June. In August, Wonky Packages were replaced by Wacky Initials.
The cost of each weekly set, which is available for seven day, runs $15 or $135 for a bundle of ten.
As print runs are determined by the number of sets ordered, totals will vary over the series' run.
Topps has not announced how long the set will run.
2020 Topps Wacky Packages Weekly Series at a glance:
Cards per pack: 7
Set size: 5 new cards each week (full set TBD)
Release date: May 6, 2020
2020 Topps Wacky Packages Weekly Series Checklist
November
October
September
August
July
June
May