2021 Topps U.S. Olympic Team Checklist and Trading Cards Info
When you click on links to various merchants on this site, like eBay, and make a purchase, this can result in this site earning a commission.
It may have been delayed a year, but Topps is heading to Tokyo. Well, they're focusing on the American athletes hoping to represent the flag at the summer games, at least. 2021 Topps U.S. Olympic Team trading cards offer a broad look at the names aiming to make the journey to Japan and bring home some medals.
The set was originally planned for 2020, but with the games pushed back a year due to the pandemic, the trading cards were as well.
Hobby boxes guarantee an autograph as well as two total memorabilia cards or manufactured relics.

2021 Topps U.S. Olympic Team Base Set Basics
Like other recent Topps U.S. Olympic sets, a big part of this set's potential appeal is the fact that it covers athletes who don't usually have a lot of cards. Even marquee stars don't make regular appearances like sports in the hobby mainstream.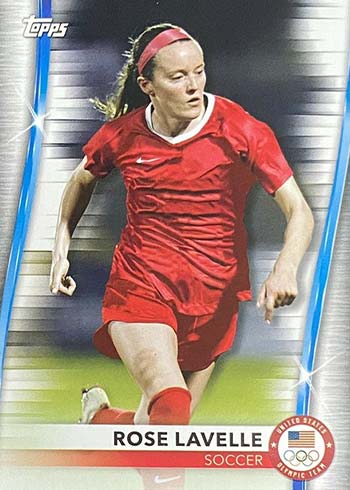 This time around, it's 76 cards of favorites for the U.S. Olympic and Paralympic teams.
Parallels come in a variety of themes. Bronze are the easiest at one per pack, followed by Silver (1:4 packs). Numbered versions include U.S. Flag (/299), Gold (/25) and FoilFractor (1/1).
Autographs, Memorabilia Cards and Other Inserts
Base Autographs make up the majority of the product's signature checklist. The design here is essentially the same as the main set. Autographs come on stickers. Silver (/50), U.S. Flag (/25), Gold (/20) and FoilFractor (1/1) make up the parallel lineup.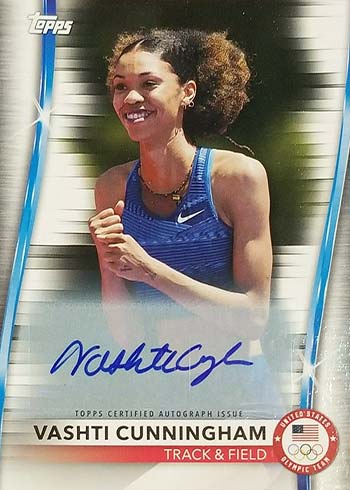 Delving into the past are Olympic Champions Autographs. All signers here have won Olympic medals before. Base versions have no more than 149 copies each with additional U.S. Flag (/25), Gold (/20) and FoilFractor (1/1) versions.
Team USA Memorabilia Pieces include a piece of gear worn by the featured athlete. Parallels include Silver (/99), Gold (/25) and FoilFractor (1/1). There are also Event Icon versions (/50) that don't have a swatch. Instead it's a commemorative relic with the symbol from the athlete's event.
USOC Insignia Commemorative Relics (/99) have the USOC insignia as their main feature. Parallels come in Silver (/50), U.S. Flag (/50) and Gold Medal (/25).
Achievement Medallions (/99) is another set of manufactured relics. These have a commemorative piece highlighting medal winners.
Three additional insert sets round out the checklist. New to the Games highlights sports making their Olympic debuts in Tokyo. For Pride and Country show where athletes are from. Finally, there's Olympic Heroes that showcase athletes in an animated style.
All three insert sets combine to land one per pack and have U.S. Flag (/99), Gold (/25) and FoilFractor (1/1) parallels.
2021 Topps U.S. Olympic Team trading cards at a glance:
Cards per pack: Hobby – 8
Packs per box: Hobby – 24
Boxes per case: Hobby – 12
Set size: 76 cards
Release date: July 14, 2021
Shop for 2021 Topps U.S. Olympic Team boxes on eBay:
What to expect in a hobby box:
Autographs – 1
Memorabilia Cards or Manufactured Relics – 2
Additional Inserts – 24
Parallels – 24
2021 Topps U.S. Olympic Team Checklist
You can also download a customizable spreadsheet copy of the checklist. You can use it to sort by athlete, sport or more:
Please note that print runs for cards without serial numbers have not been announced.