2020 Topps Ugly Stickers Checklist, Print Run and Details
2020 Topps Ugly Stickers bring back one of the company's most beloved vintage lines. And while the overall look and feel should resonate with longtime fans, the makeup and distribution is much more modern.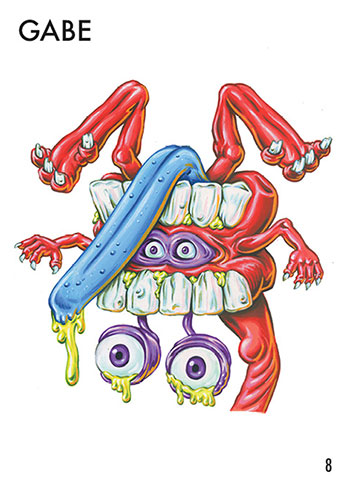 This time it's a mini set that was offered on the Topps website for a limited time as part of their broader Topps On-Demand line. Slated to be for sale for a week or while supplies last, it was the latter as the full run of 500 packs sold through before the clock ran out.
Each pack came with a full 20-card base set. It consists of ten new creatures done in the old-school Ugly Stickers style with each getting the Garbage Pail Kids-esque two name treatment.
The first ten cards also have Tan Back parallels, which are two per pack.
Rounding out the checklist are sketch cards and ten 5 x 7 Posters, both of which are one per pack.
Ugly Stickers appeared for the first time in 1965.
2020 Topps Ugly Stickers at a glance:
Cards per pack: 23 plus 1 poster
Set size: 20 cards
Print Run: 500 packs
Release date: August, 2020
What to expect in a pack:
20-Card Base Set
Parallels – 2
Sketch Cards – 1
Posters – 1
2020 Topps Ugly Stickers Checklist
Base Set
20 cards.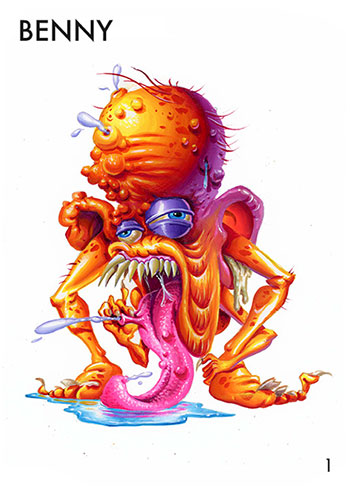 Parallels (#1-10 only):
1 Benny
2 Seymour
3 Harriet
4 Liam
5 Zach
6 Carl
7 Mortimer
8 Gabe
9 Evelyn
10 Francis
11 Brandon
12 Jessica
13 Mike
14 Joe
15 Jackie
16 Jeff
17 Tom
18 Jason
19 Jen
20 Pat
Posters
10 posters.
1 per pack.
Measure 5 x 7.
1
2
3
4
5
6
7
8
9
10
Sketch Cards
Artist list TBA.
1 per pack.