Pete Rose Cameo in 2020 Topps Series 2 Baseball Drawing Attention – Beckett Pricing Insider
For the first time since 1991, there is a card in a Topps baseball product with Pete Rose. While it isn't technically a "Pete Rose" card, it's pretty clear that it's baseball's all-time hits leader on a 2020 Topps Series 2 insert. It's part of Decades' Best (and its Chrome counterpart). Card #DB-58 is dedicated to the World Series Champion 1980 Philadelphia Phillies team.
Rose is pictured with a couple teammates. You can only see his back and not his face. And if the slightly obscured name and number on the back of his jersey aren't enough, Rose's hair should be a major giveaway.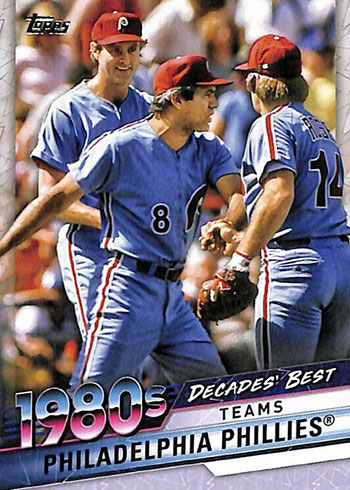 Rose was a player/manager from 1984-1986 with the Cincinnati Reds before retiring as a player after the 1986 season to manage full-time. He kept that role until 1989 when he was caught betting on baseball and permanently banned from the game.
Since then there have been lots of Rose cards produced by other companies, but he have been licensed by MLB. Technically, his last Topps baseball-related card was part of a promo set in 1991 to commemorate a TV movie about Babe Ruth. Rose played Ty Cobb in the film. But it's not affiliated with MLB. One could actually classify it more as an entertainment trading card.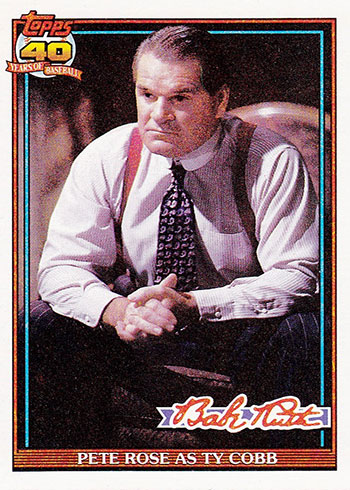 Rose's last flagship card is #505 in 1989 Topps Baseball.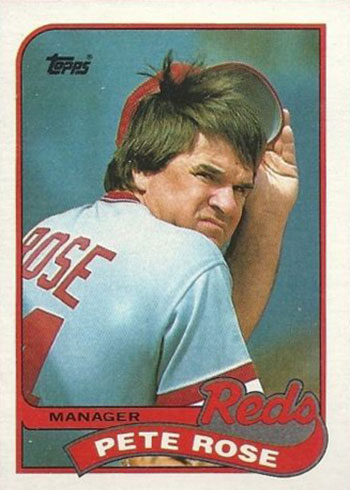 More recently, Rose appeared in 2015 Topps WWE Undisputed with an autograph. While he isn't a Cooperstown inductee, Rose is part of the WWE Hall of Fame.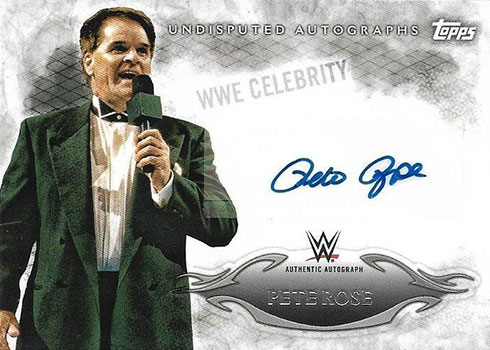 The regular 2020 Topps Decades' Best inserts are fairly common. They have a few parallels including Blue, Black (/299), Gold (/50), Red (/10) and a Platinum (1/1). The Chrome versions combine to land two per jumbo hobby pack and have a Gold (/50) parallel.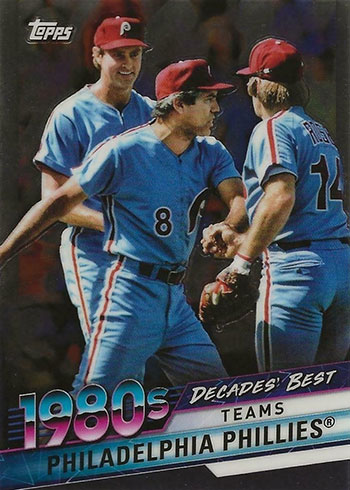 Rose's appearance has led to not only increased intrigue in the Phillies card but higher prices as well. As collectors have been discovering the inclusion, the card has spiked. It's currently trending in the $20-$30 range for the regular version. When 2020 Topps Series 2 came out a couple of weeks ago, it could be had for under $2. Will prices remain this high? Probably not monetarily (although, expect a premium) but the novelty value is certainly there.