2020 Topps Seattle Children's Heroes Brings a Loaded Autograph Lineup for a Good Cause
2020 Topps Seattle Children's Heroes is a set of trading cards for a good cause. The box set, which is only at Bartell Drugs locations in Washington State, features a variety of athletes and entertainers who have roots in Seattle. Proceeds go to the Seattle Children's Hospital.
The 25-card base set includes several local sports heroes including Ken Griffey Jr., Russell Wilson, Gary Payton, Lenny Wilkins and Jewell Loyd. Other local celebrities include singers Ciara and Macklemore as well as actor Joel McHale. Even Sir Mix-a-Lot has a spot on the eclectic checklist.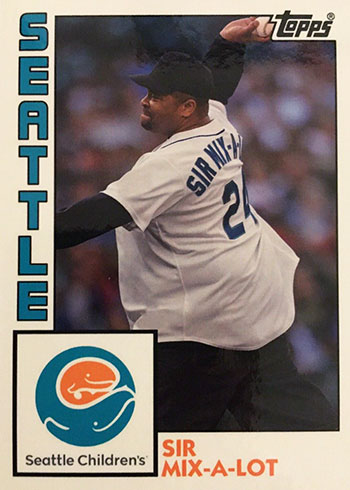 The design is inspired by 1984 Topps Baseball. It's not licensed by any of the sports leagues so there aren't any league logos.
Each sealed set also comes with one autograph. Every person on the checklist has signatures, including Griffey and Wilson. For some of the entertainers like Ciara and McHale, it's their first certified autograph cards. All signatures come on-card.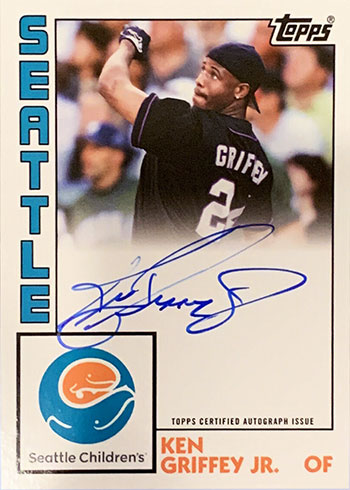 Sets originally cost $25.
2020 Topps Seattle Children's Heroes at a glance:
Cards per box set: 26
Set size: 25 cards
Release date: November, 2020
What to expect in a box set:
25-Card Base Set
Autographs – 1
2020 Topps Seattle Children's Heroes Checklist
Base Set
25 cards.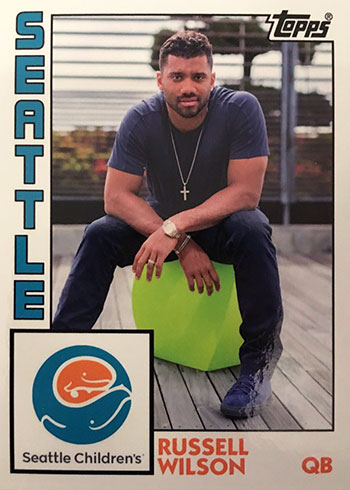 Buy on:
SCH-1 Ken Griffey Jr.
SCH-2 Macklemore
SCH-3 Russell Wilson
SCH-4 Ciara
SCH-5 Alysha Clark
SCH-6 Dan Wilson
SCH-7 Jewell Loyd
SCH-8 Lenny Wilkens
SCH-9 Detlef Schrempf
SCH-10 Cliff Avril
SCH-11 Edgar Martinez
SCH-12 Stefan Frei
SCH-13 Jordan Morris
SCH-14 Jamal Crawford
SCH-15 Kyle Seager
SCH-16 Spencer Hawes
SCH-17 Mitch Haniger
SCH-18 Joel McHale
SCH-19 Apolo Ohno
SCH-20 Gary Payton
SCH-21 Sir Mix-a-Lot
SCH-22 Charlie Furbush
SCH-23 Caleb
SCH-24 Makenna Schwab
SCH-25 Olivia Vietello
Autographs Checklist
25 cards.
1 per box set.
Buy on: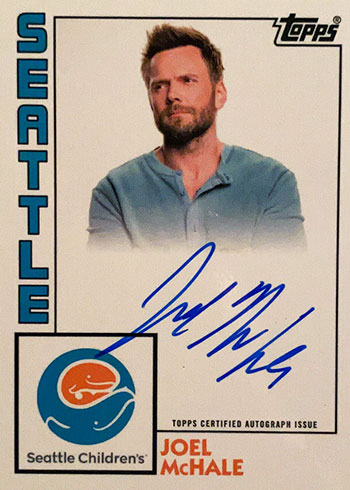 SCH-1 Ken Griffey Jr.
SCH-2 Macklemore
SCH-3 Russell Wilson
SCH-4 Ciara
SCH-5 Alysha Clark
SCH-6 Dan Wilson
SCH-7 Jewell Loyd
SCH-8 Lenny Wilkens
SCH-9 Detlef Schrempf
SCH-10 Cliff Avril
SCH-11 Edgar Martinez
SCH-12 Stefan Frei
SCH-13 Jordan Morris
SCH-14 Jamal Crawford
SCH-15 Kyle Seager
SCH-16 Spencer Hawes
SCH-17 Mitch Haniger
SCH-18 Joel McHale
SCH-19 Apolo Ohno
SCH-20 Gary Payton
SCH-21 Sir Mix-a-Lot
SCH-22 Charlie Furbush
SCH-23 Caleb
SCH-24 Makenna Schwab
SCH-25 Olivia Vietello