2020 Topps Now XFL Checklist, Print Runs and Details
2020 Topps Now XFL football cards cover the season as it happens. Each week, a new group of cards arrive on the Topps website, highlighting big plays, major moments and notable milestones. The end result? A set that builds the season's story.
Like other Topps Now sets, this is done with a print-on-demand format. Each Monday, a fresh batch of cards go up for one week. After that window closes, sales end are print runs are calculated. Individual cards are $9.99 but things get cheaper by purchasing a lot of all the week's cards or singles of the same card in bulk lots of five, ten or 20.
Besides buying them on the Topps website, several dealers on eBay also offer cards. Often, these can be found at a discount during the pre-sale window as they're buying in bulk and can offer savings.
Besides 2020 Topps Now XFL, the card maker has a more traditional set for the league that comes out in March.
2020 Topps Now XFL Checklist
Print runs will be added as they become available. If you're looking for a specific card, click on the link to see what's available on eBay.
Week 1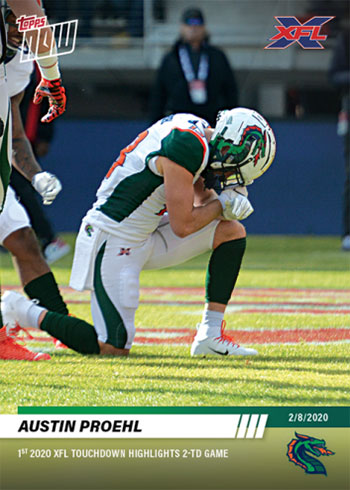 1 Austin Proehl, Seattle Dragons – 1st 2020 XFL Touchdown Highlights 2-TD Game – 385
2 Cardale Jones, D.C. Defenders – 2 TDs, 0 INT Lead Defenders to 1st Franchise Win – 445
3 D.C. Defenders – Defenders Display Relentless Defense with Blocked-Punt TD and Pick 6 – 287
4 PJ Walker, Houston Roughnecks – Massive 4-TD Game Leads Roughnecks to 1st Franchise Win – 491
5 Nelson Spruce, Los Angeles Wildcats – 1st WR to Post 100-Yard Receiving Game in 2020 XFL Season – 311
6 New York Guardians – Guardians Protect Home Turf with Gutsy 23-3 Win – 320
7 Jordan Ta'amu, St. Louis Battlehawks – Contributes with Arm and Legs for 1st Battlehawks Win – 524
Week 2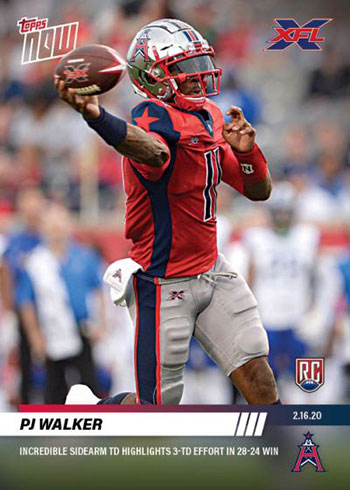 8 Jameer Thurman, D.C. Defenders – Linebacker's Pick 6 Highlights Shutout Win – 182
9 Cardale Jones, D.C. Defenders – 276 Passing Yards, 2 TDs Fuel 27-0 Win – 258
10 Cameron Artis-Payne, Dallas Renegades – Pair of 4th-Quarter Touchdowns Seal Win – 186
11 Jordan Ta'amu, St. Louis Battlehawks – Dual-Threat QB Totals 4 TDs for Battlehawks – 259
12 PJ Walker, Houston Roughnecks – Incredible Sidearm TD Highlights 3-TD Effort in 28-24 Win – 375
13 Cam Phillips Houston Roughnecks – 3 Receiving Touchdowns Lead Roughnecks Win – 266
Week 3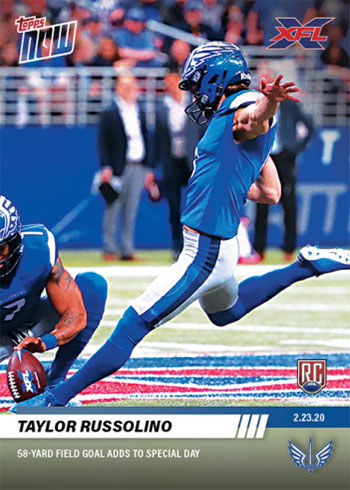 14 PJ Walker, Houston Roughnecks – Completes 24 of 35 Passes for 306 Yards and 3 TDs – 259
15 Cam Phillips, Houston Roughnecks – 3 Receiving TDs in Consecutive Weeks for Phillips – 250
16 Donald Parham, Dallas Renegades – Big Game for Dallas' Biggest Target – 181
17 Tre McBride, Los Angeles Wildcats – 2 TDs and 109 Yards Receiving in Crucial Victory – 157
18 Josh Johnson, Los Angeles Wildcats – 3 TDs and 278 Yards Leads First Wildcats Win – 167
19 Joe Powell, St. Louis Battlehawks – The First Kickoff Return for TD in XFL 2020 Season – 203
20 Taylor Russolino, St. Louis Battlehawks – 58-Yard Field Goal Adds to Special Day – 187
Week 4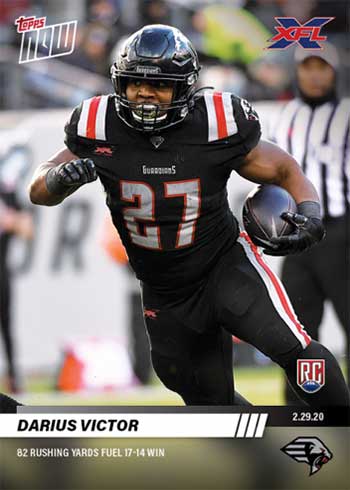 21 Darius Victor, New York Guardians – 82 Rushing Yards Fuel 17-14 Win – 156
22 Jordan Ta'amu, St. Louis Battlehawks – Leads 23-16 Win with Efficient Offensive Attack – 232
23 Nick Holley, Houston Roughnecks – Compiles 97 Receiving Yards on 8 Receptions – 169
24 Edmond Robinson, Houston Roughnecks – Strip Sack, Fumble Return TD Seals 27-20 Win – 156
25 Jacques Patrick/Deveon Smith, Tampa Bay Vipers – Duo Dominates with 230 Rushing Yards in 25-0 Win – 158
Week 5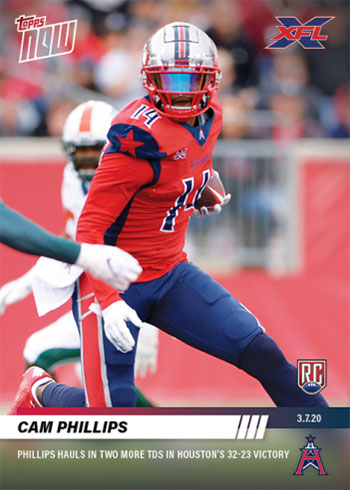 26 Ryan Mueller, New York Guardians – "Pick 6" Is Exclamation Point in Guardians Victory
27 PJ Walker, Houston Roughnecks – Walker Airs It Out for 351 Yards and 3 TDs
28 Cam Phillips Houston Roughnecks – Phillips Hauls in Two More TDs in Houston's 32-23 Victory
29 Josh Johnson, Los Angeles Wildcats – 4 TDs Erase Early Deficit, LA Downs Vipers 41-34
30 Jhrell Pressley, D.C. Defenders – Pressley Paces the Defenders' Offense in 15-6 Win