Yes, There's a Mike Trout Wearing a Mask Baseball Card Already
Baseball was supposed to be emerging from the All-Star Break around now. Instead, things are just getting started — again. Pandemics have a way of doing that. The world is in a very different place than it was just a few months ago when spring training was heading into its final days. After some long months, baseball is on its way back. And even if everything goes exactly as planned, things are going to be different. And it has taken only one preview image from a limited online-only baseball card set to help drive home that reality.
Mike Trout running the infield while wearing a mask.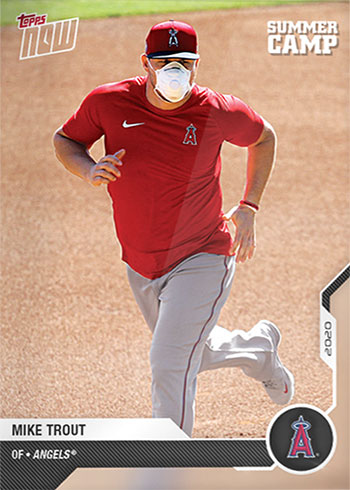 There's no doubt when the photo is from. This is the reality we're in right now. And if all goes well in the months ahead, it'll be a one-off deal — a moment in time that's easily identifiable.
If masks become a requirement as the season gets underway or players simply opt to wear them, there's a good chance we'll see more cards like this over time. That's one of the roles of baseball cards. They're documents of time often combining photos and stats.
As we look back on 2020, this is a document of that. So while it might be a little striking of a visual because we're not used to it at the moment, it's important to document the changes we're seeing. Things might change as the season rolls out, but this is where we're at. This can be the "Mike Trout Mask" card.
2020 Topps Now Road to Opening Day: Summer Camp Edition Overview
The baseball card is part of 2020 Topps Now Road to Opening Day: Summer Camp Edition, a print-on-demand set that's being released in three weekly batches as Opening Day 2.0 approaches. It's an unexpected expansion of the original Topps Now Road to Opening Day team sets that used Spring Training images. For this set Topps is aiming to use as many images as possible from the summer restart.
Summer Camp Edition isn't going the team set route. Rather, it's three weekly sets, each with 25 cards. Each set is $29.99.
Parallels are randomly inserted. These have three levels numbered to 10, 5 and 1/1.
2020 Topps Now Road to Opening Day: Summer Camp Edition Checklist
Week 1
Available: July 7
Print Run: TBA
451 Mike Trout, Los Angeles Angels
452 Paul Goldschmidt, St. Louis Cardinals
453 Justin Verlander, Houston Astros
454 Francisco Lindor, Cleveland Indians
455 Max Scherzer, Washington Nationals
456 Pete Alonso, New York Mets
457 Gerrit Cole, New York Yankees
458 Bo Bichette, Toronto Blue Jays
459 Ronald Acuña Jr., Atlanta Braves
460 Kwang-Hyun Kim, St. Louis Cardinals
461 Jurickson Profar, San Diego Padres
462 Rich Hill, Minnesota Twins
463 Kevin Pillar, Boston Red Sox
464 Hunter Harvey, Baltimore Orioles
465 Matt Beaty, Los Angeles Dodgers
466 Jordan Hicks, St. Louis Cardinals
467 Michael Wacha, New York Mets
468 Abraham Toro, Houston Astros
469 Yoshihisa Hirano, Seattle Mariners
470 Yoshitomo Tsutsugo, Tampa Bay Rays
471 Clint Frazier, New York Yankees
472 Gio Gonzalez, Chicago White Sox
473 Josh Reddick, Houston Astros
474 Miguel Andujar, New York Yankees
475 Adalberto Mondesi, Kansas City Royals