2020 Topps Now Chrome Derek Jeter Career Retrospective Checklist and Details
2020 Topps Now Chrome Derek Jeter Career Retrospective looks back on some of the biggest moments in the Hall of Famer's career. But not only does it look back, there's some personal reflection on the event from Jeter himself. This set is one of the first parts of a multi-year partnership between Jeter and Topps.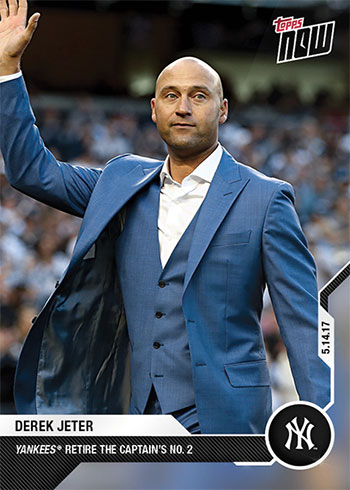 Sold through Topps' website, there's a new card on the 2nd of each month. Unlike most Topps Now cards, these have a wide window of availability, spanning a full month.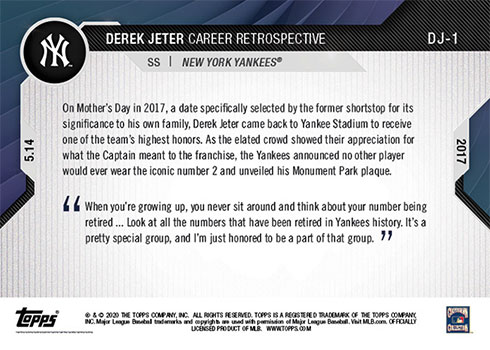 Prices are higher than other individual Topps Now sets with singles running $22.22. There are discounts for bulk lots, although 20-card bundles still work out to be more than $16 per card. eBay may also be an option for a discount during the sales window as some buy in bulk. It's also a place to find past cards.
Of course, there's the fact that these are all Topps Chrome cards — the first Topps Now set to do this directly. 2019 Topps Now Future includes Chrome cards for prizes.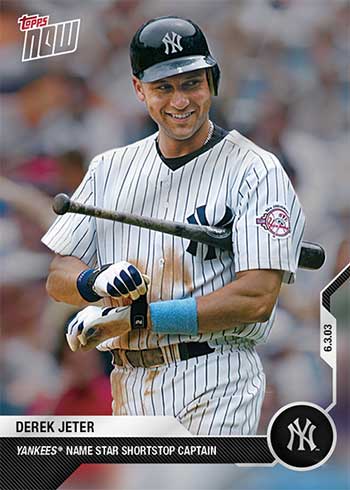 And with this being Chrome, there are indeed Refractors. However, they're not available on their own. Instead, they're randomly inserted among the orders, replacing a regular base version. Parallels include Refractors (/99), Blue Refractors (/49), Purple Refractors (/25), Red Refractors (/10), Orange Refractors (/5) and Superfractors (1/1).
Derek Jeter autographs can also be purchased separately. Prices for these start at $599.99 for the base version (/99) and go up to $4,999.99 for the one-of-one Superfractor autograph. Signatures are on-card.
Print runs are based on the number of cards ordered during the initial sales window.
2020 Topps Now Chrome Derek Jeter Retrospective Checklist
New cards and print runs will be added as they're released. If you're looking for a specific card, click on the links to see what's currently available on eBay.
Parallels:
Refractors – /99
Blue Refractors – /49
Purple Refractors – /25
Red Refractors – /10
Orange Refractors – /5
Superfractors – 1/1
Autographs:
Base – /99
Blue – /49
Purple – /25
Red – /10
Orange – /5
Superfractors – 1/1
DJ-1 Derek Jeter – Yankees Retire The Captain's No. 2 (5.14.17)
DJ-2 Derek Jeter – Yankees Name Star Shortstop Captain (6.3.03)