2020 Topps Formula 1 Dynasty Kicks Off New Racing License in a High-End Way
Topps is getting into the racing card game, partnering with Formula 1. And to kick things off, they're going straight to the high-end with 2020 Topps Formula 1 Dynasty. Like the brand's baseball sets, the focus is on autographed patches and small print runs. Actually, that accounts for everything in the product. Every card has a signature and a premium memorabilia piece. Nothing has more than ten copies.
2020 Topps Formula 1 Dynasty Overview
Autographed Patch Cards (/10) make up the main part of the Dynasty checklist. The oversized memorabilia pieces are displayed alongside an elegant design. Parallels include Red (/5) and Gold (1/1).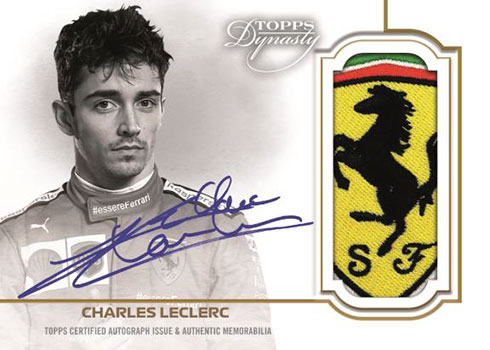 Specific parts of drivers' suits and equipment are used for additional card styles. These include Glove Patch (/10), Suit Zipper (/5), Flag (/4) and Nameplate Patch (/4). All four of these also have one-of-one Jumbo Patch versions.
Single-Driver Autographed Dual Relics (/10) double up the patches while Triple Relics (/10) have three. On the Autographed Triple Relics, one of the swatches comes from the driver's protective suit liner. In both instances, there are Red (/5) and Gold (1/1) versions, too.
Constructor Team Dual Relic Autographs (/10) have signatures and race suit memorabilia from a pair of racers. These have Red (/5) and Gold (1/1) parallels as well.
2020 Topps Formula 1 Dynasty racing cards at a glance:
Cards per pack: 1
Packs per box: 1
Boxes per case: 5
Release date: December 16, 2020
What to expect in a hobby box:
Autograph Patch Cards – 1
The full checklist will be up as soon as it's available, likely shortly before the set's release.