Yes, there are 2020 Topps 3D Baseball variations. Ten of the 100 cards on the base set checklist have a second version carrying a different photo.
While base cards in the online-exclusive release use the same image as their 2020 Topps Series 1 or Series 2 counterpart, variations do not. They're new photos.
Odds on the variations are not known. However, they are likely on the rare side as they're a chase element in the product which has just 12,500 total packs. The set sold out on Topps' website very quickly.
Code Confirmation
2020 Topps 3D might be an online-only product with a limited production run, but the backs can still be used to confirm a base card from a variation. Direct your eyes to the CMP code at the end of the fine print. There's a jumble of numbers there, but the last three digits are all you need. When it comes to telling a base card from an SSP, these are the codes you need:
Base – 129
Variation – 131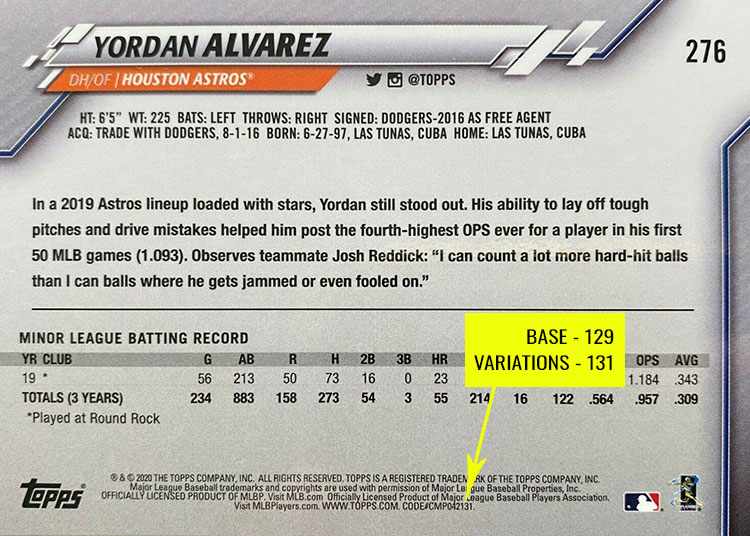 2020 Topps 3D Baseball Variations Checklist
Here's a quick 2020 Topps 3D Baseball variations checklist with every card in the set. If you're looking for a specific card, click on the link to see what's currently available on eBay.
1 Mike Trout
7 Aaron Judge
50 Cody Bellinger
78 Bo Bichette
150 Ronald Acuña Jr.
224 Juan Soto
276 Yordan Alvarez
300 Javier Baez
332 Jacob deGrom
392 Luis Robert
2020 Topps 3D Baseball Variations Gallery
Missing images will be added ASAP.
1 Mike Trout, Los Angeles Angels
7 Aaron Judge, New York Yankees
50 Cody Bellinger, Los Angeles Dodgers
78 Bo Bichette, Toronto Blue Jays
150 Ronald Acuña Jr., Atlanta Braves
224 Juan Soto, Washington Nationals
276 Yordan Alvarez, Houston Astros
300 Javier Baez, Chicago Cubs
332 Jacob deGrom, New York Mets
392 Luis Robert, Chicago White Sox