2020 Sidekick Labs Mars Attacks: Uprising Hits Kickstarter
When you click on links to various merchants on this site, like eBay, and make a purchase, this can result in this site earning a commission.
The Martians are back and they're invading Kickstarter once again. 2020 Sidekick Labs Mars Attacks: Uprising is a sequel to 2015's Occupation, which was also exclusive to the crowd funding site.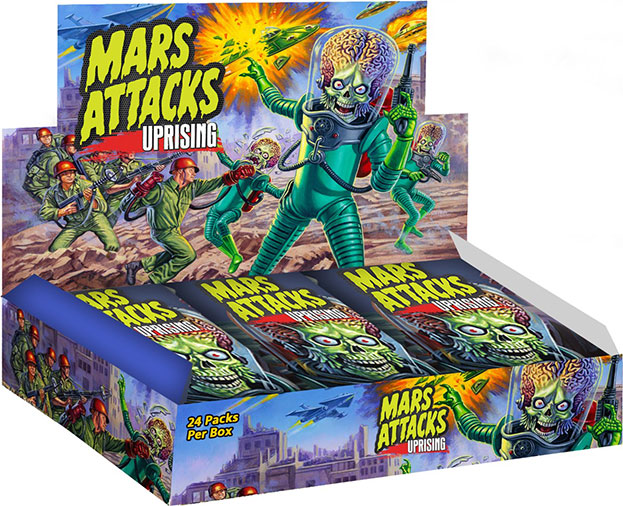 Besides continuing the story and offering a variety of chase and add-on elements, the product is unique in that Sidekick is making the set in partnership with Topps.
Not surprisingly, Uprising hit its funding goal quickly — in less than an hour. That means no matter where things end up, the project is moving forward.
2020 Sidekick Labs Mars Attack: Uprising Base Set Basics
At minimum, the base set has 72 cards. Depending on how much money the Kickstarter campaign raises, that number could grow.
The base set is divided into three different sections. A nine-card "Story So Far" subset recaps previous Mars Attacks sets and stories. Eighteen cards cover a new story, which takes place after the events of Occupation. Artists for these include Ed Repka, Paolo Parente, William Skaar, Carlos Valenzuela. Rounding things out are 45 Art of Mars Attacks cards.
It's with the new story where the base set has the potential to grow. Because these require new art, it's all about the funding levels.
The main parallel lineup features three levels, which combine to fall 12 per hobby box. Heritage (1:4 packs) cards adopt the design of the original 1962 set. Concept cards (1:6 packs) showcase the early stages of artwork. Finally, there's Scorched Earth (1:12 packs), which are done with bronze ink.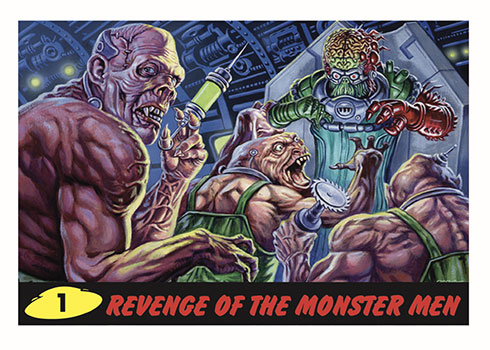 On top of these, certain reward levels have additional parallel sets including printing plates and a one-of-one patterned version that is available to just one backer.
Inserts
2020 Sidekick Labs Mars Attacks: Uprising has three basic nine-card chase sets available in packs.
Mars Motors is a mash-up of MA characters and old Odds Rods-style cards. Another mash-up brings in Topps' 1988 Dinosaurs Attack. The final insert set is still to be announced.
Cards from these three sets are nine per hobby box.
Art cards are one of the main premium hits in the product, with one guaranteed per box. A second hit is either a Metal card (105 cards), Autograph (at least nine signers) and Tobacco cards (ten cards).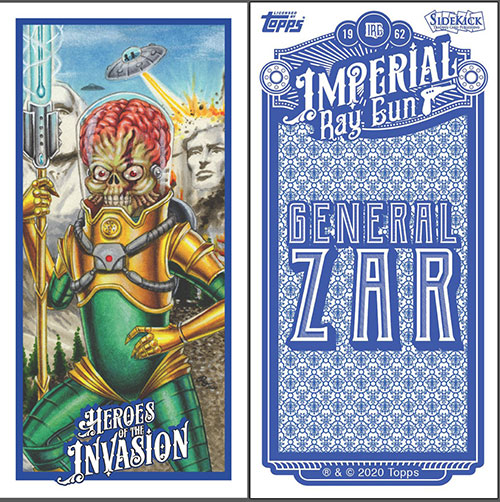 Add-Ons
One of the unique things about the Kickstarter offering is that collectors have several choices when it comes to what they want as well as how much they wish to spend. It starts with small factory sets and packages that include hobby boxes. However, there are also additional cards available as add-on purchases.
Among them are a variety of hot packs that promise things like art cards, autographs and specific inserts.  Depending on the content, hot pack prices range from $10 up o $350 for ten art cards.
Another option is a Mars Attacks Fan Club Membership Kit that has a set of stickers, an embroidered patch, enamel pin and membership card.
Also available separate are exclusive binders. There's one for Uprising as well as reissues of three past binders done with new logos.
The Mars Attacks: Uprising Kickstarter page has a full breakdown and list of all the pledge levels, rewards and additional add-ons.
2020 Sidekick Labs Mars Attacks: Uprising is only available through this Kickstarter campaign. While boxes and cases are available, they won't be hitting traditional distribution channels outside of here.
The campaign closes on Tuesday, March 3.
2020 Sidekick Labs Mars Attacks: Uprising trading cards at a glance:
Cards per pack: TBA
Packs per box: 24
Boxes per case: 8
Set size: 72 cards (more if stretch goals are achieved)
Release date: March, 2020
What to expect in a hobby box:
Full Base Set
Art Cards – 1
Autographs, Metal Cards or Tobacco Cards – 1 Total
Inserts – 10
Concept Parallels – 4
Heritage Parallels – 6
Scorched Earth Parallels – 2