2020 SAGE Hit Premier Draft Football Checklist and Details
2020 SAGE Hit Premier Draft Football is one of the season's first sets. Focusing on draft prospects, it's also heavy with autographs for each of its hobby and retail configurations. As usual, it's split into similar but separate Low and High Series releases as well. In both, autographs are one per hobby pack (16 total per box). For retail blasters, there are three signatures each for Low and four in High Series.
2020 SAGE Hit Premier Draft Base Set Basics
The main set kicks off with 50 cards in Low Series (High Series is still TBA). Most of the checklist is dedicated to regular player cards, however there are two subsets to go with them: Next Level and 5-Star, which has five cards of Jonathan Taylor.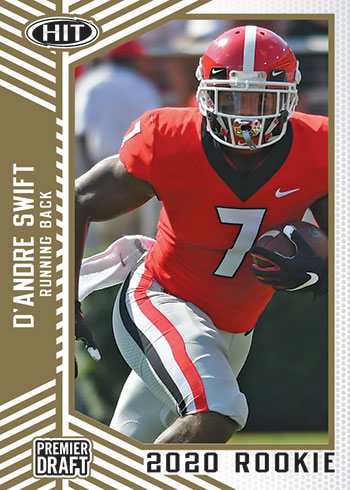 Parallels come in a couple of forms. Every hobby pack, whether Low or High Series, has a Gold card. Blaster-exclusive Silver parallels are seven in each Low Series box and eight for High.
Autographs and Other Inserts
2020 SAGE Hit Premier Draft has a few different types of signed cards.
For starters, regular Autographs bring a good amount of depth. Low Series alone has more than 40 different signers including Tua Tagovailoa, CeeDee Lamb and D'Andre Swift. Parallels for these come in Black, Red, Gold (/100) and Blue Ice (1/1).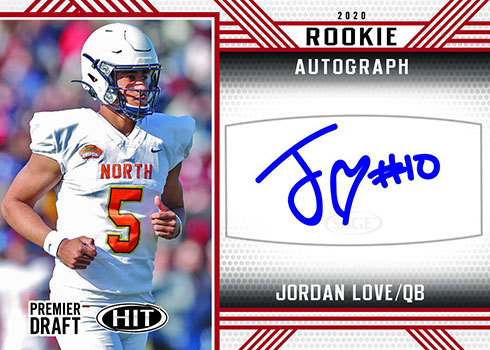 Peak Performance Autographs use chromium-style card stock. Quarterback Joe Burrow joins the Low Series lineup here. Peak Performance Autographs parallels have a slightly different mix with Silver, Red (/50), Blue (/25), Gold (/10) and Cracked Ice (1/1).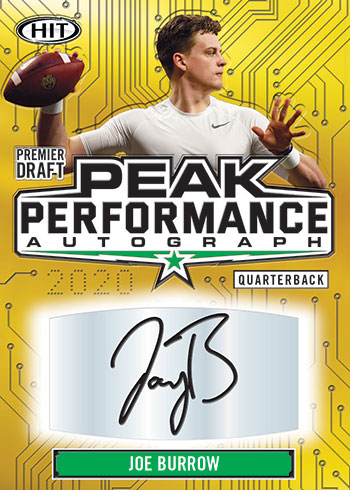 Finally, there's Next Level Signatures, which land at least three per hobby box for both series. These have on-card ink. Burrow, Tagovailoa and Jerry Jeudy are among the more than 50 signers. Next Level Signatures are spread across both releases. Besides the base versions, there are Red, Silver (/25), Gold (/10), Emerald (/5) and Blue Ice (1/1).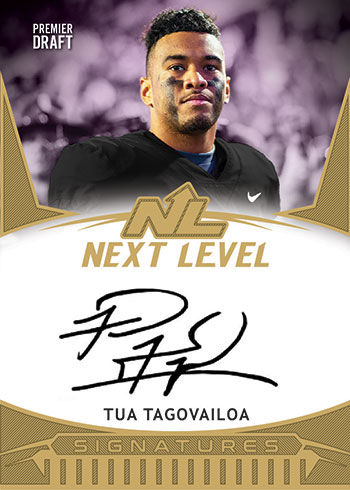 Of the other inserts, Peak Performance has a non-autographed version as well.
Artwork comes into play with Art Gallery cards. These also have one-of-one sketch card versions with art by Gary Kezele.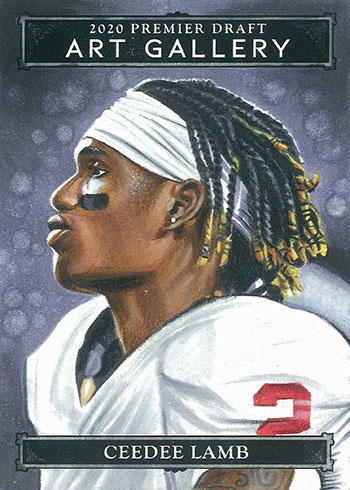 Redemptions for autographed jerseys and other prizes are also randomly inserted.
2020 SAGE Hit Premier Draft Low Series Football cards at a glance:
Cards per pack: Hobby – 6, Blaster – 7
Packs per box: Hobby – 16, Blaster – 10
Boxes per case: Hobby – 16, Blaster – 20
Set size: 50 cards
Release date: Low Series – March 20, 2020
Shop for 2020 SAGE Hit Premier Draft Low Series Football boxes on eBay:
What to expect in a hobby box:
Autographs – 16
Parallels – 16
What to expect in a blaster box:
Autographs – 3
Parallels – 8
2020 SAGE Hit Premier Draft High Series Football cards at a glance:
Cards per pack: Hobby – 7, Blaster – 72 (cards per blaster)
Packs per box: Hobby – 16, Blaster – TBA
Boxes per case: Hobby – 16, Blaster – 20
Set size: TBA
Release date: High Series – April 24, 2020
What to expect in a hobby box:
Autographs – 16
Parallels – 16
What to expect in a hobby box:
Autographs – 4
Parallels – 8
2020 SAGE Hit Premier Draft Low Series Football Checklist
Base
Base Set Checklist
50 cards.
Parallels:
Gold – (hobby)
Silver – (retail blaster)
1 Lynn Bowden Jr.
2 Justin Jefferson
3 Carter Stanley
4 Kalija Lipscomb
5 Kamal Martin
6 Sage Lewis
7 D'Andre Swift
8 Jaylon Moore
9 James Morgan
10 Zack Baun
11 Kristian Wilkerson
12 Jordan Love
13 Tua Tagovailoa
14 Tra Minter
15 Harrison Bryant
16 Sewo Olonilua
17 Khalese Hudson
18 Mason Kinsey
19 Raymond Calais
20 Ceedee Lamb
21 Terrell Burgess
22 Riley Neal
23 Bryan Edwards
24 Davon Hamilton
25 Ronnell Perkins
26 Darrynton Evans
27 Shane Zylstra
28 Tavien Feaster
29 Tyler Hall
30 Kelly Bryant
31 Jovante Moffatt
32 Kendall Futrell
33 Malik Harrison
34 John Hightower
35 Troy Dye
36 Akeem Davis-Gaither
37 Cam Akers
38 Jonathan Taylor 5-Star
39 Jonathan Taylor 5-Star
40 Jonathan Taylor 5-Star
41 Jonathan Taylor 5-Star
42 Jonathan Taylor 5-Star
43 Zack Moss Next Level
44 Kyle Dugger Next Level
45 K.J. Hamler Next Level
46 James Morgan Next Level
47 Joe Burrow
48 Jerry Jeudy Next Level
49 Jonathan Taylor Next Level
50 Lynn Bowden Jr.
Autographs
2020 SAGE Hit Premier Draft Low Series Football Autographs Checklists
Autographs Checklist
45 cards.
Parallels:
Black
Red
Gold – /100
Blue Ice – 1/1
A1 Tua Tagovailoa
A2 Justin Jefferson
A3 Calvin Taylor
A4 D'Andre Swift
A5 Troy Dye
A6 Kalija Lipscomb
A7 Bryan Edwards
A8 Krisian Wilkerson
A9 Tavien Feaster
A10 Ceedee Lamb
A11 Lynn Bowden Jr.
A12 John Hightower
A13 Tra Minter
A14 Kendall Futrell
A15 James Morgan
A16 Carter Stanley
A17 Harrison Bryant
A18 Tyler Hall
A19 Kamal Martin
A20 Raymond Calais
A21 Sage Lewis
A22 Mason Kinsey
A23 Kelly Bryant
A24 Prince Tega Wanogho
A25 Darrynton Evans
A26 Matt Womack
A27 Jovante Moffatt
A28 Davon Hamilton
A29 Riley Neal
A30 Malik Harrison
A31 Tyler Badiasz
A32 Terrell Burgess
A33 Sewo Olonilua
A34 Jordan Love
A35 Jaylon Moore
A36 Austin Jackson
A37 Shane Zylstra
A38 Raequan Williams
A39 Ronadell Perkins
A40 Robert Hunt
A41 Ben Bredeson
A42 Khaleke Hudson
A43 Akeem Davis-Gaither
A44 Cam Akers
A45 Zack Baun
Next Level Signatures Checklist
56 cards.
Available in both Low and High Series.
Parallels:
Red
Silver – /25
Gold – /10
Emerald – /5
Blue Ice – 1/1
NL-AD Ashtyn Davis
NL-ADG Akeem Davis Gaither
NL-AH Alex Hornibrook
NL-AJD AJ Dillon
NL-AJT A.J. Terrell
NL-BA Brandon Aiyuk
NL-BE Bryan Edwards
NL-CA Cam Akers
NL-CC Chase Claypool
NL-CDL Ceedee Lamb
NL-CK Cole Kmet
NL-CO Chris Orr
NL-CS Carter Stanley
NL-DE Darrynton Evans
NL-DS D'Andre Swift
NL-DT Davion Taylor
NL-HB Harrison Bryant
NL-IS Isaiah Simmons
NL-JB Joe Burrow
NL-JH2 John Hightower
NL-JJ Jerry Jeudy
NL-JJ2 Justin Jefferson
NL-JL Jordan Love
NL-JM James Morgan
NL-JM2 Jaylon Moore
NL-JT1 Jonathan Taylor
NL-KB Kelly Bryant
NL-KD Kyle Dugger
NL-KH Khaleke Hudson
NL-KJH K.J. Hamler
NL-KL Kalija Lipscomb
NL-KLC K'Lavon Chaisson
NL-KM Kenneth Murray
NL-KM2 Kamal Martin
NL-KW Kenny Willekes
NL-KW2 Kristian Wilkerson
NL-LAP La'Michael Pettway
NL-LBJ Lynn Bowden Jr.
NL-LJ Lucky Jackson
NL-MH Malik Harrison
NL-MK Mason Kinsey
NL-PTJ Patrick Taylor Jr.
NL-RB Ross Blacklock
NL-RC Raymond Calais
NL-RD Raekwon Davis
NL-RN Riley Neal
NL-SO Sewo Olonilua
NL-TB Terrell Burgess
NL-TC Tae Crowder
NL-TD Troy Dye
NL-TF Tavien Feaster
NL-TH Tyler Hall
NL-TS Tommy Stevens
NL-TT Tua Tagovailoa
NL-ZB Zack Baun
NL-ZM Zack Moss
Peak Performance Autographs
30 cards.
Parallels:
Silver
Red – /50
Blue – /25
Gold – /10
Cracked Ice – 1/1
PKA-AH Alex Hornibrook
PKA-BE Bryan Edwards
PKA-CA Cam Akers
PKA-CDL Ceedee Lamb
PKA-CS Carter Stanley
PKA-DE Darrynton Evans
PKA-DS D'Andre Swift
PKA-DT Davion Taylor
PKA-HB Harrison Bryant
PKA-JB Joe Burrow
PKA-JH John Hightower
PKA-JJ1 Justin Jefferson
PKA-JL Jordan Love
PKA-JM Jovante Moffatt
PKA-JM Jaylon Moore
PKA-KB Kelly Bryant
PKA-KF Kendall Futrell
PKA-KH K.J. Hamler
PKA-KL Kalija Lipscomb
PKA-KW Kristian Wilkerson
PKA-LBJ Lynn Bowden Jr.
PKA-MK Mason Kinsey
PKA-RC Raymond Calais
PKA-RN Riley Neal
PKA-SO Sewo Olonilua
PKA-TD Troy Dye
PKA-TF Tavien Feaster
PKA-TM Tra Minter
PKA-TS Tommy Stevens
PKA-ZB Zack Baun
Inserts
2020 SAGE Hit Premier Draft Low Series Football Inserts Checklists
Art Gallery Checklist
18 cards.
AG-1 Tua Tagovialoa
AG-2 Zack Moss
AG-3 Jonathan Taylor
AG-4 Cam Akers
AG-5 Kelly Bryant (Clemson)
AG-6 Ceedee Lamb
AG-7 James Morgan
AG-8 Kalija Lipscomb
AG-9 Harrison Bryant
AG-10 D'Andre Swift
AG-11 Jordan Love
AG-12 Cole Kmet
AG-13 AJ Dillon
AG-14 Brandon Aiyuk
AG-15 Chase Claypool
AG-16 Joe Burrow
AG-17 Kelly Bryant (Missouri)
AG-18 Sewo Olonilua
Art Gallery Sketch Cards Checklist
32 cards.
AG-TUA1 Tua Tagovialoa 1/1
AG-ZM Zack Moss 1/1
AG-JT Johnathan Taylor 1/1
AG-CA Cam Akers 1/1
AG-KB1 Kelly Bryant (Clemson) 1/1
AG-CDL Ceedee Lamb 1/1
AG-JM James Morgan 1/1
AG-KL Kalija Lipscomb 1/1
AG-HB Harrison Bryant 1/1
AG-DS D'Andre Swift 1/1
AG-JL Jordan Love 1/1
AG-CK Cole Kmet 1/1
AG-AD AJ Dillon 1/1
AG-BA Brandon Aiyuk 1/1
AG-CC Chase Claypool 1/1
AG-JB1 Joe Burrow 1/1
AG-KB2 Kelly Bryant (Missouri) 1/1
AG-SO Sewo Olonilua 1/1
AG-DD Deejay Dallas 1/1
AG-GD Grant Delpit 1/1
AG-BE Bryan Edwards 1/1
AG-JF Jake Fromm 1/1
AG-JH1 Justin Herbert 1/1
AG-JaH1 Jalen Hurts 1/1
AG-JR Justin Reagor 1/1
AG-JUWAN1 Juwan Johnson 1/1
AG-DM Denzel Mims 1/1
AG-JO Jeffrey Okudah 1/1
AG-LP Lamical Perine 1/1
AG-MPJ Michael Pittman Jr. 1/1
AG-SP Scottie Phillips 1/1
AG-NS Nate Stanley 1/1
Peak Performance Checklist
30 cards.
Parallels:
Silver
Red – /50
Blue – /25
Gold – /10
Cracked Ice – 1/1
PK-AH Alex Hornibrook
PK-BE Bryan Edwards
PK-CA Cam Akers
PK-CDL Ceedee Lamb
PK-CS Carter Stanley
PK-DE Darrynton Evans
PK-DS D'Andre Swift
PK-DT Davion Taylor
PK-HB Harrison Bryant
PK-JB Joe Burrow
PK-JH John Hightower
PK-JJ1 Justin Jefferson
PK-JL Jordan Love
PK-JM Jovante Moffatt
PK-JM Jaylon Moore
PK-KB Kelly Bryant
PK-KF Kendall Futrell
PK-KH K.J. Hamler
PK-KL Kalija Lipscomb
PK-KW Kristian Wilkerson
PK-LBJ Lynn Bowden Jr.
PK-MK Mason Kinsey
PK-RC Raymond Calais
PK-RN Riley Neal
PK-SO Sewo Olonilua
PK-TD Troy Dye
PK-TF Tavien Feaster
PK-TM Tra Minter
PK-TS Tommy Stevens
PK-ZB Zack Baun