2020 Rittenhouse Twilight Zone Archives isn't the first set for the classic show to use inscribed autographs. However, it's certainly upping the content in that regard over 2019's Twilight Zone: Rod Serling Edition. For this set, autographs land two per box. At least one of those has an inscription.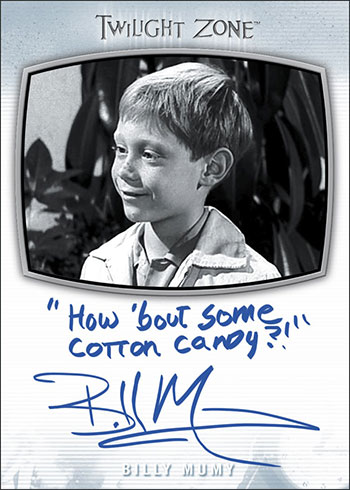 2020 Rittenhouse Twilight Zone Archives Base Set Basics
The base set is actually an expansion of an insert series that began in the Rod Serling Edition set. The 64 cards take on a Portfolio Prints theme, covering the episodes the earlier inserts didn't. Each uses artwork from Juan Ortiz.
Foil parallels, which land 1:6 packs, cover all 156 cards — both the 2020 base cards and 2019 inserts.
Autographs
Inscription Autographs are one of the biggest draws in the entire product. While one is guaranteed in every box, some will have two. Inscriptions not only have a signature from the featured actor like traditional autographs, but a short note as well. This might be a classic line of dialogue, character name, episode or something else. Besides the added personalization, it also opens up the possibility of lots of variations.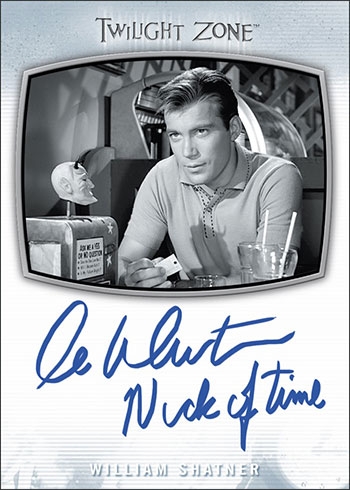 Inscription signers include William Shatner, George Takei, Orson Bean, Bill Mumy and Ann Jillian.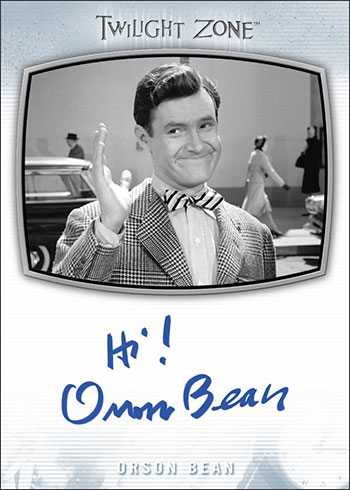 Regular autographs and dual autographs can also be found.
The product also has a pair of Dual Autograph Booklet cards that have a cut signature from Rod Serling. On one he's paired with William Shatner while the other has Serling along with Bill Mumy.
Additional 2020 Rittenhouse Twilight Zone Archives Inserts
2020 Rittenhouse Twilight Zone Archives has five additional chase sets. Four of these are expansions for inserts that have already started:
Character Portfolio Prints (five cards, 1:48 packs)
Stars of the Twilight Zone (18 cards, 1:12 packs)
Twilight Zone Hall of Fame (nine cards, 1:144 packs)
Twilight Zone Portraits (nine cards, 1:24 packs)
The inserts round out with nine Twilight Zone Acetate cards. These fall approximately every fourth box (1:96 packs).
Additionally, there's a custom binder. It comes with an exclusive promo card that's not available elsewhere.
Incentives
2020 Twilight Zone Archives has some exclusive incentives available to those ordering multiple cases.
Bill Mumy and William Shatner have Portfolio Print Autographs. The Mumy is a six-case incentive while Shatner is the nine-case.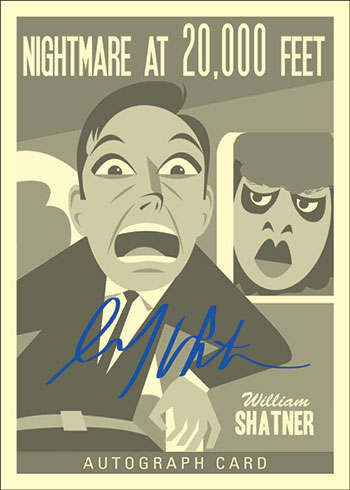 Those purchasing 18 cases receive a special Archive Box. Among the contents is a set of four printing plates used to make the same base card. There's also a Pamela Austin autograph (#174b) that is not in regular packs.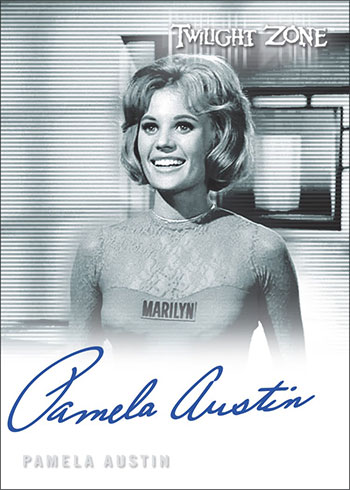 2020 Rittenhouse Twilight Zone Archives trading cards at a glance:
Cards per pack: 5
Packs per box: 24
Boxes per case: 12
Set size: 64 cards
Release date: July 1, 2020
What to expect in a 2020 Rittenhouse Twilight Zone Archives hobby box:
Inscription Autographs – 1
Additional Autographs – 1
2020 Rittenhouse Twilight Zone Archives Checklist
Base
Autographs
Inserts
Promo Cards