2020 Rittenhouse Game of Thrones Season 8 trading cards bring the final season of the epic season to the hobby. And while there are some familiar elements, Rittenhouse is adding a new layer to the autographs. Inscriptions are part of the mix this time around and in a big way. Of the two autographs in each Season 8 box, one comes with an additional note or quote to go with the signature.
2020 Rittenhouse Game of Thrones Season 8 Base Set Basics
Sticking with the theme of past seasonal Game of Thrones releases from Rittenhouse, characters are the focal point of the base set. More than 40 people are profiled. Episode recaps help round out the checklist.
With 60 cards, it's down from Season 7's 81 and the 100 cards in the Season 6 set. But there are also fewer episodes to draw from this time around as well.
The base set has a pair of parallels. The first sees cards landing 1:3 packs. Gold parallels, at 1:24 packs, average one per box.
Autographs
2020 Rittenhouse Game of Thrones Season 8 signers come from throughout the series. Inscriptions help put an elevated spin for those who may have signed in the past. The variety of notations also create numerous variations to chase, for those who might want to go deep with a particular character or actor.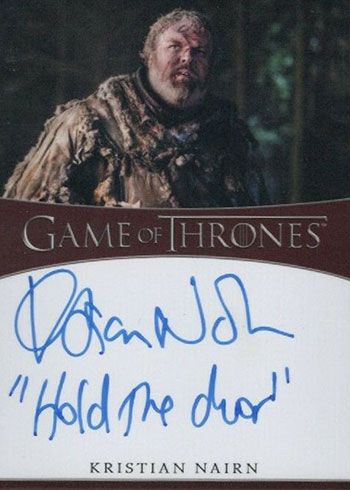 Actors with Inscription Autographs include Maisie Williams (Arya Stark), Nikolaj Coster Waldau (Jaime Lannister), Sean Bean (Ned Stark), Rose Leslie (Ygritte), Rory McCann (The Hound), Nathalie Emmanuel (Missandei) and more.
Dual Autographs are also available. Maisie Williams (Arya Stark) and Rory McCann (The Hound), and Sean Bean (Ned Stark) and Michelle Fairley (Catelyn Stark) are among the combinations.
According to Rittenhouse, there will also be ten signers with their first Game of Thrones autograph cards.
Additional Inserts
The checklist has several additional insert sets and chase cards that range from somewhat common to extremely tough.
Relic Cards feature costume pieces from Daenerys Targaryen, Tyrion Lannister, Sansa Stark and Cersei Lannister.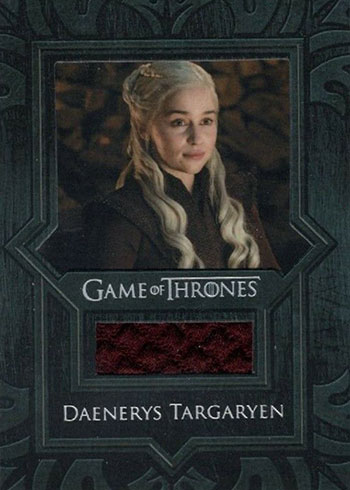 Original art is available on both Character and Scenic Sketch Cards. Throughout Rittenhouse's run with the line, these have ranked among some of the most coveted Game of Thrones trading cards.
Quotable Game of Thrones (nine cards, 1:12 packs), Relationships (18 cards, 1:24 packs) and Beautiful Death (six cards, 1:72 packs) are all carryover insert sets, adding a further culmination aspect that goes beyond just this release. Additional Gold parallels are available for Relationships (1:144) and Beautiful Death (1:288).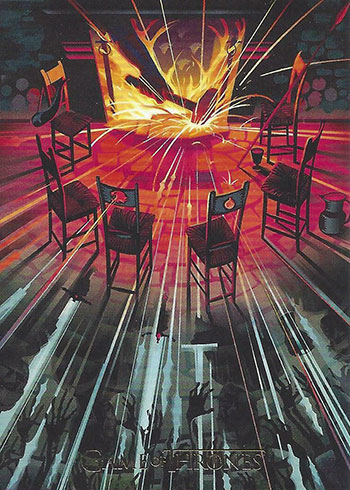 Tough insert sets include Game of Thrones Acetate (20 cards, 1:96), For the Throne Posters (11 cards, 1:144), and Map Markers and Dragonstone Markers (11 cards, 1:144).
An album is available separately with each one coming with an exclusive promo card.
Case Incentives
Standard for Rittenhouse, there are some exclusive incentives for those ordering multiple cases. A DaenerysDual Relic is the six-case card.
Those purchasing nine cases receive a Dual Autograph of Maisie Williams (Arya) and Joe Dempsie (Gendry).
Finally, there's a special Archive Box that's the 18-case incentive. Exact contents haven't been announced, but there will be cards in it that aren't in regular packs.
2020 Rittenhouse Game of Thrones Season 8 trading cards at a glance:
Cards per pack: 5
Packs per box: 20
Boxes per case: 12
Set size: 60 cards
Release date: March 18, 2020
What to expect in a hobby box:
Inscription Autographs – 1
Additional Autographs – 1
Quotable – 2
Relationships – 1
Parallels – 8
Gold Parallels – 1
2020 Rittenhouse Game of Thrones Season 8 Checklist
Base
Autographs
Memorabilia
Inserts
Promo Cards