2020 Playoff Football Checklist, Team Set List and Details
When you click on links to various merchants on this site, like eBay, and make a purchase, this can result in this site earning a commission.
No matter what approach you take to collecting the sport, 2020 Playoff Football likely has some elements that fit. Its base set has some depth for both rookies and veterans. Autographs and memorabilia cards come in several levels, but so do other inserts including a big focus on chromium designs.
Then there's the configuration. At the hobby level, boxes have four total hits, a dozen inserts and four parallels. Retail comes in several varieties and price points as well. Retail Box Buy boxes are the closest to hobby with both an autograph and memorabilia card. Blasters come with one or the other.
2000 Playoff Football Checklist Overview
The base set checklist has a total of 300 cards. Two-thirds of that is veterans, leaving room for both big stars and some lesser names. Rookies total 100 cards, again offering more than just the top names.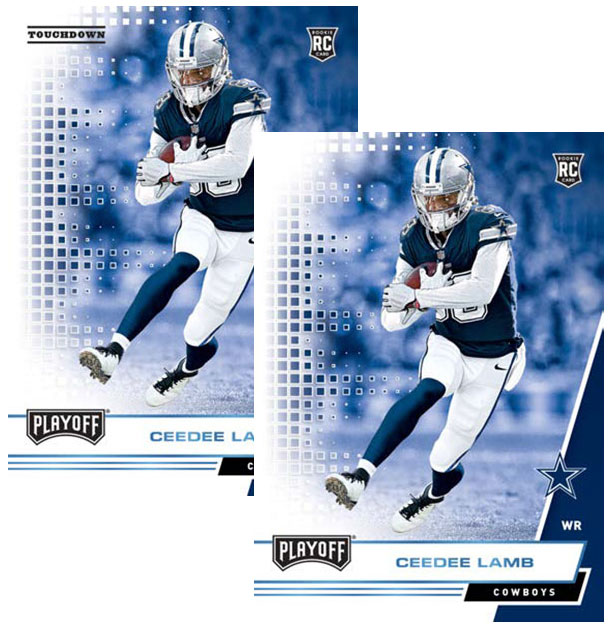 Parallels draw their inspiration from the football field:
Goal Line – (hanger boxes)
Kickoff – (blasters and fat packs)
Red Zone (retail box buy)
1st Down – /99 (hobby)
2nd Down – /49 (hobby)
3rd Down – /25 (hobby)
4th Down – /10 (hobby)
Touchdown – 1/1 (hobby)
Parallels are noted with small logos, which may not jump out as quickly as full border colors found in a lot of other brands.
Select base cards also have autographs with additional Red Zone and one-of-one Touchdown versions for rookies. On top of these are Rookie Variations Autographs that have their own 4th Down (/10) and Touchdown (1/1) parallels).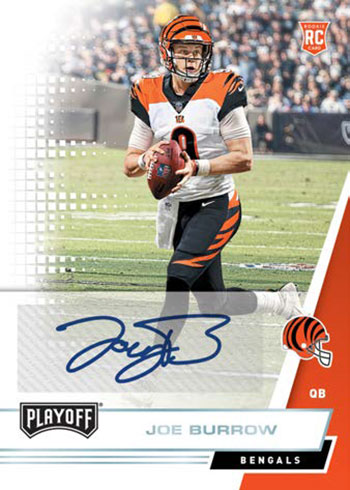 Autographs and Memorabilia Cards
Past, present and future are all among the signature options in 2020 Playoff Football.
Among the themes are Game Day Signatures and Hall of Fame Autographs (/50), which highlight Canton inductees.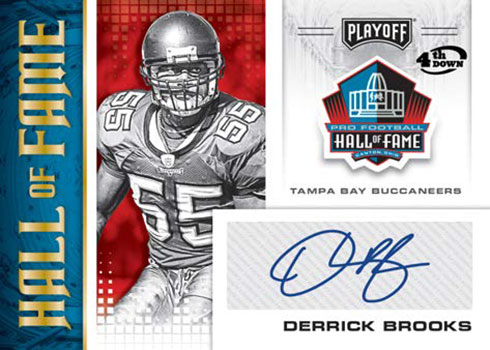 Touchdown Tandems pair up a quarterback's signature alongside one of their top targets. Duos cover current players as well as stars from the past.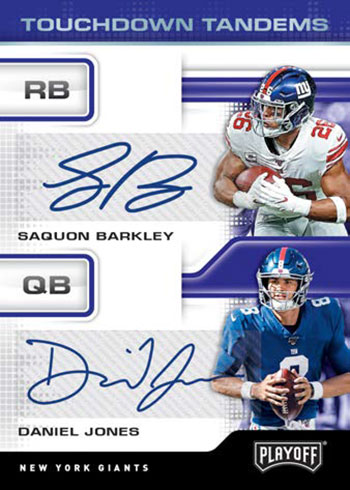 Parallels for both Hall of Fame Autographs and Touchdown Tandems include 4th Down (/10 or less) and Touchdown (1/1).
Before 2020 Panini Contenders Football arrives, Playoff has Rookie Ticket RPS Preview Autographs and Variation Autographs. The "preview" part comes from the design, which will be used in the main set. However, there are a couple of notable differences. The first is the use of stickers for the signatures. Available in Blue, Red and Green versions, all are numbered to 23 copies.
When it comes to memorabilia, Sunday's Best is dedicated to big names with both regular and Prime (/50 or less) versions.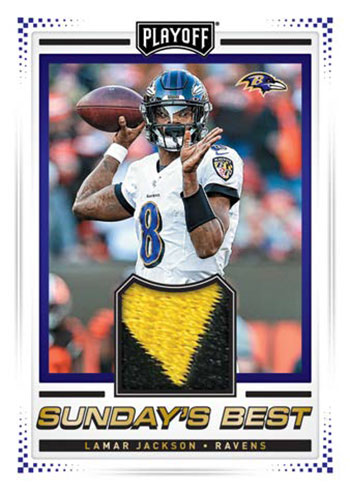 Changing Stripes highlights two teams current and past players suited up through over the years. These also have Prime parallels that top out at 50 copies each.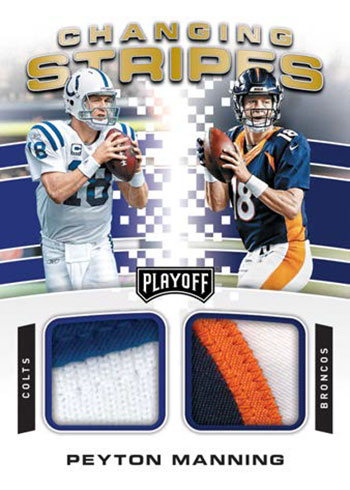 Rookie Stallions return. These are exclusive to retail Box Buy boxes and blasters.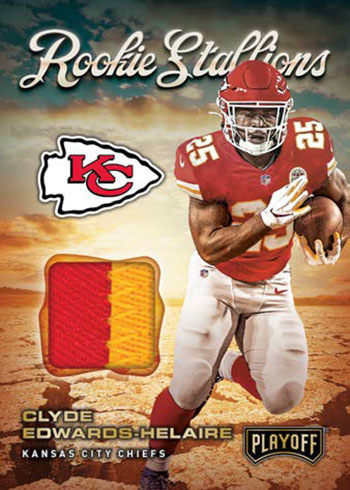 Additional Inserts
2020 Playoff Football has no shortage of other inserts. And while some of the names may be familiar to long-time collectors of the brand, they're taking a different approach this year. Regular inserts come on Opti-Chrome stock, giving them a similar shine and feel as cards found in Panini Prizm, Donruss Optic and others.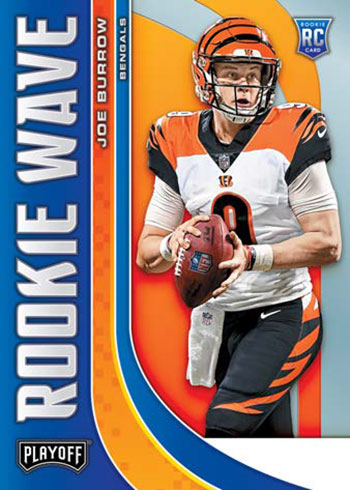 Call to Arms has an all-quarterbacks checklist. Parallels include Silver, Blue (fat packs only), Pink (retail box buy only), Purple (hanger boxes only), Red (blasters only), Gold (/10) and Touchdown (1/1). Select cards also have autographs that have 99 copies or less.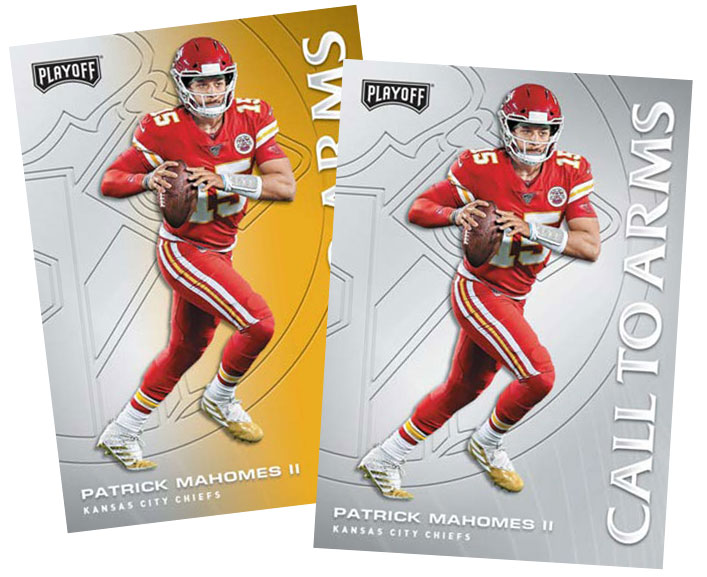 Thunder & Lightning returns, showcasing powerful pairings. There's also Behind the Numbers, which use jersey numbers as a design focal point. Rookie Wave offers a colorful look at first-year standouts. For each of these, retail parallel colors and pack distribution match up with Call to Arms.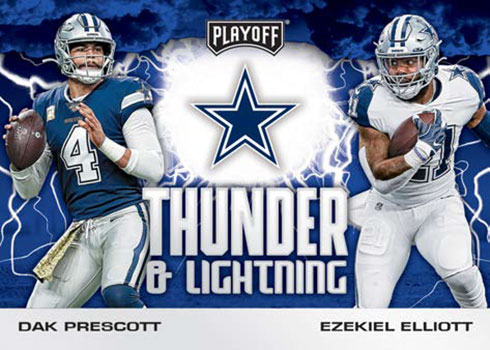 2020 Playoff Football cards at a glance:
Cards per pack: Hobby – 20, Retail Box Buy – 8, Blaster – 8, Hanger Boxes – 60, Fat Packs – 12
Packs per box: Hobby – 12, Retail Box Buy – 10, Blaster – 7, Hanger Boxes – 1, Fat Packs – 12
Boxes per case: Hobby – 20, Retail Box Buy – 20, Blaster – 20, Hanger Boxes – 36, Fat Packs – 12
Set size: 300 cards
Release date: November 20, 2020
What to expect in a 2020 Playoff Football hobby box:
Autographs – 2
Memorabilia Cards – 2
Opti-Chrome Inserts – 12
Parallels – 4
Rookies – 12
What to expect in a retail box buy box:
Autographs – 1
Memorabilia Cards – 1
Inserts – 10
Parallels – 4
Rookies – 10
What to expect in a blaster box:
Autographs or Memorabilia Cards – 1
Inserts – 5
Parallels – 2
Rookies – 7
What to expect in a hanger box:
Inserts – 6
Parallels – 6
Rookies – 6
What to expect in a fat pack:
Inserts – 2
Parallels – 3
Rookies – 5
2020 Playoff Football Checklist
Please note that print runs haven't been announced for cards without serial numbers.
You can also download a customizable spreadsheet version of the checklist:
Base
Autographs
Memorabilia
Inserts
Team Sets