There's colorful chromium sets and then there's Spectra. 2020 Panini Spectra Football has all the high-end hits the brand is known for. But what helps set it apart from other shiny sets is its mix of cards that put a rainbow into individual cards.
2020 Panini Spectra Football Checklist Overview
At its most basic, the main Spectra set is chromium, making it similar to Prizm, Optic and Select. However Spectra brings thicker stock and smaller numbers, helping it lean more into its premium nature.
The checklist as 135 veterans plus rookies from the 2020 draft class. Base versions top out at 99 copies.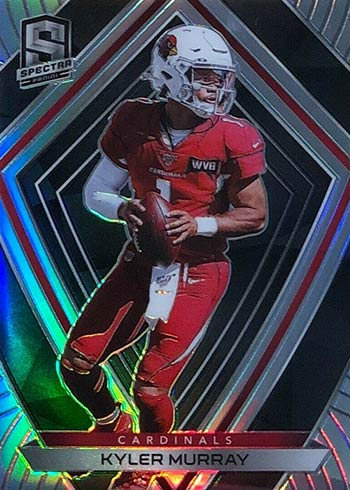 Parallels are a mix of bright colors, patterns and bold combinations not found in other sets:
Hyper – /75
Neon Blue – /60
Die-Cut Neon Blue – /50
Neon Green – /35
Die-Cut Neon Green – /30
Neon Pink – /25
Die-Cut Neon Pink – /20
Neon Orange – /15
Die-Cut Neon Orange – /10
Psychadelic – /5
Neon Marble – /4
Nebula – /2
Gold – 1/1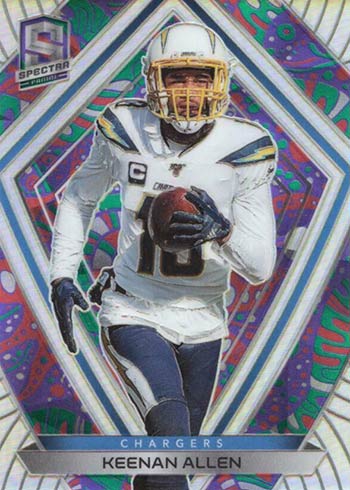 Autographs
Spectra continues to deliver more hits that Panini's other opti-chrome sets. Four-pack boxes come with ten total autographs and memorabilia cards.
Rookie Patch Autographs are among the hit highlights in 2020 Spectra, landing one per box. Base versions have no more than 199 copies each but there, like the main base set, there are lots of parallels: Hyper (/99 or less), Neon Blue (/75 or less), Neon Green (/50 or less), Neon Purple (/35 or less), Neon Pink (/25 or less), Neon Black Light (/10 or less), Psychedelic (/5), Neon Marble (/4), Nebula (/2) and Gold (1/1). Additional one-of-one Gold versions come in Laundry Tag NFL Players Logo, Laundry Tag NFL Shield and Laundry Tag Nike Swoosh.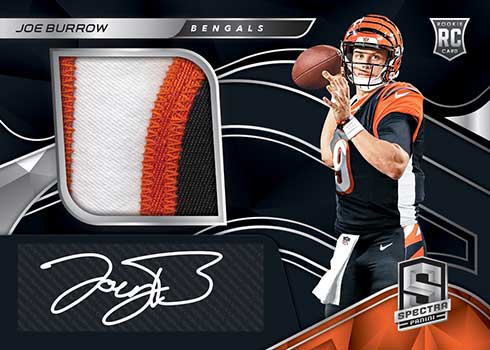 Radiant Rookie Patch Signatures (/199 or less) is another place to find autographed memorabilia cards from key first-year players. These also come with a jumbo swatch. The parallel lineup matches up with the Rookie Patch Autographs.
Champion Signatures highlights Super Bowl winners with on-card autographs.
Keeping with the on-card theme is Sky High Signatures (/99 or less). Action photography is the theme that these center around.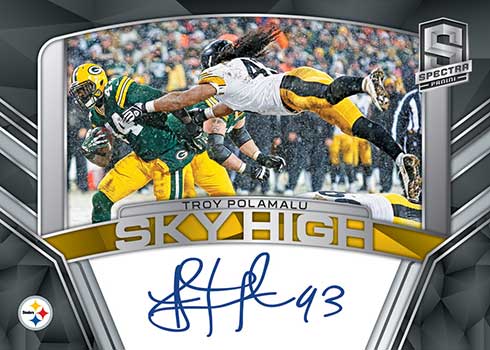 Parallels for both of these on-card autograph inserts include Hyper (/75 or less), Neon Blue (/50 or less), Neon Green (/25 or less), Neon Pink (/15 or less), Neon Orange (/10 or less), Psychedelic (/5), Neon Marble (/4), Nebula (/2) and Gold (1/1).
Illustrious Legends, Tribute Autographs and Vested Veterans Autographs offer more hard signatures in 2020 Panini Spectra Football.
Memorabilia Cards and Other Inserts
Every 2020 Panini Spectra Football hobby box has six memorabilia carrds.
Among the debuting themes is Respectra. The idea behind these is to showcase various post-game jersey swaps.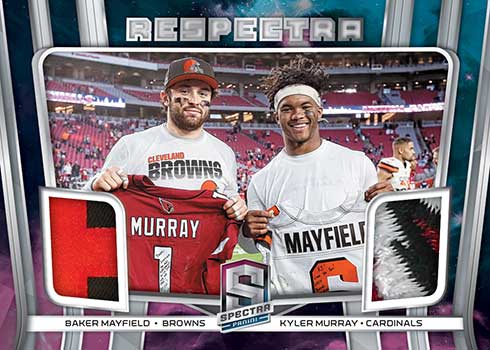 High Voltage, Firework Fabric and Championship Gear are some of the other memorabilia inserts in the set.
Like other parts of the 2020 Panini Spectra Football checklist, relics have plenty of parallels as well, many offering premium swatches and patches.
2020 Spectra boxes also have one regular insert that doesn't come with an autograph or memorabilia piece.
Tribute is one of them, which spotlights the careers of both Peyton Manning and Drew Brees. Base versions have 99 copies with additional Hyper (/75) and Neon Blue (/50) versions. There are also tough autographs that come in a variety of colors.
2020 Panini Spectra Football cards at a glance:
Cards per pack: 4
Packs per box: 4
Boxes per case: 8
Set size: TBA
Release date: October 16, 2020
Shop for 2020 Panini Spectra Football boxes on eBay:
What to expect in a hobby box:
Rookie Patch Autographs – 1
Additional Autographs – 3
Memorabilia Cards – 6
Inserts – 1
Base Cards or Parallels – 5 Total
2020 Panini Spectra Football Checklist
You can also download a customizable spreadsheet version of the checklist:
Base
Autographs
Memorabilia
Inserts
Team Sets