2020 Panini Phoenix Football Checklist, Team Set Lists and Details
2020 Panini Phoenix Football is one of those products that has a little bit of everything: hits, lots of inserts, plenty of parallels, chromium elements, a steady flow of rookies and more. Getting into more specifics, headlining hobby boxes are two autographs, a memorabilia card and nine inserts.
2020 Panini Phoenix Football Checklist Overview
The base set totals 200 cards. Veterans make up one half while rookies, which average out to one per pack, make up the other.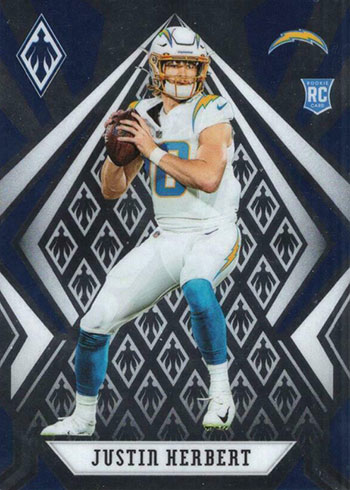 Parallels, which also average one per pack, have more than a dozen levels:
Silver
Color Burst
Red (/299)
Pink (/199)
Teal (/175)
Purple (/149)
Orange (/99)
Yellow (/79)
Fire and Ice (/50)
Blue (/35)
Green (/25)
Black (/10)
Gold (1/1)
Autographs, Memorabilia Cards and Other Inserts
2020 draft picks are the focus of three different autograph memorabilia sets. These start with RPS Rookie Auto Jersey (/299 or less). Although not a guarantee, collectors can expect one of these to be among a hobby box's hits. Parallel versions come in Orange (/149 or less), Yellow Prime (/75 or less), Blue Prime (/50 or less), Green Prime (/25 or less) and four different one-of-ones — Laundry Tag Brand Logo, Laundry Tag NFL Players Logo, NFL Shield Laundry Tag and Super Prime.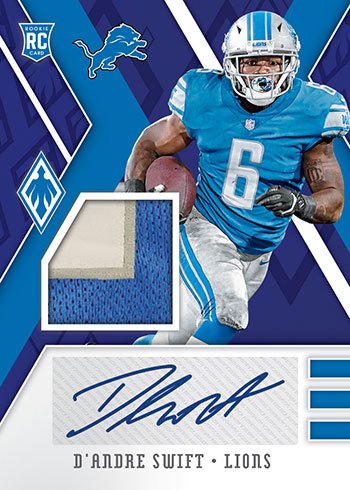 RPS Rookie Auto Dual Jersey (/149 or less) add a second piece of memorabilia to the mix. Parallels are largely the same except for the absence of Orange.
Finally, there's Rising Rookie Material Signature (/149 or less) have a slightly larger memorabilia window. Further more, parallels for these go beyond jersey pieces. These include Gloves (/99 or less), Helmet (/25), Hat (/10 or less), Helmet Logo (/3), NFL Shield (1/1), Nike Swoosh (1/1), Team Logo (1/1) and Vapor Jet (1/1).
More ink can be found in new inserts Star Signs and Rising Star Signatures.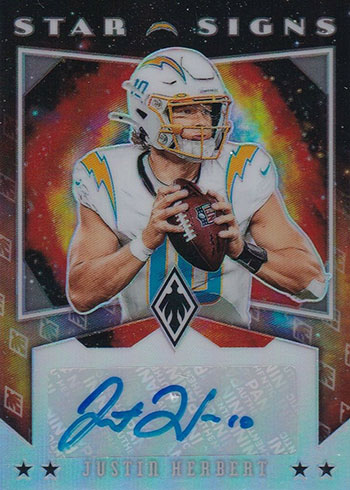 Among the strictly memorabilia offerings is Phoenix Fabrics, which is another spot of the checklist for rookies.
If you go by averages, packs that don't have an autograph or memorabilia card probably have an insert.
Among them is En Fuego, a name that will likely bring some nostalgia from '90s baseball card collectors. While the fire theme remains, this time around they're case hits done with a die-cut design and bold colors.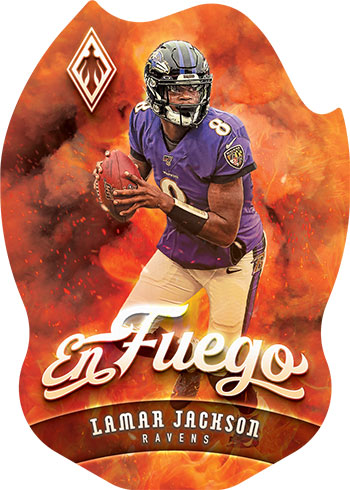 Phoenician and Regeneration are a couple of other tough case hit inserts.
2020 Panini Phoenix Football Fanatics Factory Set
2020 Phoenix has a special factory set available exclusive through Fanatics. While it has all 200 base cards, they're more like a special parallel that's only found in the set. Not only do they come on opti-chrome stock but cards are done as Fire Burst parallels.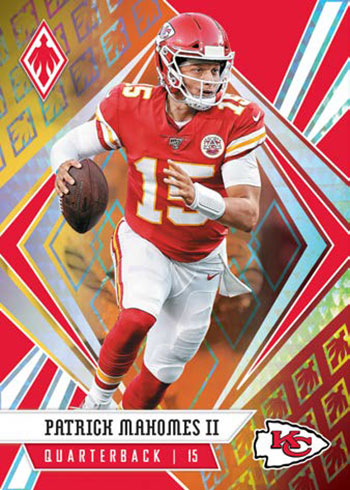 2020 Panini Phoenix Football cards at a glance:
Cards per pack: 5
Packs per box: 12
Boxes per case: 16
Set size: 200 cards
Release date: October 30, 2020
Shop for 2020 Panini Phoenix Football boxes on eBay:
What to expect in a hobby box:
Autographs – 2
Memorabilia Cards – 1
Inserts – 9
Parallels – 12
Rookies – 12
2020 Panini Phoenix Football Checklist
Please note that print runs for cards without serial numbers haven't been released.
You can also download a customizable spreadsheet copy of the checklist:
Base
Autographs
Memorabilia
Inserts
Team Sets