2020 Panini Instant Football Checklist and Details
Until the final seconds of Super Bowl LV tick away, nobody knows what the 2020 NFL season has in store. No matter what happens, 2020 Panini Instant Football will be there telling its story.
This marks the fifth season for the print-on-demand line. Once the season begins, new cards will be available through Panini's website of big games, highlight-reel plays, falling records pretty much as they happen.
But the set isn't just about the games. Much like the NFL year expanding beyond the schedule, so does 2020 Panini Instant Football. In fact, the first cards arrived months before the first game and even before the draft with the Combine.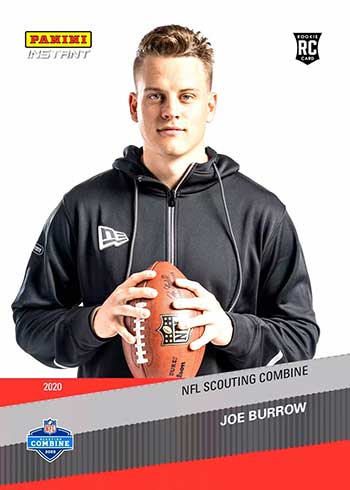 Shortly after that, there was 2020 Panini Instant NFL Draft Night, a standalone release with a similar print-on-demand format.
Like other Panini Instant sets, print runs are determined by how many are ordered. Typically this means some cards with large print runs and others that are significantly smaller.
Cards also have Green (/5) and Black (1/1) parallels. These launch at the same time but rather than being a limited time offer, they're available until they sell out.
2020 Panini Instant Football Checklist
This checklist will expand as the season goes on. Known print runs are noted.
Parallels:
NFL Scouting Combine
Buy on: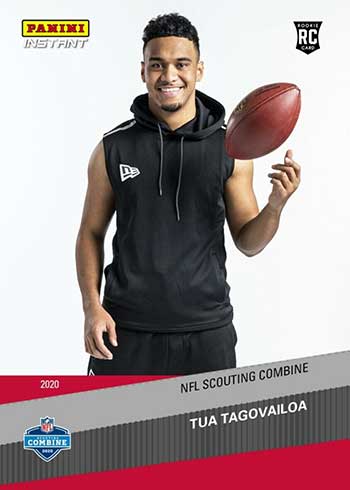 1 Joe Burrow – 2,017
2 Tua Tagovailoa – 653
3 Justin Herbert – 221
4 Jordan Love – 156
5 Jerry Jeudy – 122
6 CeeDee Lamb – 145
7 Henry Ruggs III – 116
8 Jonathan Taylor – 91
9 D'Andre Swift – 90