2020 Panini Contenders Football Checklist, Team Set Lists and Details
Tickets haven't had a great 2020. Whether they're for live events, flights, movies or entry into Disneyland, the pandemic has hampered a lot of live events. But not all tickets have gone away (and I'm not referring to the speeding variety, either). 2020 Panini Contenders Football sticks with the brand's foundation of autographs built around a deep ticket theme.
Hobby boxes maintain the dame general feel as 2019 with five autographs, one of which is on-card.

2020 Panini Contenders Football Checklist Overview
Veterans kick off the checklist with 100 Season Tickets. With a somewhat limited set size, it's primarily stars. Among the parallels available in hobby packs are Playoff Ticket (/199), Championship Ticket (/99), Cracked Ice Ticket (/22) and Super Bowl Ticket (1/1).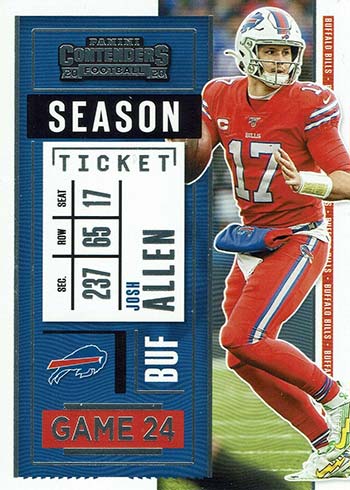 Rookie Tickets are often the central draw in any Contenders set. These deliver a deep roster of Rookie Cards, the vast majority of which are autographs (occasionally there are one or two players who don't have signatures available).
Top rookies are part of Rookie Ticket RPS, which have on-card autographs.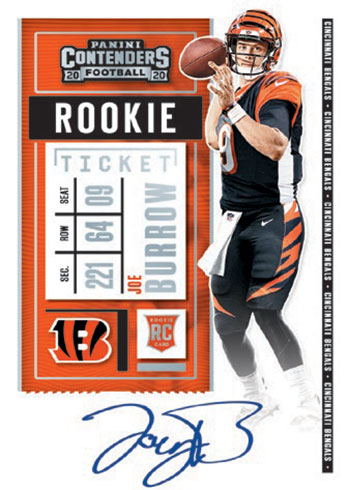 Parallels come in Playoff Ticket (/99 or less), Ticket Stub (/99 or less), Championship Ticket (/49 or less), Cracked Ice Ticket (/22) and Super Bowl Ticket (1/1).
Rookie Clear Ticket RPS, which use clear acetate stock, return. So do their tough Mosaic parallels. Both of these are exclusive to hobby packs.
Additional Autographs and Inserts
As a brand, Contenders has a lot of history. A couple of autograph inserts tap directly into the line's past.
2000 Rookie Ticket RPS go back two decades with their design. 2000 Playoff Contenders, aka the Tom Brady rookie year, is the inspiration for these autographs.\
Like the name suggests, Contenders to Canton Autographs feature Hall of Famers. These show players with their gold jackets alongside their Contenders debut.
More autographs are available in NFL Ink, MVP Contenders Autographs and Legendary Contenders Autographs. Coaches Ticket Autographs also return.
The 2020 Panini Contenders Football checklist has depth beyond autographs. With 18 in a box, regular inserts average one per hobby pack. Themes include MVP Contenders, Rookie of the Year Contenders and Round Numbers.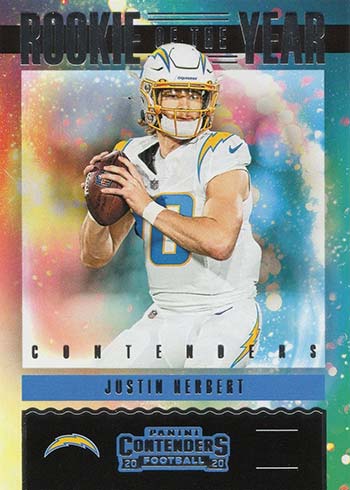 Winning Ticket is another place for top stars.
2020 Panini Contenders Football cards at a glance:
Cards per pack: Hobby – 6
Packs per box: Hobby – 18
Boxes per case: Hobby – 12
Set size: 305 cards
Release date: January 22, 2021
Shop for 2020 Panini Contenders Football boxes on eBay:
What to expect in a hobby box:
On-Card Autographs – 1
Additional Autographs – 4
Inserts – 18
Parallels – 1
2020 Panini Contenders Football Checklist
Please note that print runs have not been announced for cards without serial numbers.
You can download a customizable spreadsheet copy of the checklist:
Base
Variations
Autographs
Memorabilia
Inserts
Updates
Team Sets