2020 Panini Black Football Checklist, Team Set Lists and Details
They were dark and stormy nights — when many football games were played. The ambiance, the drama — both take on greater intensity on days like these. Such is the case with 2020 Panini Black Football, a hits-centric release that uses darks designs at every corner of the checklist. We'll leave the "stormy" to one set of autographs or the background ambiance to those who feel so inclined to bust a box or sort through their stacks on dark days with booming skies.
Hobby boxes deliver five cards. Three of these are either autographs or memorabilia cards.

2020 Panini Black Football Checklist Overview
Black's shell set has 100 cards with a checklist that's a mix of current stars and retired greats. The design uses modern lines to present a pair of photos — an action shot and a zoomed-in picture of the player's face that evokes a certain intensity.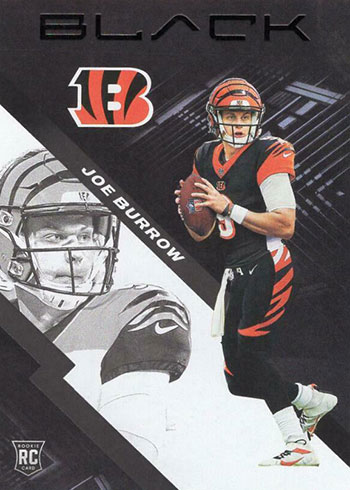 Then there are the rookies. The 2020 Panini Black Football checklist adds another 100 first-year players, offering a deep look at the draft class.
Parallels, which land one per pack, come in the following: Silver (/50), Copper (/35), Emerald (/25), Gold (/10) and Platinum (1/1).
Rookie Patch Autograph come numbered as part of the main set. Besides the signature, these come with a larger-than-normal swatch. Additional parallels include Silver (/99 or less), Copper (/50 or less), Emerald (/25 or less), Gold (/10 or less) and Platinum (1/1).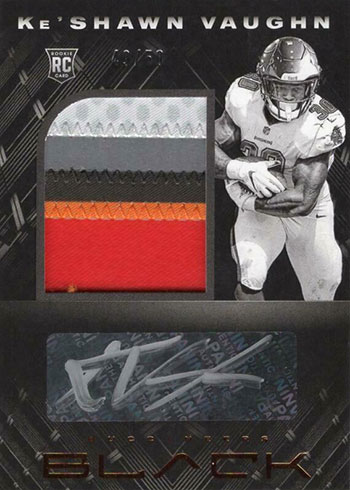 Autographs and Memorabilia Cards
Once you get past the base card and parallel in each pack, the remaining three cards are all autographs and memorabilia cards.
Capstones, which were last seen in football in 2019 Panini Majestic, make the brand jump. These are distinct for their four-corners approach to memorabilia to go alongside the signature. Silver versions have no more than 25 copies each. There's also Gold (/10 or less) and Platinum (1/1).
Another spot of on-card ink is Bright Lights Signatures. This is a new set that has Silver (/25 or less), Gold (/10 or less) and Platinum (1/1) versions on the checklist.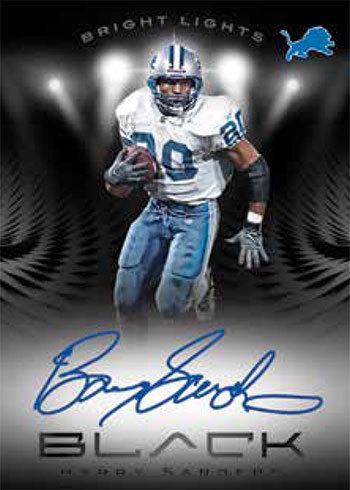 More hard autographs can be found in Midnight Signatures, Shadow Ink and Storm Signatures.
Evoking something of a Silhouettes vibe are Sizeable Signatures Jersey and Sizeable Signatures Rookie Jersey. In both instances, swatches are on the large side. Silver versions for both have no more than 50 copies each. There's also Emerald (/25 or less), Gold (/10 or less) and Platinum (1/1).
Multi-signature options include Super Bowl Teammates Dual and Triple Autographs.
As for the memorabilia inserts, set names include Rookie Influx, Futuristic — both of which use big swatches — and Jet Black Materials.
After taking a somewhat lengthy break, Panini Black Football returned in 2019 as an online-exclusive. 2020 Panini Black Football takes a traditional hobby approach to its distribution.
2020 Panini Black Football cards at a glance:
Cards per pack: 5
Packs per box: 1
Boxes per case: 12
Set size: 242 cards
Release date: August 26, 2020
Shop for 2020 Panini Black Football boxes on eBay:
What to expect in a hobby box:
Rookie Autograph Patch Cards – 1
Additional Autographs – 1
Memorabilia Cards – 1
Parallels – 1
Base Cards – 1
2020 Panini Black Football Checklist
Please note that print runs for cards without serial numbers have not been announced.
A customizable spreadsheet version of the checklist is available here:
Base
Autographs
Memorabilia
Team Sets