2020 Leaf Trinity Multi-Sport Checklist and Details
2020 Leaf Trinity Multi-Sport is a small box set covering top prospects from both football and baseball. Despite carrying the Trinity name, it takes a different approach than the brand normally does, focusing primarily on its base set. Available for a very short time on the card maker's website, each box comes with a full regular set plus an autograph of either Jasson Dominguez or Tua Tagovailoa.
The base set has 16 cards. Besides the two players featured on the autographs, other headliners include Joe Burrow, Justin Herbert, Adley Rutschman, Chase Young, Jerry Jeudy and Wander Franco.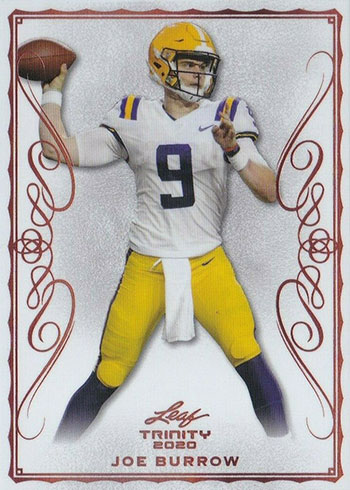 Some of the box sets come with full Spectrum Holofoil parallel sets instead of the Bronze base versions. These include Platinum (/75), Green (/45), Red (/30), Purple (/20), Silver (/10) and Gold (1/1). With a total of 315 sets sold, more than half of the sets are parallels.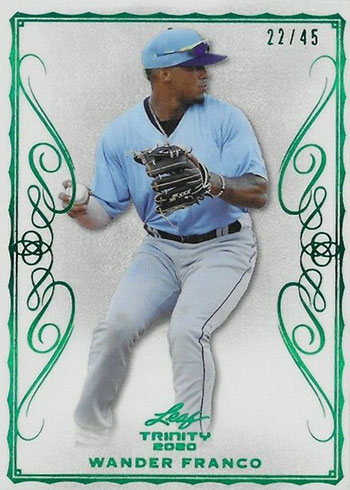 As for the autographs, they have a similar parallel structure, although Tagovailoa's are more common than the Dominguez cards. Full breakdowns and parallel print runs are in the checklist below.
2020 Leaf Trinity Multi-Sport originally cost $134.99 per set.
2020 Leaf Trinity Multi-Sport cards at a glance:
Cards per box: 17
Set size: 16 cards
Release date: July 13, 2020
What to expect in a box set:
16-Card Base Set
Autographs – 1
2020 Leaf Trinity Multi-Sport Checklist
Base Set
16 cards.
Buy on: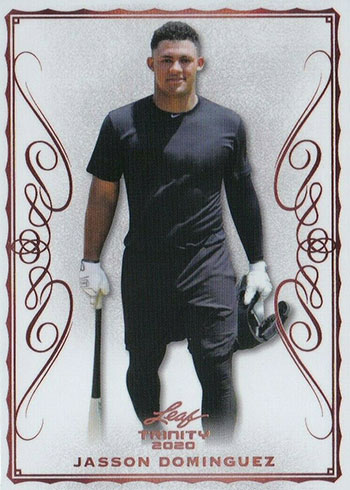 Parallels:
Platinum Spectrum Holofoil – /75
Green Spectrum Holofoil – /45
Red Spectrum Holofoil – /30
Purple Spectrum Holofoil – /20
Silver Spectrum Holofoil – /10
Gold Spectrum Holofoil – 1/1
1 Adley Rutschman
2 CeeDee Lamb
3 Chase Young
4 CJ Abrams
5 D'Andre Swift
6 Gavin Lux
7 J.K. Dobbins
8 Jacob Eason
9 Jake Fromm
10 Jasson Dominguez
11 Jerry Jeudy
12 Joe Burrow
13 Jonathan Taylor
14 Justin Herbert
15 Tua Tagovailoa
16 Wander Franco
Autographs
2 cards.
1 per box set.
Buy on: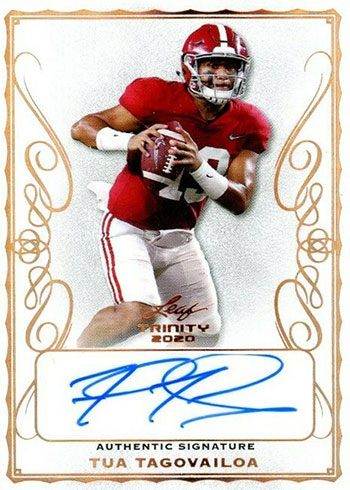 Parallels:
Platinum Spectrum Holofoil – Dominguez /20, Tagovailoa /75
Green Spectrum Holofoil – Dominguez /15, Tagovailoa /50
Red Spectrum Holofoil – Dominguez /10, Tagovailoa /25
Purple Spectrum Holofoil – Dominguez /5, Tagovailoa /15
Silver Spectrum Holofoil – Dominguez /3, Tagovailoa /10
Gold Spectrum Holofoil – Dominguez 1/1, Tagovailoa 1/1
BA-JD1 Jasson Dominguez
BA-TT1 Tua Tagovailoa