2020 Leaf Metal Draft Football Maintains All-Autograph Checklist, Adds More Parallels
The core of 2020 Leaf Metal Draft Football remains the same as past years — autographs. In fact, everything in the product comes with a signature. As for parallels, those are back, too and with even more variety.
Boxes are available in two forms. Regular hobby boxes have five autographs. Jumbo boxes double that number to ten, one of which is a slabbed one-of-one Pre-Production Proof.
The checklist highlights prospects heading into the 2020 NFL Draft.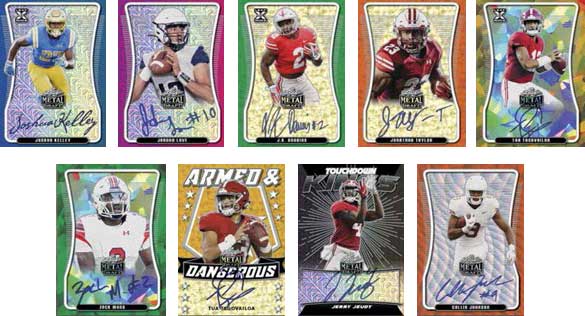 In addition to Base Autographs are a small number of inserts, which offer more opportunities to nab a signature from key players in the product. These include the quarterback-centered Armed and Dangerous, Touchdown Kings and State Pride.
For all parts of the 2020 Metal Draft Football, there are parallels. Lots of them. Refractor-like Prismatic colors return. So do Wave versions. Leaf is adding a couple of additional background patterns this year, Mojo Prismatic and Crystal Prismatic, which are similar to Panini's Cracked Ice cards. All four patterns come with a variety of colors.
The slabbed Pre-Production Proofs are exclusive to jumbo boxes. All of these come in a custom slab and are a one-of-one card.
2020 Leaf Metal Draft Football cards at a glance:
Cards per pack: Hobby – 5, Jumbo – 10
Packs per box: Hobby – 1, Jumbo – 1
Boxes per case: Hobby – 14, Jumbo – 8
Release date: March 13, 2020
What to expect in a hobby box:
What to expect in a jumbo box:
Autographs – 9
Slabbed One-of-One Proof Autographs – 1
The checklist will be added as soon as it's available, likely a short time before the set comes out.