2020-21 Upper Deck Tim Hortons Hockey Checklist, Team Set Lists, Odds and Details
2020-21 Upper Deck Tim Hortons Hockey cards bring together a lot of points of modern Canadiana. The country's most popular sport collides with double-doubles and Timbits in restaurants from coast to coast. It's a little later than usual this time around due to the ongoing pandemic.
2020-21 Upper Deck Tim Hortons Hockey Checklist Details
The 2020-21 Upper Deck Tim Hortons Hockey checklist kicks off with a 125-card base set. Like past years, it's a foil look giving it a little added flair. Players are all veterans with one exception — the customary Tim Horton card that kicks off the checklist.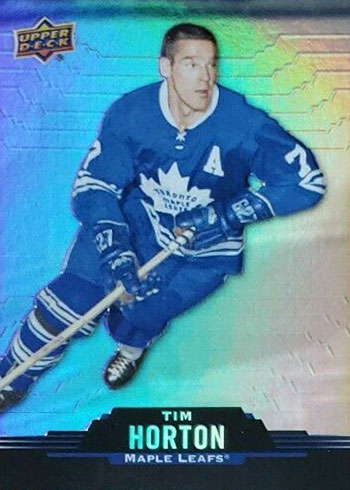 Red Die-Cut variants are back for a second year. Totalling 50 cards, these have a similar layout as the base set. However, there are a couple of clear differences. The background is a deep red and the corners are rounded similar to traditional playing cards. At 1:4 packs, these are the easiest inserts in 2020-21 Upper Deck Tim Hortons Hockey to pull. However, with such a large checklist, finishing the checklist is a challenge.
Canvas inserts make the jump over to 2020-21 Tim Hortons Hockey with a 15-card insert set. Similar to the UD Canvas cards in the flagship Upper Deck line, these use textured stock and put extra emphasis on compelling photos.
Last year's popular Franchise Duos give way to Franchise Trios. Done on lenticular stock, these give off a 3-D appearance. As the name suggests, each card has three players all from the same team.
For fans of acetate, Clear Cut Phenoms are back. Fifteen of the league's best young players are on the checklist. These cards are printed on plastic-like see-through stock.
Other inserts on the 2020-21 Upper Deck Tim Hortons Hockey checklist include All-Star Standouts, Gold Etchings and Cup Winners. All three have 15 cards.
"The size and scale of the promotion allows us the ability to deliver the key high-technology cards that our consumers all love, including acetate, lenticulars, die-cuts and now, canvas," Paul Zickler, Upper Deck's hockey brand manager, told Beckett Hockey earlier in the summer.
2020-20 Upper Deck Tim Hortons Hockey Inserts at a Glance
Here's a quick look at the regular inserts found on the 2020-21 Tim Hortons Hockey checklist including how big each set is and their individual odds.
Red Die-Cut (50 cards, 1:4 packs)
All-Star Standouts (15 cards, 1:5 packs)
Cup Winners (15 cards, 1:6 packs)
Gold Etchings (15 cards, 1:8 packs)
NHL Canvas (15 cards, 1:9 packs)
Clear Cut Phenoms (15 cards, 1:12 packs)
Franchise Trips (20 cards, 1:24 packs)
2020 NHL Draft #1 Redemption (1 card, 1:12,000 packs)
Wayne Gretzky Tribute (1 card, 1:12,000 packs)
Beyond Packs of Cards: Collect to Win Sweepstakes
Collectors can also look for a custom binder, which is sold separately for $16.99, and a digital Collect to Win portion. With Collect to Win, there are several prizes including:
1 VIP trip to an NHL game and a meet-and-greet with Sidney Crosby
5 trips to a 2021 Stanley Cup Finals game
50 Free Coffee for a Year prizes
200 NHL Live subscriptions
520 $50 Tim Hortons gift cards
70,000 cups of coffee
This time around, Tim Hortons is pushing the Collect to Win component through their smartphone app. This makes entering easy, with only a couple of taps.
If you're not in Canada or can't find any nearby, you can find 2020-21 Tim Hortons hockey card packs on eBay.
2020-21 Tim Hortons Hockey Cards by the Numbers
Curious about how many 2020-21 Tim Hortons Hockey cards there are? Exact numbers haven't been released, but the promotion's official rules offer up numbers to get a rough estimate.
For example, there are 100 Nathan MacKinnon autographs that have pack odds of 1:156,048. This would suggest about 15.6 million packs (156,048 x 100). The odds also state there are 8,669 jersey cards with odds of 1:1,800 packs. This also gets to the 15.6 million pack mark.
With three cards per pack, that would mean that 2020-21 Upper Deck Tim Hortons Hockey has a total production run of approximately 46.8 million cards.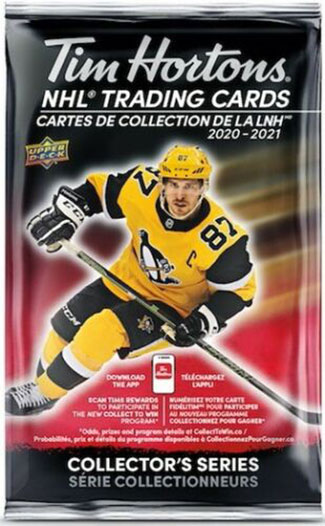 Tim Hortons Hockey Cards: A Growing Tradition
Despite not being a traditional hobby release, Tim Hortons hockey is one of the biggest sets of the season. While plenty of existing collectors chase after it, the set reaches beyond that. Of course, that's one of the aims of promo sets such as this. It gets hockey cards in front of young collectors and their families, potentially introducing fresh blood to the hobby.
This is the sixth consecutive year for Upper Deck Tim Hortons hockey cards. You can look back on the previous sets including full checklists:
As with past years, the set is limited to Canadian restaurants. Last year, Tim Hortons hockey cards expanded to the United States in the Detroit, Buffalo and Columbus regions with smaller team-based sets.
2020-21 Upper Deck Tim Hortons Hockey cards at a glance:
Cards per pack: 3
Packs per box: 100
Set size: 125
Release date: November 12, 2020
2020-21 Upper Deck Tim Hortons Hockey Checklist
You can also download a spreadsheet copy of the checklist:
Base
Autographs
Memorabilia
Inserts
Team Sets