2020-21 Upper Deck Artifacts Hockey Rookie Redemptions Announced
If you pulled one of the mystery Rookie Redemptions from 2020-21 Artifacts Hockey, Upper Deck has named names.
According to the card maker, they're in the process of creating the cards now. Collectors can expect to find the final cards arriving in their mailboxes later this summer.
Here's a list who made the final checklist:
2020-21 Upper Deck Artifacts Hockey Rookie Redemptions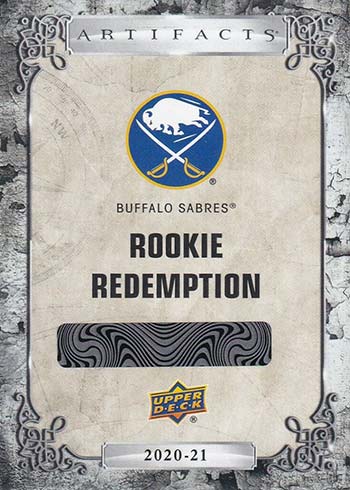 RED181 Jani Hakanpaa, Anaheim Ducks
RED182 Victor Soderstrom, Arizona Coyotes
RED183 Callum Booth, Boston Bruins
RED184 Dylan Cozens, Buffalo Sabres
RED185 Artem Zagidulin, Calgary Flames
RED186 Steven Lorentz, Carolina Hurricanes
RED187 Pius Suter, Chicago Blackhawks
RED188 Shane Bowers, Colorado Avalanche
RED189 Matiss Kivlenieks, Columbus Blue Jackets
RED190 Ty Dellandrea, Dallas Stars
RED191 Mathias Brome, Detroit Red Wings
RED192 Philip Broberg, Edmonton Oilers
RED193 Aleksi Heponiemi, Florida Panthers
RED194 Arthur Kaliyev, Los Angeles Kings
RED195 Kirill Kaprizov, Minnesota Wild
RED196 Alexander Romanov, Montreal Canadiens
RED197 Connor Ingram, Nashville Predators
RED198 Ty Smith, New Jersey Devils
RED199 Ilya Sorokin, New York Islanders
RED200 K'Andre Miller, New York Rangers
RED201 Tim Stutzle, Ottawa Senators
RED202 Egor Zamula, Philadelphia Flyers
RED203 Pierre-Olivier Joseph, Pittsburgh Penguins
RED204 John Leonard, San Jose Sharks
RED205 Joel Hofer, St. Louis Blues
RED206 Cal Foote, Tampa Bay Lightning
RED207 Alexander Barabanov, Toronto Maple Leafs
RED208 Nils Hoglander, Vancouver Canucks
RED209 Dylan Coghlan, Vegas Golden Knights
RED210 Connor McMichael, Washington Capitals
RED211 Logan Stanley, Winnipeg Jets
RED212 Philipp Kurashev, Chicago Blackhawks
RED213 Jake Oettinger, Dallas Stars
RED214 Olli Juolevi, Vancouver Canucks
RED215 Ian Mitchell, Chicago Blackhawks
RED216 Nolan Foote, New Jersey Devils
RED217 Thomas Harley, Dallas Stars
RED218 Vitali Kravtsov, New York Rangers
RED219 Vitek Vanecek, Washington Capitals
RED220 Kevin Lankinen, Chicago Blackhawks
SP Variants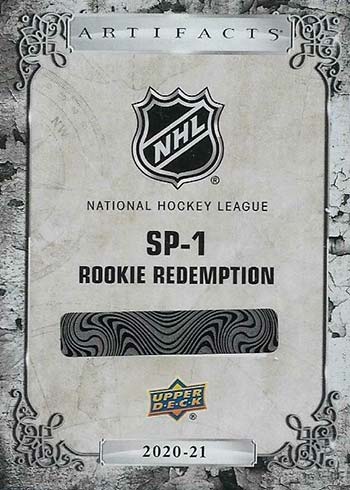 SP-1 Alexis Lafreniere, New York Rangers
SP-2 Tim Stutzle, Ottawa Senators
SP-3 Kirill Kaprizov, Minnesota Wild
SP-4 Alexander Romanov, Montreal Canadiens
SP-5 Dylan Cozens, Buffalo Sabres
Roman Numeral Autograph and Memorabilia Redemptions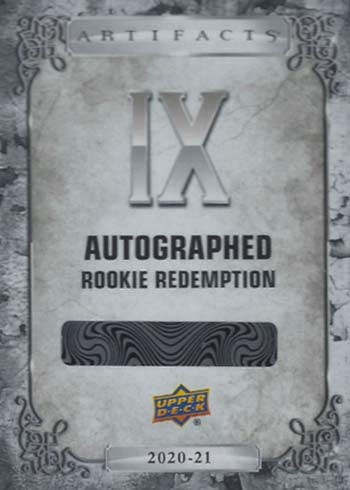 I Tim Stutzle, Ottawa Senators
II Kirill Kaprizov, Minnesota Wild
III Alexander Romanov, Montreal Canadiens
IV Dylan Cozens, Buffalo Sabres
V Arthur Kaliyev, Los Angeles Kings
VI Ilya Sorokin, New York Islanders
Rookie Autographs
Tier 1
I Alexis Lafreniere, New York Rangers
II Kirill Kaprizov, Minnesota Wild
III Tim Stutzle, Ottawa Senators
IV Alexander Romanov, Montreal Canadiens
V Dylan Cozens, Buffalo Sabres
VI Connor McMichael, Washington Capitals
Tier 2
VII Arthur Kaliyev, Los Angeles Kings
VIII Ilya Sorokin, New York Islanders
IX Nils Hoglander, Vancouver Canucks
X Pius Suter, Chicago Blackhawks
XI Ty Dellandrea, Dallas Stars
XII Philipp Kurashev, Chicago Blackhawks
Tier 3
XIII Vitek Vanecek, Washington Capitals
XIV Ian Mitchell, Chicago Blackhawks
XV K'Andre Miller, New York Rangers
XVI Cal Foote, Tampa Bay Lightning
XVII Victor Soderstrom, Arizona Coyotes
XVIII Nolan Foote, New Jersey Devils
2005-06 Retro Rookies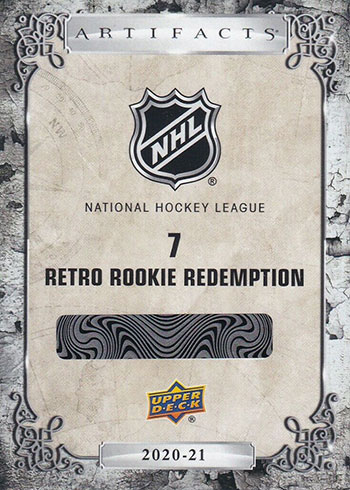 1 Alexis Lafreniere, New York Rangers
2 Tim Stutzle, Ottawa Senators
3 Kirill Kaprizov, Minnesota Wild
4 Alexander Romanov, Montreal Canadiens
5 Dylan Cozens, Buffalo Sabres
6 Nils Hoglander, Vancouver Canucks
7 Ilya Sorokin, New York Islanders
8 Arthur Kaliyev, Los Angeles Kings
9 Bowen Byram, Colorado Avalanche
10 Pius Suter, Chicago Blackhawks