2020-21 Parkhurst Hockey Checklist, Team Set Lists and Details
When you click on links to various merchants on this site, like eBay, and make a purchase, this can result in this site earning a commission.
2020-21 Parkhurst Hockey brings back the heritage brand for another year as a primarily retail release. It's an entry-level product without a lot of complicated frills.
2020-21 Parkhurst Hockey Checklist Overview
All together, the base set has 330 cards. Within those are a couple subsets — Rookies and Legends. The final 110 cards, which include the subsets, are short prints. That said, they're not overly tough falling two per blaster pack and four per fat pack.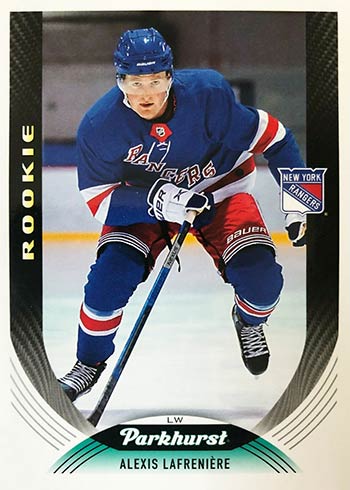 The border color changes for a pair of parallels: Silver (1:4 blaster, 1:2 fat packs) and Gold (1:12 blaster, 1:4 fat packs).
A special Rookie Redemption includes six first-year players. Those who land one of the tough redemptions, receive a full set of all six cards.
Three additional chase sets are also on the checklist. However, keeping with the straightforward theme of the product, none carry long odds.
Encore highlights the season's sophomores. These also have Gold parallels that could prove to be somewhat difficult as they're only in fat packs (1:18).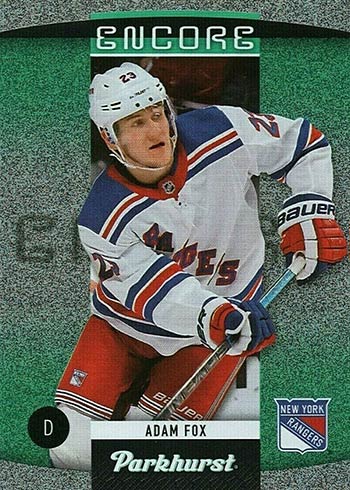 Prominent Prospects are all about the rookie class. Alexis Lafreniere is in there but so are lots of other youngsters.
Finally, there's Parkies. The name might bring a lot of nostalgia but the foil design is definitely modern.
2020-21 Parkhurst Hockey doesn't have a lot of autographs. Those that do exist are essentially parallel versions of select cards in the Parkies, Prominent Prospects and Encore insert sets.
2020-21 Parkhurst Hockey cards at a glance:
Release date: March, 2021
Cards per pack: Blaster – 10, Fat Packs – 30
Packs per box: Blaster – 12
Set size: 330 cards
Shop for 2020-21 Parkhurst Hockey boxes on eBay:
2020-21 Parkhurst Hockey Checklist
Please note the print runs for cards without serial numbers have not been announced.
You can also download a customizable spreadsheet copy of the checklist:
Recent Parkhurst Hockey sets: