2019 Upper Deck Winter Classic Hockey Checklist and How to Get the Promo Set
When the 2019 Winter Classic takes place on New Year's Day, there'll be some hockey cards to go with the outdoor matchup between the Boston Bruins and Chicago Blackhawks. 2019 Upper Deck Winter Classic hockey cards is a small promo set highlighting some of the bigger names from both teams.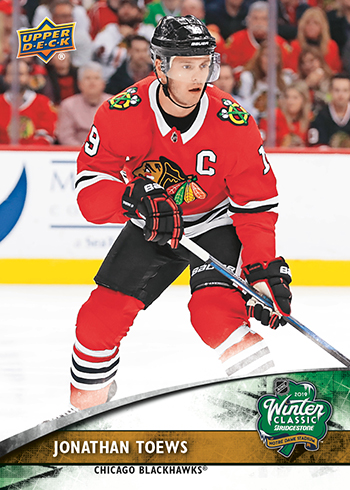 Cards are available a couple of ways. First, there's the Fan Fest held in conjunction with the game. To get them, head to the Upper Deck booth at Millennium Park's Jay Pritzker Pavilion. It's open December 29-31 from 11 AM to 5 PM local time.
In addition to the regular six cards, collectors can also get a QR code good for Green parallels. These are only available through the e-Pack platform. Two are available each day.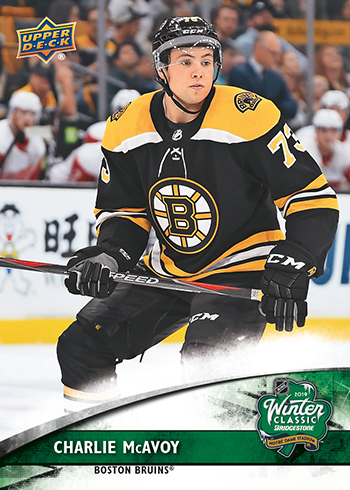 Several local card shops will also have 2019 Upper Deck Winter Classic promo sets. These will be handed out with a qualifying purchase. A list of stores is below.
2019 Upper Deck Winter Classic Hockey Checklist
6 cards.
1 Patrick Kane, Chicago Blackhawks
2 Jonathan Toews, Chicago Blackhawks
3 Duncan Keith, Chicago Blackhawks
4 Patrice Bergeron, Boston Bruins
5 Tuukka Rask, Boston Bruins
6 Charlie McAvoy, Boston Bruins
Participating Shops
For those unable to make it to the 2019 Winter Classic, select shops will have cards available with a qualifying Upper Deck purchase. You can check with shops for specific details and availability.
AU Sports Memorabilia – Morton Grove, 847-647-8311
Bartlett Coin & Card Shop – Bartlett, 630-837-2646
Baseball Card Exchange – Merrillville, 219-750-1087
Baseball Dreams & Memories – Crestwood, 708-371-2250
Baseline Inc – Schaumburg, 224-520-8507
Bergie's Sports Card Dugout – Highland Park, 847-433-2250
Bleachers Sports – Winnetka, 847-441-7767
Chicagoland Sportscards & Memorabilia – Buffalo Grove, 847-229-2626
Dean's Dugout – Naperville, 630-527-8888
Elite Sportscards – Chicago, 773-784-1396
Graham Crackers – Naperville, 630-355-4310
Heroes Inc – North Riverside, 708-442-1926
Jim & Steve's Sports Cards – Waukegan, 847-244-1981
More Fun Sports Cards Store – Dyer, 219-322-5080
Offensive Zone Pro Shop – Glenview, 847-904-7141
Scott's Basement – Schaumburg, 847-891-2255
Sport & Gaming Cards – Niles, 847-795-9355
Steven's Collectibles – Countryside, 708-352-7758
The Baseball Card King – Downers Grove, 630-512-9300
Triple Crown Trading Co – Naperville, 630-357-7707
World Champs Sports Cards – Lisle, 630-541-6796