2019 Upper Deck Team Canada Juniors Hockey Checklist and Details
It has been a long, long time since a Canadian team has won the Stanley Cup. However, the country's national teams have found regular success at every level. 2019 Upper Deck Team Canada Juniors Hockey looks at the prospects currently in the system, offering a variety of cards from before their NHL debuts.
This includes autographs and memorabilia cards, which combine to land four per hobby box.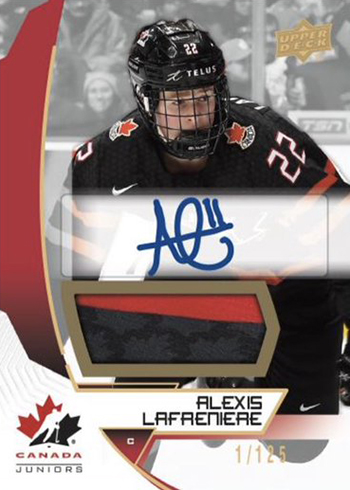 2019 Upper Deck Team Canada Juniors Hockey Overview
The base set begins with 100 cards. Players from the U-18 and U-20 national teams as well as the Women's squad are one the checklist. Some notable alumni are also in the mix.
Parallels combine to land six hobby box. These include Exclusives (/225), High Gloss (/25), and Black (/5).
Program of Excellence cards return. These have Exclusives (/99) and High Gloss (/25) versions in addition to the more common regular ones.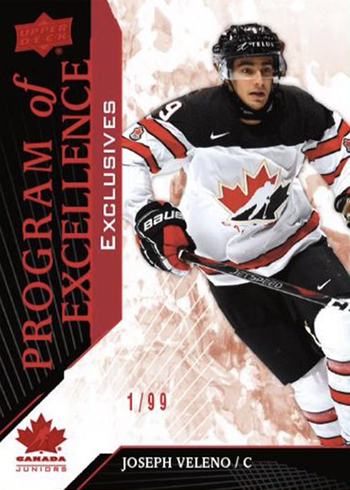 Of the hobby box hits, at least one promises to be an autographed memorabilia card. Team Canada Premium Swatch Autographs come in two levels, Tier 1 (/125) and Tier 2 (/199). There are also Team Canada Women's Premium Swatch Autographs (/199).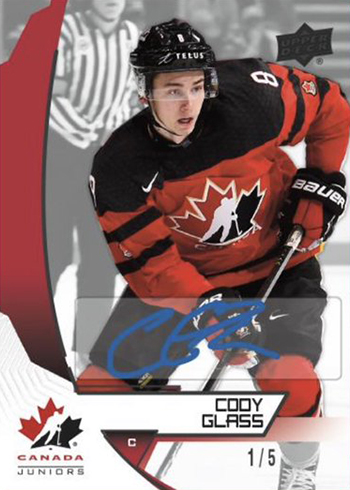 Golden Futures Autographs showcase players who have already been drafted by an NHL team. These also have a base insert version.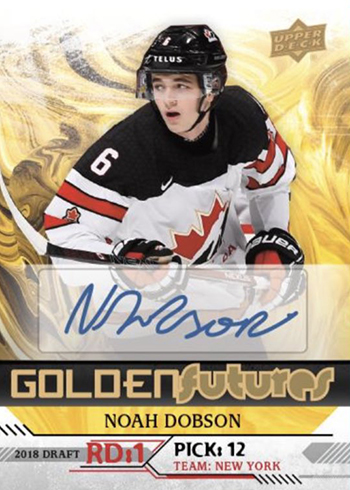 2019 Upper Deck Team Canada Juniors Hockey cards at a glance:
Cards per pack: 5
Packs per box: 15
Boxes per case:
Set size: 140 cards
Release date: August 28, 2019
Shop for 2019 Upper Deck Team Canada Juniors Hockey boxes on eBay:
What to expect in a hobby box:
Premium Swatch Autograph Cards – 1
Additional Autographs or Memorabilia Cards – 3
Parallels – 6
2019 Upper Deck Team Canada Juniors Hockey Checklist
Base
Autographs
Memorabilia
Inserts