2019 Upper Deck Marvel Studios: The First Ten Years takes a dive into a decade's worth of heroes, villains and big screen world building. Folding in content from more than a dozen films, it's a recap of sorts to everything through to Infinity War.
Upper Deck is cutting the autographs, memorabilia and sketch cards, although there's still one of them in every box. The product also has some other inserts including manufactured Film Cels.
2019 Upper Deck Marvel Studios: The First Ten Year Overview
The base set has a total of 150 cards, 50 of which are short prints. The 100-card shell set is character-based. With so many films to draw from, there's plenty of people out there to fill out the checklist.
Short prints combine to land six per box.
Roman Numeral inserts, which fall approximately four per box, offer a count for all the films that make up the Marvel Cinematic Universe.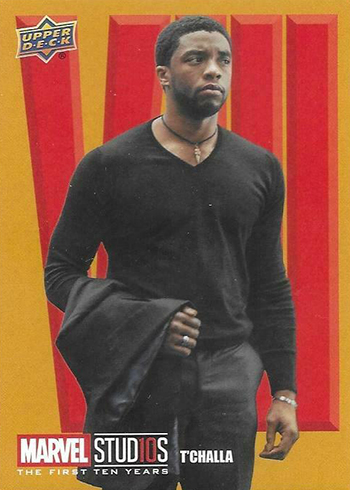 Film Cel cards are designed to mimic the way films used to be projected before the advent of digital. Upper Deck has used similar cards in other recent Marvel sets like Daredevil Seasons 1 and 2 and Avengers: Infinity War. Inserted one per box, not all are available in the same quantities. Some are short prints while others are even tougher SSP cards.
Film Cel Autographs are also randomly inserted.
Legendary Scripts is another place to find signatures. These are done to look like the autograph is one the cover of the featured actor's script.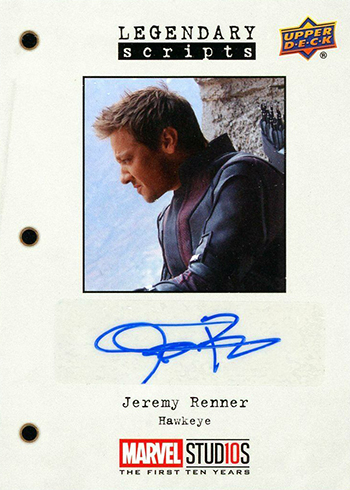 Over the years, Upper Deck has done a lot of different memorabilia cards for their Marvel sets. Eclectic Collection takes up the mantle for Marvel Studios: The First Ten Years.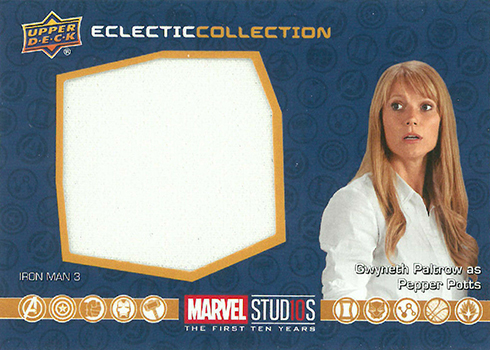 Sketch cards also return, each featuring original artwork.
2019 Upper Deck Marvel Studios: The First Ten Years trading cards at a glance:
Cards per pack: 5
Packs per box: 15
Boxes per case: 12
Set size: 150 cards
Release date: May 1, 2019
What to expect in a hobby box:
Autographs, Memorabilia Cards or Sketch Cards – 1 Total
Film Cel Cards – 1
Roman Numeral Inserts – 4
Base Short Prints – 6
2019 Upper Deck Marvel Studion: The First Ten Years Checklist
Base
Autographs
Memorabilia
Inserts