2019 Upper Deck Goodwin Champions paints broad and varied strokes on several fronts. For starters, there's the people and subjects on the checklist. Covering several sports, many of which don't get many trading cards, entertainers, nature and more, it's one of the most eclectic out there. The mix of card styles is also expansive.
Once again, hobby boxes come with three hits, which can be autographs, memorabilia, relics, manufactured patches or 3-D lenticular inserts. Collectors can also expect several standard chase and mini cards as well.
2019 Upper Deck Goodwin Champions Base Set Basics
The main 2019 Upper Deck Goodwin Champions base set has two parts. For starters, there's the 100-card shell checklist. This is where you can find athletes from a bunch of sports and other personalities. Some of the names may be familiar while others may require a little research (or reading over the text on the back).
Splash of Color short prints return for a second year. These add an additional 50 cards to the set.
Mini parallels, which combine to land seven per hobby box, come in a few forms. Besides basic versions, there are Lumberjack (1:20) and Black Wood Lumberjack (/8) Minis.
Autographs
Goodwin Autographs (1:60) bring over signatures from many of the base set subjects. Signers for the set include two of the year's biggest basketball rookies, Luka Doncic and Deandre Ayton. Boxers Buster Douglas and Julio Cesar Chavez as well as Victor Robles, the young Washington Nationals player are among the other athletes.
On the pop culture side, there's Jennifer Love Hewitt, Icubus singer Brandon Boyd, and the members of the band 311. 2019 Upper Deck Goodwin Champions is also the first set to have certified autograph cards from Zazie Beetz who played Domino in Deadpool 2. Inscription versions of select cards come numbered.
Splash of Color Autographs are tough, landing 1:1,280 packs.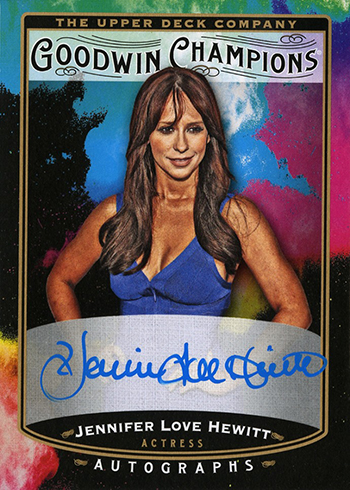 The Goudey name is used for a trio of signature inserts: Goudey Autographs (1:480), Goudey Sport Royalty (1:4,800) and Goudey Sport Royalty Dual Autographs (1:25,000).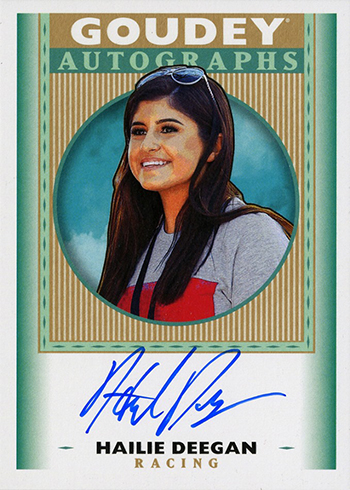 Exquisite Collection Signature Kicks return in 2019 Upper Deck Goodwin Champions. Numbered to 35 or less, each card comes with a swatch from the athlete's signature sneaker. Soles, laces, logos and leather can all be found. Autographs for these are all on-card. The last time Signature Kicks appeared was in 2013-14 Exquisite Collection.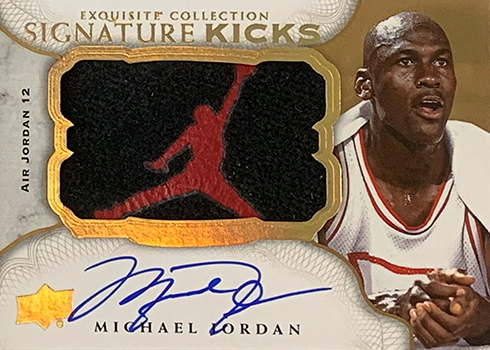 Genuine Heroes Signatures (1:320) return. These celebrate people who have done amazing things to help people. Honorees include Anthony Sadler who helped stop an attack on a Paris-bound train in 2015, Mandy Manning, the 2018 National Teacher of the Year, and Donald E. Ballard, a Vietnam Medal of Honor recipient.
A limited number of one-of-one Goodwin Cut Signatures are randomly inserted in packs.
2019 Upper Deck Goodwin Champion Relics
Goodwin Memorabilia (1:40) offers a traditional take on relic cards. Besides regular versions, there are also Dual Swatch (1:300) and Splash of Color Memorabilia (1:600). Each of these has numbered Premium swatch parallels for select cards.
Goudey Memorabilia (1:300), Goudey Sport Royalty Memorabilia (1:1,520) and Goudey Sport Royalty Dual Swatch (1:2,880) cards spotlight some of the biggest athletes in the product. Like Goodwin Memorabilia and its various forms, Premium piece parallels are also available.
Not all relics in 2019 Upper Deck Goodwin Champions are worn by people. Some come in the form of historical artifacts.
For the second year in a row, Museum Collection takes on an aviation theme. These come in both traditional (1:480) and oversized versions. Jumbo Museum Collection cards are via redemption.
President John F. Kennedy also has Museum Collection cards (1:4,000) with pieces of a briefcase he owned. Among them is a one-of-one jumbo card that also has a cut signature.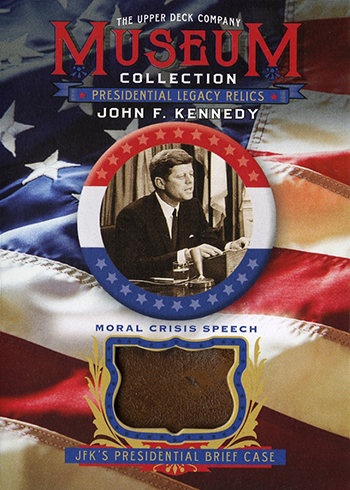 Both the World Traveler Map (1:50) and National Parks Vintage Map Relic sets continue for another year. National Parks cards come with a handful of themes, each with varying quantities: Joshua Tree (/94), Badlands (/78), Carlsbad Caverns (/30) and Glacier (/10).
Art of Ages painted cards are back. These are trading card recreations of famous paintings. Each is one-of-a-kind.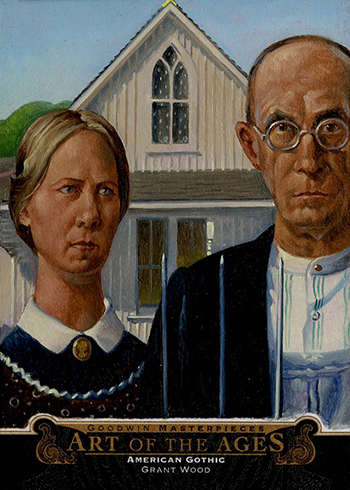 Ancient Currencies (1:1,504) relics are also available.
Grimm's Fairy Tales
Over the years, several classic books have been used in Goodwin Champions to create both relic and sketch cards. The Wizard of Oz, Alice in Wonderland and The Jungle Book are some of the examples from the past. For 2019 Upper Deck Goodwin Champions it's Grimm's Fairy Tales.
Illustration Relics (1:1,200) come with pieces from vintage books.
The stories are also used to inspire Sketch Booklets (1:720) and Dual Sketch Booklets (1:2,160).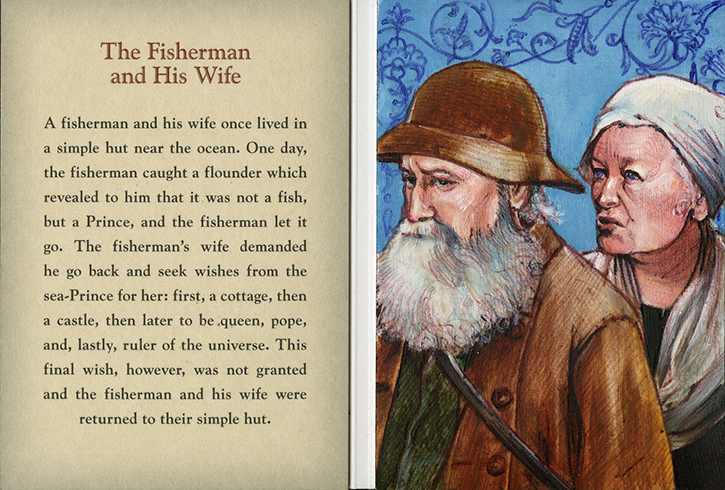 Patch Cards and Other Inserts
At 1:4 packs, Goudey cards are among the most common inserts in the product.
2019 Upper Deck Goodwin Champion has a pair of manufactured patch sets. First up are more Animal Kingdom Patches. The set had its original three-year run from 2011 to 2013. These are available in six tier, providing some extremely tough short prints. Tier 1 cards start at 1:260 packs. By contrast, Tier 6 are 1:10,000. In the past, the size of each tier has varied, but the highest levels are always scarce.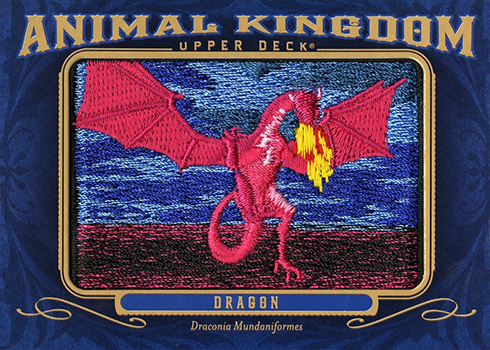 New this year are Civic Symbols. These have North American flag patches. Like their Animal Kingdom counterparts, tiers come into play here as well. Spread over five levels, insertion rates vary from 1:76 pack (Tier 1) to 1:7,500 (Tier 5).
2019 Upper Deck Goodwin Champions Bounty Program
Upper Deck is bringing its UD Bounty program to 2019 Goodwin Champions. Similar to the previous year, some Splash of Color cards have Lenticular versions that have a Bounty code on the back. Those that build the full set and enter them into a special website receive exclusive cards not available in packs.
Splash of Color Lenticular inserts have three levels of rarity: Tier 1 – 1:40, Tier 2 – 1:200, and Tier 3 – 1:800.
2019 Upper Deck Goodwin Champions at a glance:
Cards per pack: 5
Packs per box: 20
Boxes per case: 16 (two 8-box inner cases)
Set size: 150 cards
Release date: June 26, 2019
What to expect in a hobby box:
Autographs, Relics, Manufactured Patches or 3-D Cards – 3 Total
Splash of Color or Goudey Cards – 10 Total
Mini Cards – 7
2019 Upper Deck Goodwin Champions Checklist
Base
Autographs
Memorabilia
Inserts
Updates