More than two decades may have passed since Chasing Amy hit the big screen. But the Kevin Smith film continues to resonate (except for, maybe Ben Affleck's goatee). And now it's getting some cards. 2019 Upper Deck Chasing Amy trading cards not only trace the movie but offer some inside insight. Of course, being a modern set of trading cards, there are autographs.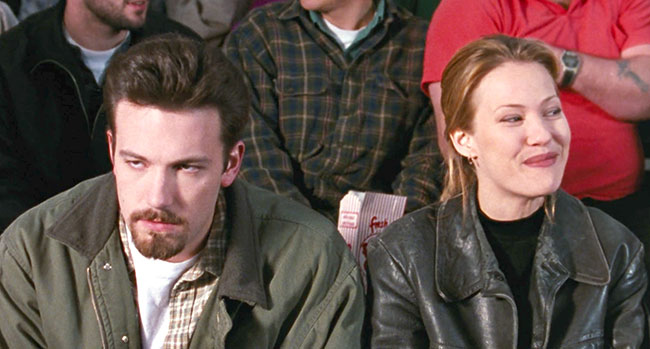 Each hobby box has a dozen packs and promises either a signed card or a sketch card.
2019 Upper Deck Chasing Amy Trading Cards Overview
Kevin Smith's Chasing Amy is one of the seminal films of the late '90s. On the surface, it's a romantic comedy. But there are plenty of other themes going on that take it to a deeper level. The third film in Smith's View Askewniverse, it ties directly into Clerks, which Upper Deck did a set for in 2017.
The base set has 100 cards, retelling the movie through the medium of trading cards.
Tracer base card variants are approximately 1:4 packs.
Regular inserts, which are eight per box, dive even deeper into Chasing Amy. Kevin Smith Insights offer up the filmmaker's view on the movie and what went into making it. Other insert themes include Character Profiles,In-Universe Connections, and Memorable Moments Puzzle Back cards that make a Jay and Silent Bob puzzle.
Sketch cards have a couple of different spins, Tracer and Colorist.
Autographs
Chasing Amy has a tremendous cast of stars. And the headliners all have autographs in the set. Signers include Smith, Ben Affleck, Joey-Lauren Adams, Jason Lee, and Jason Mewes.
Besides basic Autographs, there are a couple of other themes for signed cards, Black and White, and Quotable Signatures.
There are also dual (Trading War Stories), triple (Three's a Crowd) and quad (4-Way Road) autographs.
2019 Upper Deck Chasing Amy trading cards at a glance:
Cards per pack: 5
Packs per box: 12
Boxes per case: 12
Set size: 100 cards
Release date: May, 2019
What to expect in a hobby box:
Autographs or Sketch Cards – 1
Additional Inserts – 8
Tracer Comic Art Base Variants – 3