2019 Topps WWE Transcendent Party Exclusives Recap – Beckett Pricing Insider
When Topps released the WWE Transcendent product earlier this year, they offered a unique collecting experience for the die-hard wrestling collector. One of the features included a WrestleMania ticket and VIP party invitation in each $13,000 box.
At the VIP party, there were exclusives-a-plenty. Similar to the Mike Trout VIP Party for 2019 Topps Transcendent Baseball, everyone received a gift bag that contained various things. Highlights included:
VIP Party Packs
Autograph cards of superstar attendees Ric Flair, Sting, and the Big Show
10-Card On-Demand set (/75) featuring Ronda Rousey, Triple H, and others
Not surprisingly, some of these have made their way to the secondary market in the days and weeks since. Here's is a list of some recent sales of cards from the event:
2019 Topps WWE Transcendent VIP Party Dual Autograph Stephanie McMahon & Triple H /50 – $222
This dual autograph is unique in that it is the only autograph that isn't either on-card or a cut signature in the entire Transcendent product. Not to mention it features WWE's premier power couple and is limited to only 50 copies.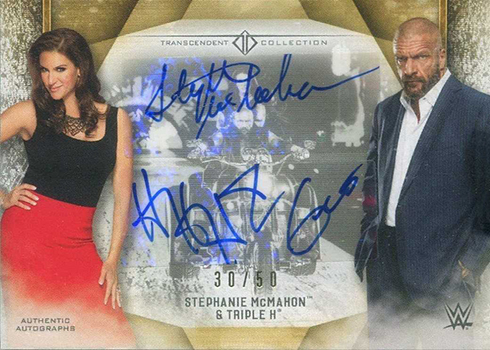 2019 Topps WWE Transcendent VIP Silver Party Pack – $125
Each pack contains 3 cards: two buybacks from past WWE sets. All cards are one-of-ones and come with a special Transcendent stamp. Relics and autographs are among the possibilities.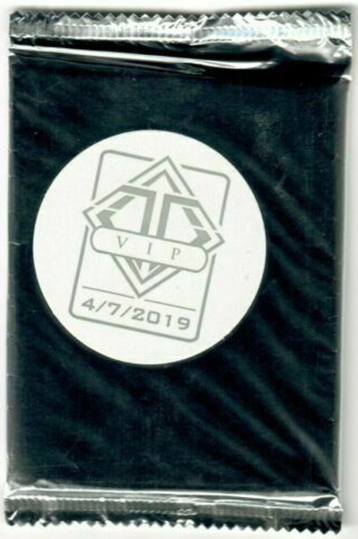 2019 Topps WWE Transcendent VIP Party Buyback 2018 Then Now Forever Becky Lynch 1/1 – $100
The Man was no doubt a hit at WrestleMania this year, competing in the main event and walking away with both the RAW and SmackDown Women's Championships. So, pulling a buyback of Lynch in a Party Pack would be icing on the cake.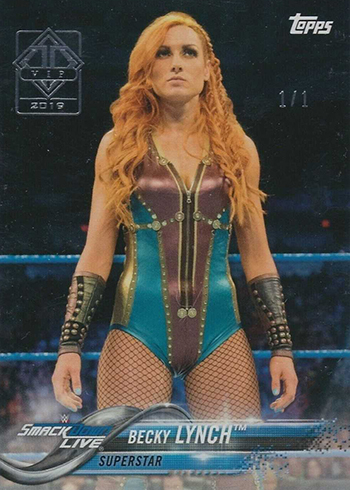 2019 Topps WWE Transcendent VIP Party Buyback 2018 Then Now Forever RAW 25 Years The Ringmaster 1/1 – $52
No doubt one of the most popular superstars in the history of WWE, Stone Cold Steve Austin cards still pop up every now and then, although they don't always include the "Stone Cold" persona. This card features him when he was using his Ringmaster gimmick.