2019 Topps WWE SummerSlam trading cards spotlight one of the wrestling company's biggest events of the year. It also marks a bit of a new direction for Topps' approach to wrestling cards, branching out into more events-based releases. One thing that's not different is the promise of one autograph and a second premium insert in every hobby box.
2019 Topps WWE SummerSlam Base Set Basics
The 2019 Topps WWE SummerSlam base set has 100 total cards. It has two sections. Fifty Superstar cards highlight the WWE roster. The second half offers a story-based approach, looking at key matches leading up to SummerSlam 2019.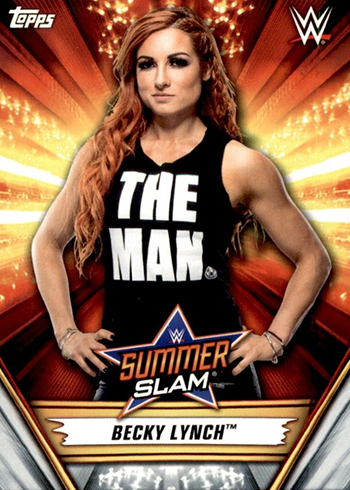 Parallels take on several colors. Bronze are the most common at 1:2 packs. Others include Blue (/99), hobby-only Silver (/25), Gold (/10), Printing Plates (1/1) and Red (1/1).
Autographs, Memorabilia Cards and Inserts
Autographs cover both current and retired wrestlers. Parallels are similar to the base set with Blue (/99), Silver (/25, only in hobby packs), Gold (/10), Red (1/1) and Printing Plates (1/1).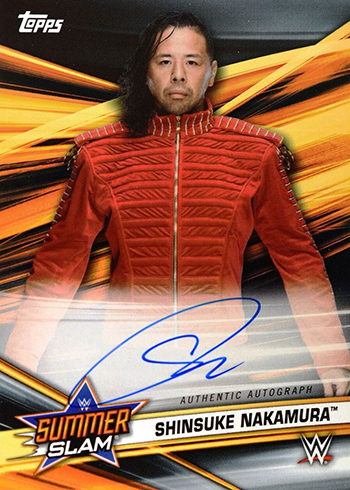 Dual Autographs are also randomly inserted.
When it comes to memorabilia cards, 2019 Topps WWE SummerSlam has a couple of types. Superstar Relics (/199) have swatches of Superstar-worn shirts. Mat Relics have canvas pieces from SummerSlam 2018 and NXT TakeOver: Brooklyn.
SummerSlam Logo cards are manufactured relics. The checklist is exclusively wrestlers who have been in a SummerSlam main event.
Memorabilia cards and SummerSlam Logo cards have Bronze (/99), Blue (/50), Silver (/25), Gold (/10) and Red (1/1) parallels. Select cards also have autographs that have ten copies.
2019 Topps WWE SummerSlam has four additional insert sets. SummerSlam All-Stars looks back at matches from the pay-per-view featuring either Bret Hart, Brock Lesnar, Edge Triple H and the Undertaker. Greatest SummerSlam Matches and Moments trace the event's history. SummerSlam Posters Spotlight make cards out of some of the recent artwork used to advertise the pay-per-view.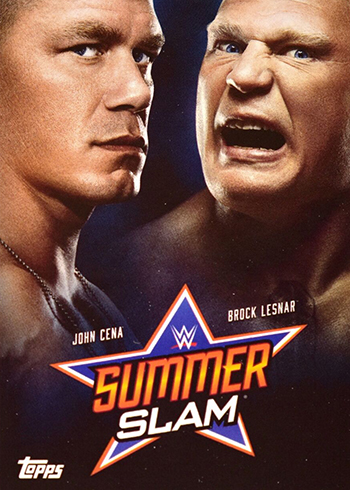 Finally, there's the third part of the year-long Ronda Rousey Spotlight series. Earlier installments can be found in 2019 Topps WWE Road to WrestleMania and 2019 Topps WWE Raw. A fourth and final group of cards will come in a future release.
2019 Topps WWE SummerSlam trading cards at a glance:
Cards per pack: 7
Packs per box: 24
Boxes per case: 8
Set size: 100 cards
Release date: July 10, 2019
What to expect in a hobby box:
Autographs – 1
Additional Autographs, Memorabilia or Manufactured Relic Cards – 1
Bronze Parallels – 12
2019 Topps WWE SummerSlam Checklist
Base
Autographs
Memorabilia
Inserts