2019 Topps WWE Road to WrestleMania Checklist and Details
2019 Topps WWE Road to WrestleMania takes a different approach compared to most other wrestling card sets. Whereas other lines are primarily centered around the wrestlers themselves, Road to WrestleMania is more like a non-sport set in that it focuses on story recaps.
At least that's how it is for the main part of the checklist. Inserts include a lot of familiar elements including autographs and memorabilia cards. 2019 Topps WWE Road to WrestleMania hobby box have a pair of premium inserts, at least one of which is an autograph.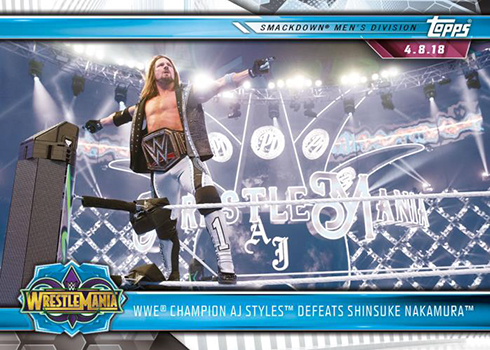 2019 Topps WWE Road to WrestleMania Base Set Basics
The base set comes in at 100 cards. It's a recap of big moments, matches and storylines from 2018. Cards center on male wrestlers from Raw, Smackdown and 205 Live.
The Women's Division and NXT have their own standalone releases outside of Road to WrestleMania that are story-centric.
Parallels come in several colors. Bronze are the most common, falling every other pack. Others include Blue (/99), hobby-only Silver (/25), Gold (/10), Printing Plates (1/1) and Red (1/1).
Inserts
Every pack of 2019 Topps WWE Road to WrestleMania has a pair of inserts.
Roster Cards return for another years. These highlight those who appeared at 2018's WrestleMania 34.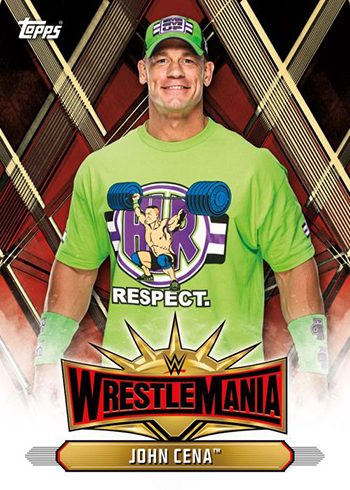 The product also has the first batch of Ronda Rousey Spotlight inserts. Similar to recent tribute sets from the past couple of years, cards will be spread across four sets throughout 2019. The initial ten are in Road to WrestleMania. This first part focuses on the early part of her pro wrestling career.
Andre the Giant Memorial Battle Royal Commemorative Trophy cards are the product's manufactured relics. These have similar parallel levels as shirt and mat relics. Select cards also have autographs (/10).
Retail inserts include Divas Revolution, Update cards and an Intercontinental Championship retrospective.
Autographs and Memorabilia Cards
Autographs are at least one per hobby box. Most WWE sets have signed cards that are a lot like the product's base cards. Because of Road to WrestleMania's different approach in the main set, autographs get a totally different design. As for the signatures themselves, some are on-card while others use stickers.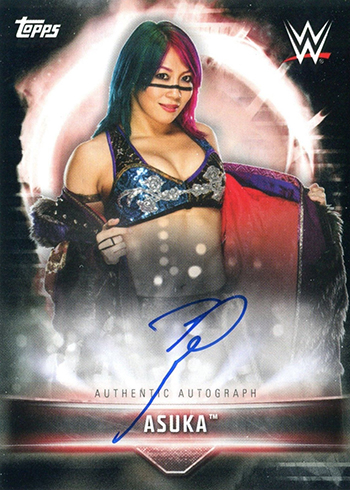 Both male and female wrestlers are on the checklist. Highlights include Ronda Rousey, The Undertaker and AJ Styles. Along with base versions are Bronze (/50), hobby-exclusive Silver (/25), Gold (/10), Printing Plate (1/1) and Red (1/1) parallels.
Dual Autographs are also randomly inserted. These are hard to find with just ten copies each.
Memorabilia cards come in a couple of familiar forms, shirt relics and mat relics. Shirt relics have clothing worn by the featured superstar. Mat relics come from WrestleMania 34 and NXT TakeOver: New Orleans.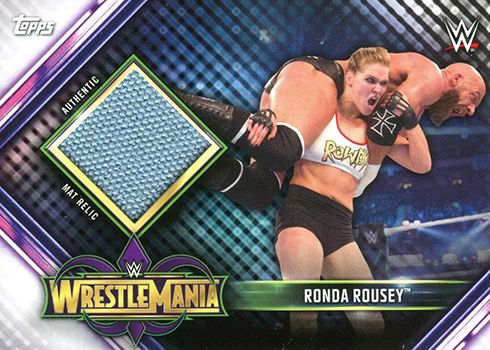 All relics have five parallels: Bronze (/99), Blue (/50), Silver (/25), Gold (/10) and Red (1/1). Autograph versions (/10) are available for select cards.
Kiss Cards are back with regular and autographed versions. These have actual lip prints from Women's Division stars. Both have Gold (/10) and Red (1/1) parallels. Unsigned cards also have Silver (/25) versions.
2019 Topps WWE Road to WrestleMania at a glance:
Cards per pack: 7
Packs per box: 24
Boxes per case: 8
Set size: 100 cards
Release date: January 9, 2019
What to expect in a hobby box:
Autographs – 1
Additional Autographs, Memorabilia Cards or Commemorative Relics – 1
Inserts – 48
Bronze Parallels – 12
2019 Topps WWE Road to WrestleMania Checklist
Base
Autographs
Memorabilia
Inserts