Hot Potato Chips: 2019 Topps Utz Baseball Checklist and Details
Food-issue baseball cards have a long history of combining the thing we collect with the foods we love (or at least tolerate for a period of time just to get the cards. In recent years, there hasn't been a lot of these sets, but 2019 Topps Utz Baseball is one of them.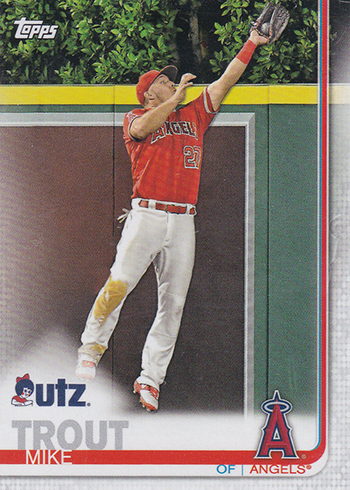 Packs come with specially marked Utz Snack Packs. These have 12 small bags of potato chips and similar salty treats.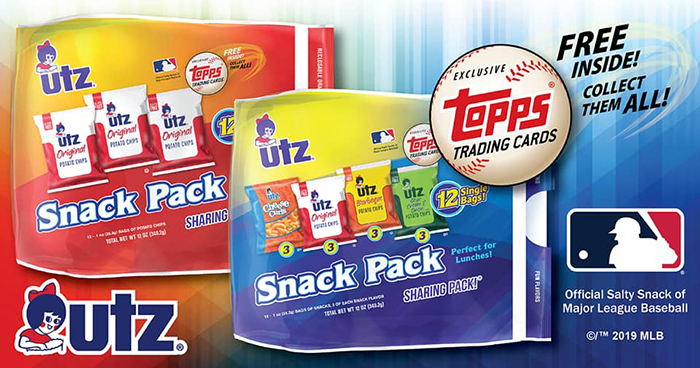 The cards themselves carry the same general design as the 2019 Topps Baseball set. The main difference, other than the card numbers, is the Utz logo on the front.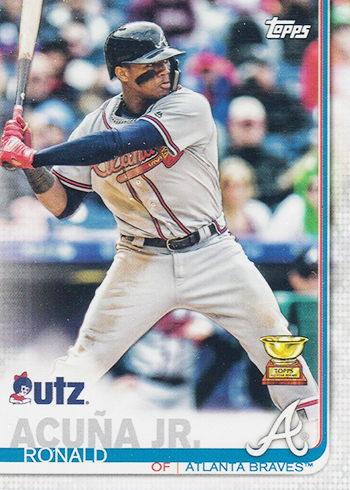 The set has 100 cards. Similar to Series 1, many of these cards don't reflect off-season moves. So, Robinson Cano and Edwin Diaz are still with the Mariners. Paul Goldschmidt is a member of the Arizona Diamondbacks.
Each pack of 2019 Topps Utz Baseball has four cards plus a coupon for $1 off a pack of 2019 Topps Series 1, Series 2 or Update Series. With such a large checklist, putting the set together could be challenging.
For those who don't have Utz products in their area, you can order some. The company does have a "MLB Starting Lineup Pack" available on their website that has multiple items and a pair baseball card packs.
Cards are also available on eBay. As the promotion rolls out, they should become more widely available.
2019 Topps Utz Baseball cards at a glance:
Cards per pack: 4
Set size: 100 cards
Release date: April, 2019
Checklist
2019 Topps Utz Baseball Checklist
100 cards.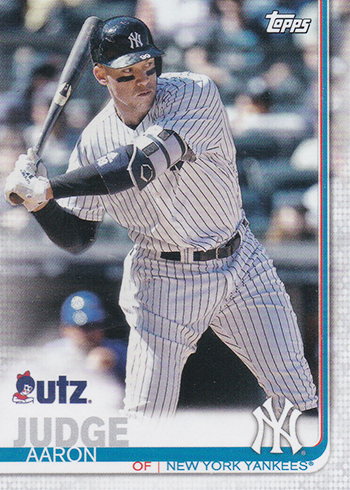 1 Buster Posey
2 Yadier Molina
3 Brandon Crawford
4 Aaron Judge
5 Lorenzo Cain
6 Aaron Nola
7 Whit Merrifield
8 Wade LeBlanc
9 Jonathan Loaisiga
10 Adam Jones
11 Dansby Swanson
12 Gleyber Torres
13 Javier Baez
14 Steven Duggar
15 Kyle Tucker
16 Shin-Soo Choo
17 Jesus Aguilar
18 Sean Reid-Foley
19 Nick Markakis
20 Kohl Stewart
21 Francisco Arcia
22 Khris Davis
23 Shohei Ohtani
24 Ryan Zimmerman
25 Nolan Arenado
26 Kris Bryant
27 J.D. Martinez
28 Ramon Laureano
29 Byron Buxton
30 Joey Votto
31 Blake Snell
32 Clayton Kershaw
33 Carlos Correa
34 Todd Frazier
35 Corey Dickerson
36 Ronald Acuna Jr.
37 Chance Adams
38 Trea Turner
39 Mookie Betts
40 Paul DeJong
41 Austin Hedges
42 Aroldis Chapman
43 Josh Harrison
44 Rhys Hoskins
45 Max Scherzer
46 Willson Contreras
47 David Bote
48 Justin Turner
49 Miguel Cabrera
50 J.T. Realmuto
51 Robinson Cano
52 Starling Marte
53 Didi Gregorius
54 Miguel Andujar
55 Luis Severino
56 Jonathan Schoop
57 Jake Bauers
58 Trey Mancini
59 Kyle Schwarber
60 Salvador Perez
61 David Price
62 Dee Gordon
63 Nick Pivetta
64 Francisco Lindor
65 Joey Gallo
66 Corey Kluber
67 Jeff McNeil
68 Jake Arrieta
69 Freddie Freeman
70 Brad Keller
71 Jose Ramirez
72 Julio Teheran
73 Mike Clevinger
74 Cedric Mullins
75 Eric Hosmer
76 Matt Carpenter
77 Harrison Bader
78 Justin Verlander
79 Miles Mikolas
80 Mike Trout
81 Jacob deGrom
82 Corey Seager
83 Jose Altuve
84 Michael Conforto
85 Juan Soto
86 Charlie Blackmon
87 Johnny Cueto
88 George Springer
89 Marcus Stroman
90 Jose Quintana
91 Jake Lamb
92 Christian Yelich
93 Brian Anderson
94 Eddie Rosario
95 Matt Chapman
96 Edwin Diaz
97 Ryon Healy
98 Paul Goldschmidt
99 Ryan O'Hearn
100 Nicholas Castellanos
Team Sets
2019 Topps Utz Baseball Team Set Checklists
Want to know what cards your favorite team has in 2019 Topps Utz Baseball? Here's the checklist broken down by team. Scroll through or click below to go directly to that team.
Arizona Diamondbacks Checklist
91 Jake Lamb
98 Paul Goldschmidt
Atlanta Braves Checklist
11 Dansby Swanson
19 Nick Markakis
36 Ronald Acuna Jr.
69 Freddie Freeman
72 Julio Teheran
Baltimore Orioles Checklist
10 Adam Jones
58 Trey Mancini
74 Cedric Mullins
Boston Red Sox Checklist
27 J.D. Martinez
39 Mookie Betts
61 David Price
Chicago Cubs Checklist
13 Javier Baez
26 Kris Bryant
46 Willson Contreras
47 David Bote
59 Kyle Schwarber
90 Jose Quintana
Chicago White Sox Checklist
The White Sox have no cards in this set.
Cincinnati Reds Checklist
30 Joey Votto
Cleveland Indians Checklist
64 Francisco Lindor
66 Corey Kluber
71 Jose Ramirez
73 Mike Clevinger
Colorado Rockies Checklist
25 Nolan Arenado
86 Charlie Blackmon
Detroit Tigers Checklist
49 Miguel Cabrera
100 Nicholas Castellanos
Houston Astros Checklist
15 Kyle Tucker
33 Carlos Correa
78 Justin Verlander
83 Jose Altuve
88 George Springer
Kansas City Royals Checklist
7 Whit Merrifield
60 Salvador Perez
70 Brad Keller
99 Ryan O'Hearn
Los Angeles Angels Checklist
21 Francisco Arcia
23 Shohei Ohtani
80 Mike Trout
Los Angeles Dodgers Checklist
32 Clayton Kershaw
48 Justin Turner
82 Corey Seager
Miami Marlins Checklist
50 J.T. Realmuto
93 Brian Anderson
Milwaukee Brewers Checklist
5 Lorenzo Cain
17 Jesus Aguilar
56 Jonathan Schoop
92 Christian Yelich
Minnesota Twins Checklist
20 Kohl Stewart
29 Byron Buxton
94 Eddie Rosario
New York Mets Checklist
34 Todd Frazier
67 Jeff McNeil
81 Jacob deGrom
84 Michael Conforto
New York Yankees Checklist
4 Aaron Judge
9 Jonathan Loaisiga
12 Gleyber Torres
37 Chance Adams
42 Aroldis Chapman
53 Didi Gregorius
54 Miguel Andujar
55 Luis Severino
Oakland Athletics Checklist
22 Khris Davis
28 Ramon Laureano
95 Matt Chapman
Philadelphia Phillies Checklist
6 Aaron Nola
44 Rhys Hoskins
63 Nick Pivetta
68 Jake Arrieta
Pittsburgh Pirates Checklist
35 Corey Dickerson
43 Josh Harrison
52 Starling Marte
San Diego Padres Checklist
41 Austin Hedges
75 Eric Hosmer
San Francisco Giants Checklist
1 Buster Posey
3 Brandon Crawford
14 Steven Duggar
87 Johnny Cueto
Seattle Mariners Checklist
8 Wade LeBlanc
51 Robinson Cano
62 Dee Gordon
96 Edwin Diaz
97 Ryon Healy
St. Louis Cardinals Checklist
2 Yadier Molina
40 Paul DeJong
76 Matt Carpenter
77 Harrison Bader
79 Miles Mikolas
Tampa Bay Rays Checklist
31 Blake Snell
57 Jake Bauers
Texas Rangers Checklist
16 Shin-Soo Choo
65 Joey Gallo
Toronto Blue Jays Checklist
18 Sean Reid-Foley
89 Marcus Stroman
Washington Nationals Checklist
24 Ryan Zimmerman
38 Trea Turner
45 Max Scherzer
85 Juan Soto