2019 Topps Update Series Baseball Variation Short Prints Guide and Gallery
2019 Topps Update Series Baseball variations come in a couple of forms. Similar to cards in Series 1 and Series 2, one level is basic short prints that should show up regularly. The other group features tougher SSP cards that highlight some of the season's top rookies.
2019 Topps Update Series Variations – SP vs. SSP
Base Short Print Variations are the more plentiful of the two types. This goes for both the size of its checklist and frequency in which they fall. A total of 50 retired legends not on the base set checklist, veterans and rookies all have SP cards. At the hobby level, these are 1:32 packs. For hobby jumbo, they're 1:10, or one per box.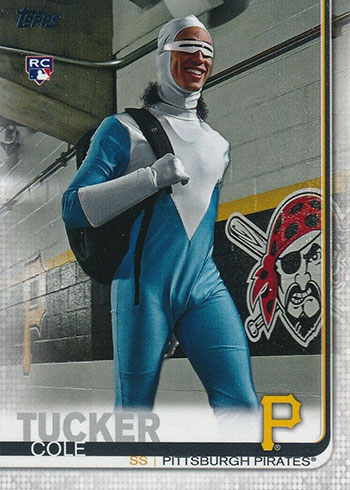 Rookie Variations are much tougher to find. The checklist here, as you'd expect, are first-year standouts. According to the odds, you're looking at 1:622 hobby packs and 1:190 hobby jumbo packs to pull one. In short, they're rare. On top of that, the checklist for these has another 25 cards.
It's worth noting that some rookies have both types of variations for the same card number. This is where the codes come into play to make identification even easier. Vladimir Guerrero Jr. and Austin Riley are among the rookies with both SP and SSP variations.
Legends have now appeared in the SP lineups for all three of the flagship 2019 Topps Baseball releases. Here, key players include Ken Griffey Jr., Jackie Robinson, Nolan Ryan and Thurman Munson. Willie Mays has two different variation sin 2019 Topps Update Series, one with the New York Giants. The other has the Hall of Famer from his days in San Francisco.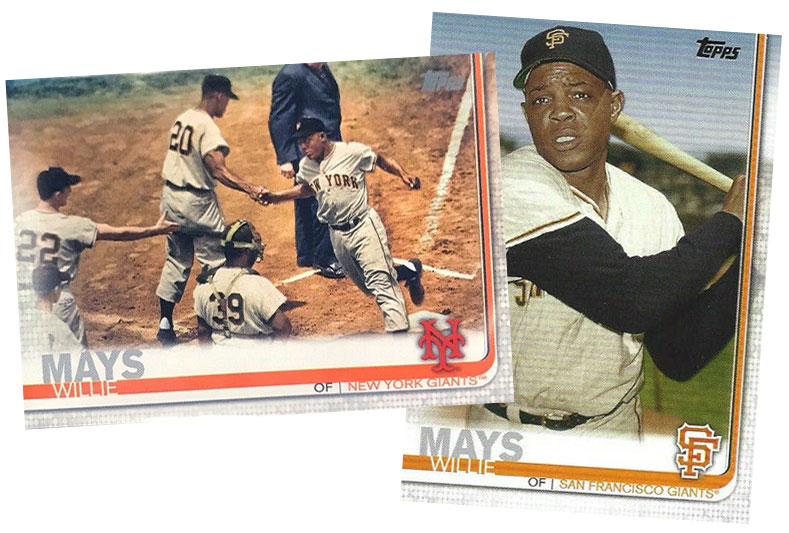 Confirming Variations with the Fine Print
There's a handy image gallery below showing the 2019 Topps Update Series variations. And while this makes spotting SP and SSP cards easy, there's another way. The code method. It's quick and only requires collectors to remember a couple of numbers instead of dozens of photos.
The fine print on the back holds the key. Go to the very end of the fine print and you'll find a long code. It's meant for production purposes, but collectors can use it to spot a variation quickly.
Here are code endings you need to tell the difference between a base card, an SP variation and an SSP variation:
Base – 010
SP Variation – 055
SSP Rookie Variation – 057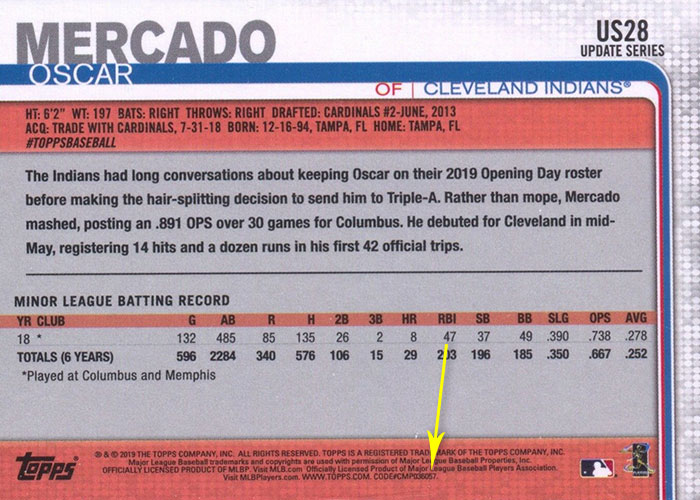 2019 Topps Update Series Baseball Checklist
If you're looking for a specific card, click on the links to see what's available on eBay.
US1 Vladimir Guerrero Jr.
US1 Vladimir Guerrero Jr. – SSP
US12 Paul Goldschmidt
US21 Willie Mays
US28 Oscar Mercado
US28 Oscar Mercado – SSP
US35 Derek Dietrich
US39 Cavan Biggio
US39 Cavan Biggio – SSP
US50 Nick Senzel
US50 Nick Senzel – SSP
US56 Tony Gwynn
US63 Trent Thornton
US63 Trent Thornton – SSP
US 74 Elvis Luciano – SSP
US79 Jackie Robinson
US93 Ken Griffey Jr.
US100 Austin Riley
US100 Austin Riley – SSP
US105 Luis Rengifo – SSP
US106 Yasiel Puig
US107 Robinson Cano
US109 Carter Kieboom
US109 Carter Kieboom – SSP
US123 Justus Sheffield
US123 Justus Sheffield – SSP
US128 Thurman Munson
US133 Willie Mays
US147 Cal Ripken Jr.
US149 Corbin Martin
US149 Corbin Martin – SSP
US150 Keston Hiura
US150 Keston Hiura – SSP
US165 Eddie Murray
US168 Thiaro Estrada – SSP
US168 Robin Yount
US170 Michael Chavis
US170 Michael Chavis – SSP
US179 Mariano Rivera
US182 Johnny Bench
US187 Roberto Clemente
US197 Cole Tucker
US197 Cole Tucker – SSP
US199 Will Smith
US199 Will Smith – SSP
US200 Griffin Canning
US200 Griffin Canning – SSP
US202 George Brett
US206 Ichiro
US218 Mitch Keller
US219 Nolan Ryan
US224 Yasmani Grandal
US227 Lane Thomas – SSP
US237 Randy Johnson
US242 Adam Jones
US244 Jon Duplantier
US244 Jon Duplantier – SSP
US245 Carl Yastrzemski
US249 Nick Margevicius
US249 Nick Margevicius – SSP
US256 Jake Bauers
US256 Jake Bauers – SSP
US257 Josh Donaldson
US263 Chris Paddack
US263 Chris Paddack – SSP
US266 Kevin Cron
US266 Kevin Cron – SSP
US269 Ryne Sandberg
US283 Edgar Martinez
US291 Nate Lowe
US291 Nate Lowe – SSP
US295 Roy Halladay
US299 Brendan Rodgers
US299 Brendan Rodgers – SSP
US300 Mike Mussina
2019 Topps Update Series Baseball Gallery
US1 Vladimir Guerrero Jr., Toronto Blue Jays
US12 Paul Goldschmidt, St. Louis Cardinals
US21 Willie Mays, New York Giants
US28 Oscar Mercado, Cleveland Indians
US35 Derek Dietrich, Cincinnati Reds
US39 Cavan Biggio, Toronto Blue Jays
US50 Nick Senzel, Cincinnati Reds
US56 Tony Gwynn, San Diego Padres
US63 Trent Thornton, Toronto Blue Jays
US74 Elvis Luciano, Toronto Blue Jays
US79 Jackie Robinson, Brooklyn Dodgers
US93 Ken Griffey Jr., Seattle Mariners
US100 Austin Riley, Atlanta Braves
US105 Luis Rengifo, Los Angeles Angels
US106 Yasiel Puig, Cleveland Indians
US107 Robinson Cano, New York Mets
US109 Carter Kieboom, Washington Nationals
US123 Justus Sheffield, Seattle Mariners
US128 Thurman Munson, New York Yankees
US133 Willie Mays, San Francisco Giants
US147 Cal Ripken Jr., Baltimore Orioles
US149 Corbin Martin, Houston Astros
US150 Keston Hiura, Milwaukee Brewers
US165 Eddie Murray, Baltimore Orioles
US168 Thairo Estrada, New York Yankees
US168 Robin Yount, Milwaukee Brewers
US170 Michael Chavis, Boston Red Sox
US179 Mariano Rivera, New York Yankees
US182 Johnny Bench, Cincinnati Reds
US187 Roberto Clemente, Pittsburgh Pirates
US197 Cole Tucker, Pittsburgh Pirates
US199 Will Smith, Los Angeles Dodgers
US200 Griffin Canning, Los Angeles Angels
US202 George Brett, Kansas City Royals
US206 Ichiro, Seattle Mariners
US218 Mitch Keller, Pittsburgh Pirates
US219 Nolan Ryan, Texas Rangers
US224 Yasmani Grandal, Milwaukee Brewers
US227 Lane Thomas, St. Louis Cardinals
US237 Randy Johnson, Seattle Mariners
US242 Adam Jones, Arizona Diamondbacks
US244 Jon Duplantier, Arizona Diamondbacks
US245 Carl Yastrzemski, Boston Red Sox
US249 Nick Margevicius, San Diego Padres
US256 Jake Bauers, Cleveland Indians
US257 Josh Donaldson, Atlanta Braves
US263 Chris Paddack, San Diego Padres
US266 Kevin Cron, Arizona Diamondbacks
US269 Ryne Sandberg, Chicago Cubs
US283 Edgar Martinez, Seattle Mariners
US291 Nate Lowe, Tampa Bay Rays
US295 Roy Halladay, Toronto Blue Jays
US299 Brendan Rodgers, Colorado Rockies
US300 Mike Mussina, Baltimore Orioles