2019 Topps UFC Museum Collection Checklist and Details
Since debuting in 2009, the majority UFC card sets have leaned towards the high-end. 2019 Topps UFC Museum Collection maintains the status quo in this regard. Boxes feature just eight cards. Of those, three are hits — two autographs and one memorabilia card.

2019 Topps UFC Museum Collection Base Set Basics
While autographs and relics get more of the attention, a base set hasn't been forgotten. Limited to 50 cards, it covers both current fighters and legends.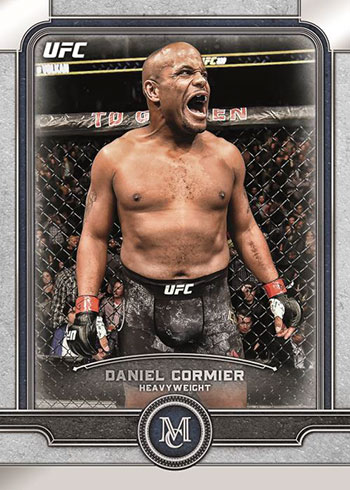 Parallels include Copper (/159), Gold (/75), Sapphire (/25), Ruby (/8) and Emerald (1/1).
Autographs
The signatures begin with Museum Autographs. Numbered to 99 or less, the checklist covers all levels of the UFC roster. The autographs themselves are on-card. Gold (/25), Ruby (/8) and Emerald (1/1) make up the parallels.
Museum Dual Autographs (/10) are also hard signed, despite having ink from a pair of fighters.
Framed Autographs are a case hit. These have silver signatures and the focus of the checklist is on top fighters. Versions include Gold Frame (/15), Silver Frame (/5) and Black Frame (1/1). The Framed theme carries over to autograph relic cards. These have just ten copies each.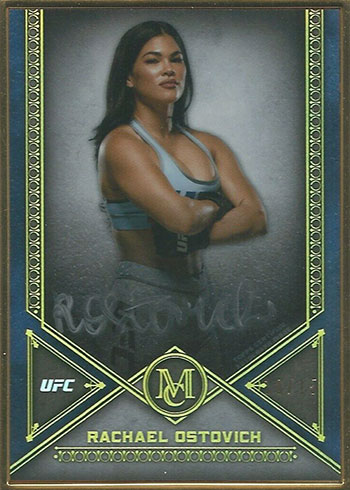 Memorabilia and More
Signature Swatch Relics come with one, two and three pieces of gear. No matter the number, these have Gold (/25), Ruby (/8) and Emerald (1/1) parallels.
Not only do new Momentous Material Dual Jumbo Mat Relic Autograph Books (/5) have a pair of large canvas swatches, but they have signatures from two different fighters.
Signature Swatch Logo Autographs are all one-of-ones. The focal point on these is the brand logo piece taken from a fighter-worn uniform.
The bulk of the memorabilia cards in 2019 UFC Museum Collection fall under the Primary Pieces name. These have four relic pieces. Themes come in three levels — basic single-fighter, Legends and Four Fighter. Parallels include Copper (/25), Gold (/10) and Emerald Prime (1/1).
Meaningful Moments (/75 or less) use pieces of Octagon canvas. Copper (/35), Gold (/10) and Emerald (1/1) are the lone parallels.
Museum Memorabilia cards are some of the toughest to find in the product. All are one-of-ones and feature large pieces of prime gear.
Canvas Collection Originals are original art cards. Each has a painting done on the card itself.
Museum Collection is a hobby-exclusive release.
2019 Topps UFC Museum Collection at a glance:
Cards per pack: 1
Packs per box: 8
Boxes per case: 12
Set size: 50 cards
Release date: November 20, 2019
What to expect in a hobby box:
Autographs – 2
Relic Cards – 1
2019 Topps UFC Museum Collection Checklist
Base
Autographs
Memorabilia
Inserts