2019 Topps Transcendent Baseball Checklist, Team Set Lists and Details
When you click on links to various merchants on this site, like eBay, and make a purchase, this can result in this site earning a commission.
2019 Topps Transcendent Baseball cards go big with the usual assortment of premium autographs, mix of one-of-ones and other rarities. There's also the thing that makes Transcendent Transcendent — a special party with one of the game's greats. This year's guest? Ken Griffey Jr.
Of course, there's also the other thing that makes Transcendent Transcendent — its five-figure price tag. While the likely $20,000-plus cost means that the average collector isn't going to be busting a case on their own, the line has historically been biggest with group breaks where the price can be pieced out to more manageable levels for many.

Besides the party invitation, each 2019 Topps Transcendent Baseball case comes with a total of 54 autographs, at least six of which are one-of-ones. While the bulk of these come from the Transcendent Autographs lineup, the majority of the unique cards come from separate subsets. A base set, sketch card and set of sketch reproductions are also inside each case.
2019 Topps Transcendent Baseball Autographs
A total of 50 Transcendent Collection Autographs are in each case. Numbered to 25 or less, all come with on-card signatures and have gold metal frames. As for signers, according to Topps, it's limited big-name vets, rookies and retired players. This has been the case since the brand made its debut in 2016.
Base versions have 25 copies while additional parallels can be found in Emerald (/15), Purple (/10), Platinum (1/1) and Red (1/1).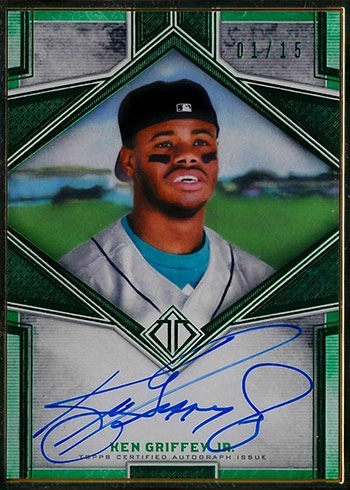 On top of these, all of the signers have Image Variation Autographs (/25) that use a different design. These still have a gold metal frame and the same mix of parallel colors and quantities as the main versions.
Between the regular autographs and variations, every case of 2019 Transcendent has two one-of-a-kind parallels.
Derek Jeter gets his own set of autographs. These place the Yankees legend on a variety of Topps designs from 1952 through 2019. Landing one per case, each is a one-of-one.
Autograph Patch, Autograph Bat Knob Books and Autograph Nameplate Books (all 1/1) all combine to make for another case hit.
The final autograph comes in the form of an oversized cut signature or letter patch autograph. Like past years, subjects are a mix of baseball legends, celebrities and pop culture figures. Babe Ruth, Honus Wagner, Roberto Clemente and Satchel Paige are among the Hall of Famers.
Beyond Autographs
2019 Topps Transcendent Baseball has more than just autographs. The base set, which adopts the Transcendent Icons name, features 50 cards. Each card is serial numbered to 100 and there's a full set in each case.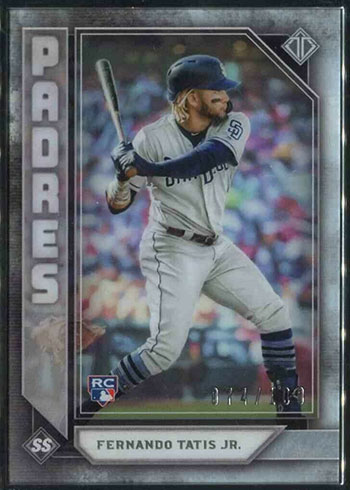 Cases also have a Franchise Favorites sketch card. Each has a unique piece of original artwork done directly on the card. All of these are reprinted to offer an additional component to the product, as well as an expanded checklist.
2019 Topps Transcendent Collection Baseball has a production run of 100 cases.
2019 Topps Transcendent Baseball cards at a glance:
Cards per box: 205
Set size: 50 cards
Release date: November 27, 2019
What to expect in a hobby box:
Transcendent Collection Autographs – 50 (two are 1/1s)
Autograph Patch, Autograph Bat Knob or Autograph Nameplate Book Cards (1/1) – 1
Derek Jeter Autographs (1/1) – 1
1953 Superfractor Autographs (1/1) – 1
Oversized Cut Signature or Letter Patch Autographs (1/1) – 1
Franchise Favorites Sketch Cards (1/1) – 1
50-Card Base Set
100-Card Franchise Favorites Sketch Reproductions Set
Ken Griffey Jr. VIP Event Invitation
2019 Topps Transcendent Baseball Checklist
Base
Autographs
Inserts
Team Sets