2019 Topps Total Baseball Surprises with Unannounced Autographs
So remember when 2019 Topps Total Baseball launched as an online-exclusive where the base set and a few parallels were enough of a chase? It turns out that Topps has added a surprise extra. A small number of 2019 Topps Total Autographs exist as well.
These additions weren't announced in advance when the first wave was put up for sale. They only started surfacing after collectors started receiving their cards. Mike Trout and Ronald Acuna Jr. are among the confirmed signatures from Wave 1.
Topps email blasts for Wave 2 packs do picture mock-ups for Aaron Judge and Vladimir Guerrero Jr. autographs.
The cards have the same design as the base set with autographs coming on stickers. The numbers on the back have "-A" added to them.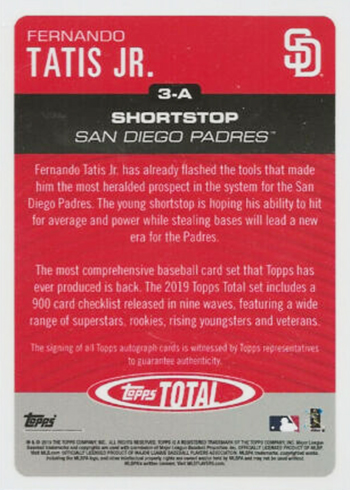 Insertion rates and production numbers for the 2019 Topps Total Autographs are unknown. A full checklist of players hasn't been released, either.
2019 Topps Total Baseball is a 900-card set that is being sold in nine waves of 100 cards over the course of the season. Packs, which cost $10 on the Topps website, have ten cards.
2019 Topps Total Baseball Autographs Checklist
The following is a list of confirmed autographs in 2019 Topps Total Baseball. An official list has not be released by Topps so it's possible there are more. Also, the set has nine waves planned for the season.
If you're looking for 2019 Topps Total Baseball Autographs, check to see what's currently available on eBay.
Wave 1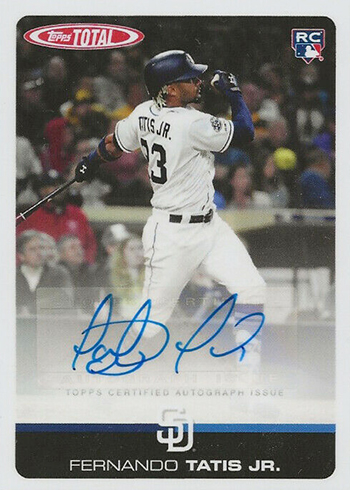 1-A Mike Trout, Los Angeles Angels
2-A Ronald Acuna Jr., Atlanta Braves
3-A Fernando Tatis Jr., San Diego Padres
55-A Pablo Lopez, Miami Marlins
65-A Victor Robles, Washington Nationals
67-A Clint Frazier, New York Yankees