2019 Topps Throwback Thursday is a series of online-exclusive mini sets based on old designs from the company's vault.
Each is available for one week on the Topps website in a print-on-demand format. After that week is up, the sets are considered "sold out." Print runs match the number ordered.
Often, timing coincides with some sort of event or anniversary. This creates a theme for both the design that's selected as well as the six card subjects. Sometimes, it's just a blast from the past mash-up. While it can vary from week to week, current and past players are in play in 2019 Topps Throwback Thursday.
This is the third year for the Topps TBT program. In the past, the vast majority have been baseball, however other subjects are occasionally mixed in. Star Wars and the Olympics have also had cards before.
Checklist
2019 Topps Throwback Thursday Checklist
Set 1 – 2019 Hall of Fame Ballot Candidates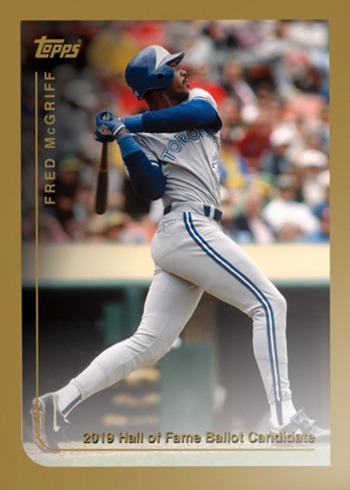 Date: January 3-10
Inspiration: 1999 Topps Baseball
Print Run: 433 sets
1 Mariano Rivera, New York Yankees
2 Todd Helton, Colorado Rockies
3 Andruw Jones, Atlanta Braves
4 Roger Clemens, Boston Red Sox
5 Fred McGriff, Toronto Blue Jays
6 Andy Pettitte, New York Yankees
Set 2 – Captains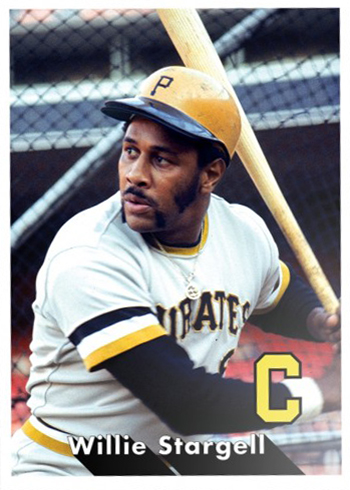 Date: January 10-17
Inspiration: 1976 Topps Star Trek
Print Run: 513 sets
7 Derek Jeter, New York Yankees
8 Carl Yastrzemski, Boston Red Sox
9 Gary Carter, New York Mets
10 Duke Snider, Brooklyn Dodgers
11 Willie Stargell, Pittsburgh Pirates
12 Barry Larkin, Cincinnati Reds
Set 3 – Baseball Giants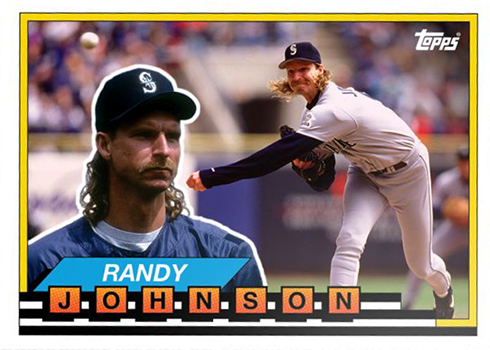 Date: January 17-24
Inspiration: 1989 Topps Big Baseball
Print Run: 482 sets
13 Aaron Judge, New York Yankees
14 Frank Thomas, Chicago White Sox
15 Randy Johnson, Seattle Mariners
16 Noah Syndergaard, New York Mets
17 Bo Jackson, Kansas City Royals
18 Giancarlo Stanton, New York Yankees
Set 4 – Mariano Rivera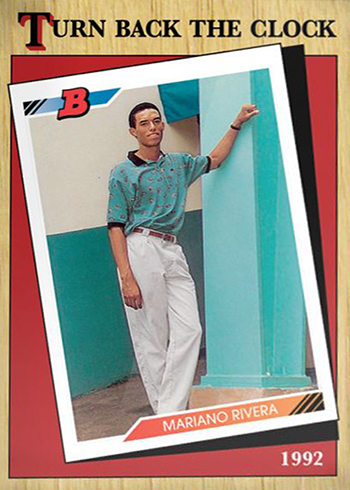 Date: January 24-31
Inspiration: 1987 Topps Baseball "Turn Back the Clock"
Print Run: 441 sets
19 Mariano Rivera, New York Yankees
20 Mariano Rivera, New York Yankees
21 Mariano Rivera, New York Yankees
22 Mariano Rivera, New York Yankees
23 Mariano Rivera, New York Yankees
24 Mariano Rivera, New York Yankees
Set 5 – '71 Topps Football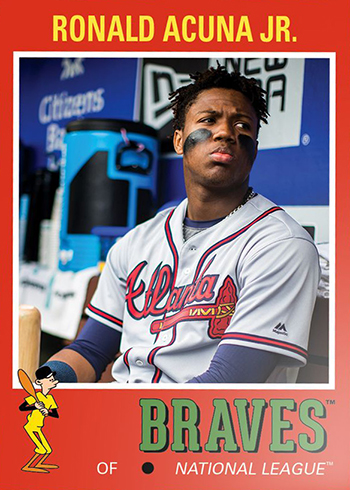 Date: January 31-February 7
Inspiration: 1971 Topps Football
Print Run: 674 sets
25 Mike Trout, Los Angeles Angels
26 Clayton Kershaw, Los Angeles Dodgers
27 Kris Bryant, Chicago Cubs
28 Ronald Acuna Jr., Atlanta Braves
29 Tom Seaver, New York Mets
30 Johnny Bench, Cincinnati Reds
Set 6 – Division Match-Ups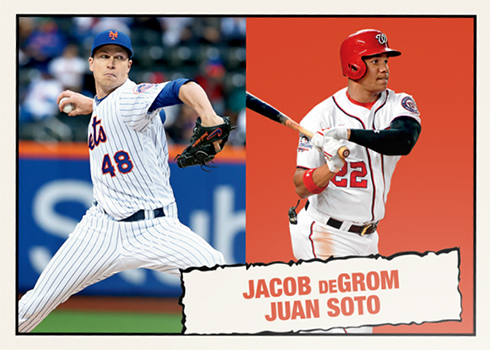 Date: February 7-14
Inspiration: 1961 Topps Baseball "Baseball Thrills"
Print Run: 492 sets
31 Jacob deGrom, New York Mets/Juan Soto, Washington Nationals
32 Clayton Kershaw, Los Angeles Dodgers/Buster Posey, San Francisco Giants
33 Justin Verlander, Houston Astros/Shohei Ohtani, Los Angeles Angels
34 Luis Severino, New York Yankees/Mookie Betts, Boston Red Sox
35 Max Scherzer, Washington Nationals/Ronald Acuna Jr., Atlanta Braves
36 Blake Snell, Tampa Bay Rays/Aaron Judge, New York Yankees
Set 7 – Speedsters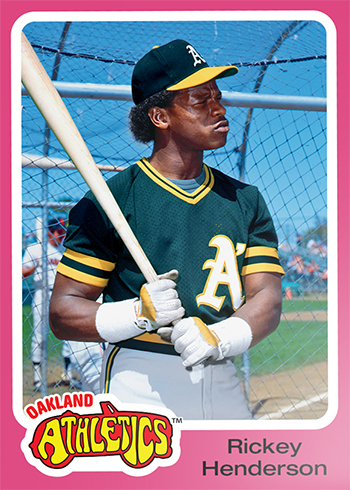 Date: February 14-21
Inspiration: 1978 Topps Grease
Print Run: 457 sets
37 Rickey Henderson, Oakland Athletics
38 Lou Brock, St. Louis Cardinals
39 Mookie Betts, Boston Red Sox
40 Mike Trout, Los Angeles Angels
41 Jose Ramirez, Cleveland Indians
42 Jackie Robinson, Brooklyn Dodgers
Set 8 – Expos and Blue Jays Greats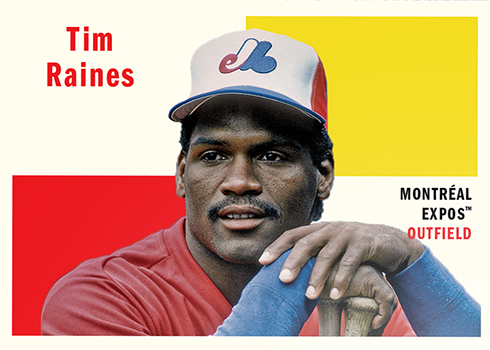 Date: February 21-28
Inspiration: 1960-61 Topps Hockey
Print Run: 301 sets
43 Pedro Martinez, Montreal Expos
44 Vladimir Guerrero, Montreal Expos
45 Tim Raines, Montreal Expos
46 Roberto Alomar, Toronto Blue Jays
47 Carlos Delgado, Toronto Blue Jays
48 Roy Halladay, Toronto Blue Jays
Set 9 – 1965 Topps Baseball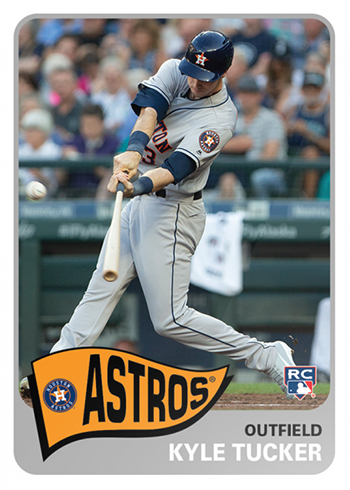 Date: February 28-March 7
Inspiration: 1965 Topps Baseball
Print Run: 866 sets
49 Kyle Tucker, Houston Astros
50 Yusei Kikuchi, Seattle Mariners
51 Ken Griffey Jr., Seattle Mariners
52 Ronald Acuna Jr., Atlanta Braves
53 Francisco Lindor, Cleveland Indians
54 Jacob deGrom, New York Mets
Set 10 – New Teammates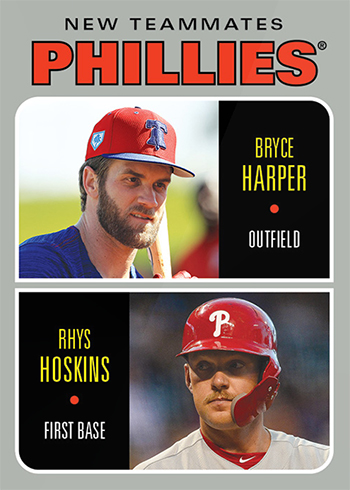 Date: March 7-14
Inspiration: 1970 Topps Baseball "Rookie Stars"
Print Run: 686 sets
55 Bryce Harper/Rhys Hoskins, Philadelphia Phillies
56 Robinson Cano/Michael Conforto, New York Mets
57 Manny Machado/Eric Hosmer, San Diego Padres
58 Paul Goldschmidt/Yadier Molina, St. Louis Cardinals
59 James Paxton/Aaron Judge, New York Yankees
60 Patrick Corbin/Juan Soto, Washington Nationals
Set 11 – 1964 Topps Stand-Ups Baseball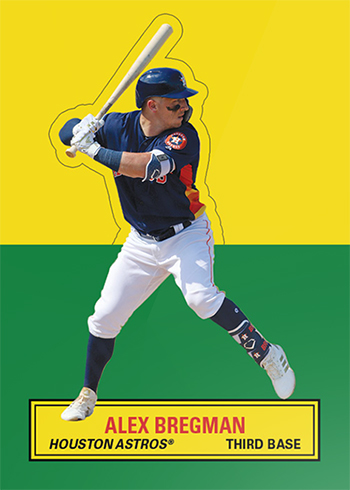 Date: March 14-21
Inspiration: 1964 Topps Stand-Ups Baseball
Print Run: 813 sets
61 Mike Trout, Los Angeles Angels
62 Aaron Judge, New York Yankees
63 Alex Bregman, Houston Astros
64 Juan Soto, Washington Nationals
65 Danny Jansen, Toronto Blue Jays
66 Pablo Lopez, Miami Marlins
Set 12 – 1993-94 Stadium Club Basketball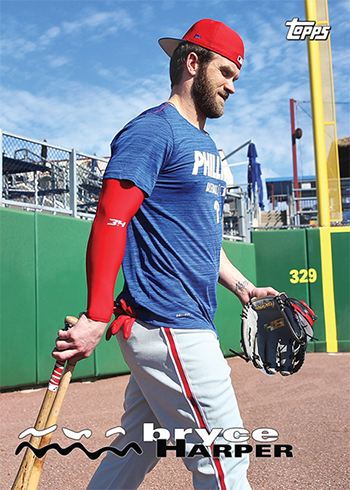 Date: March 21-28
Inspiration: 1993-94 Topps Stadium Club Basketball
Print Run: 371 sets
67 Ichiro, Seattle Mariners
68 Bryce Harper, Philadelphia Phillies
69 Dave Winfield, New York Yankees
70 Roger Clemens, Boston Red Sox
71 Barry Larkin, Cincinnati Reds
72 Todd Helton, Colorado Rockies
Set 13 – 2004 Topps Opening Day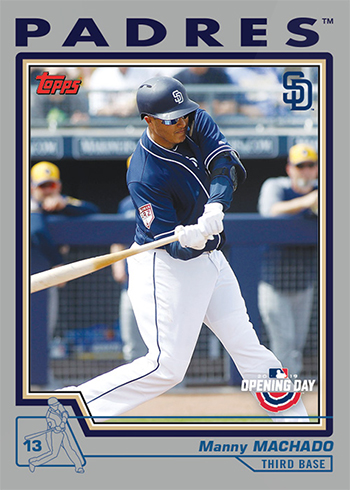 Date: March 28-April 4
Inspiration: 2004 Topps Opening Day Baseball
Print Run: 421 sets
73 Manny Machado, San Diego Padres
74 Bryce Harper, Philadelphia Phillies
75 Max Scherzer, Washington Nationals
76 J.D. Martinez, Boston Red Sox
77 Luis Severino, New York Yankees
78 Aaron Nola, Philadelphia Phillies
Set 14 – 2019 Rookies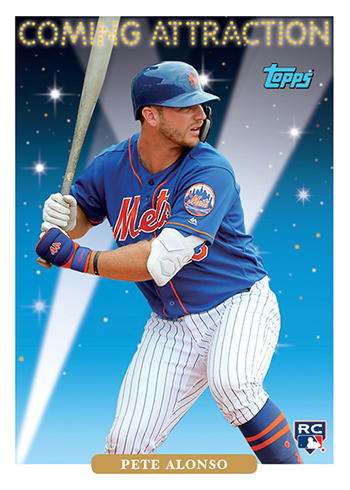 Date: April 4-11
Inspiration: 1993 Topps Baseball "Coming Attractions"
Print Run: 955 sets
79 Fernando Tatis Jr., San Diego Padres
80 Pete Alonso, New York Mets
81 Kyle Tucker, Houston Astros
82 Justus Sheffield, Seattle Mariners
83 Michael Kopech, Chicago White Sox
84 Chance Adams, New York Yankees
Set 15 – 1987 Topps WWE Stickers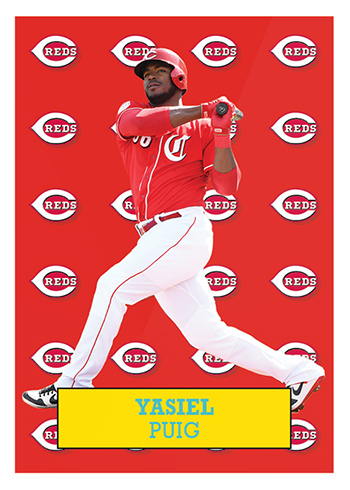 Date: April 11-18
Inspiration: 1987 Topps WWF Stickers
Print Run: 573 sets
85 Eloy Jimenez, Chicago White Sox
86 Shohei Ohtani, Los Angeles Angels
87 Yusei Kikuchi, Seattle Mariners
88 Christian Yelich, Milwaukee Brewers
89 Chris Paddack, San Diego Padres
90 Yasiel Puig, Cincinnati Reds
Set 16 – Young Stars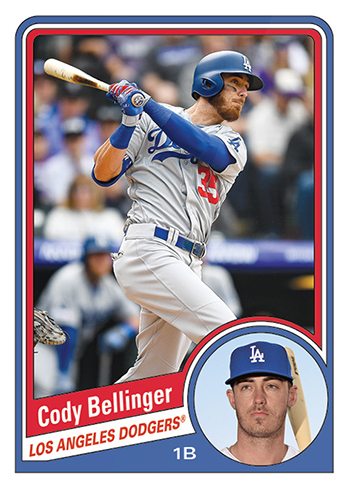 Date: April 18-25
Inspiration: 1984-85 Topps Hockey
Print Run: 583 sets
91 Jeff McNeil, New York Mets
92 Aaron Judge, New York Yankees
93 Victor Robles, Washington Nationals
94 Javier Baez, Chicago Cubs
95 Cody Bellinger, Los Angeles Dodgers
96 Brandon Lowe, Tampa Bay Rays
Set 17 – 1974 Topps Baseball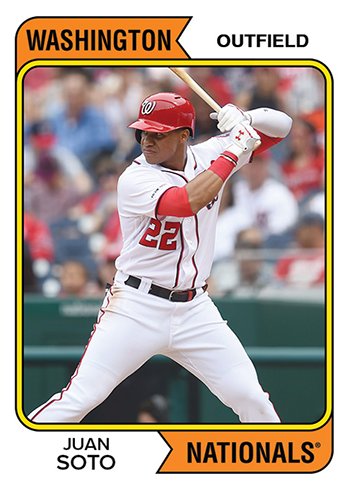 Date: April 25-May 2
Inspiration: 1974 Topps Baseball
Print Run: 1,153 sets
97 Pete Alonso, New York Mets
98 Mike Trout, Los Angeles Angels
99 Ronald Acuna Jr., Atlanta Braves
100 Juan Soto, Washington Nationals
101 Luis Urias, San Diego Padres
102 Jose Altuve, Houston Astros
CL-1 Mike Trout, Los Angeles Angels – Checklist
Set 18 – MiLB Player of the Year Award Winners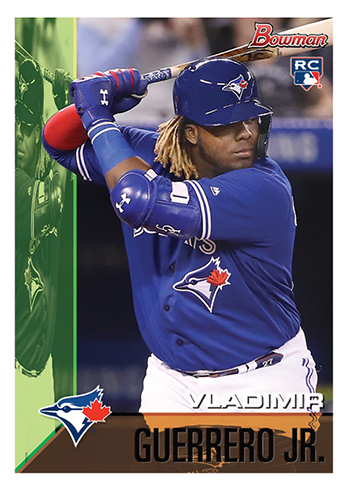 Date: May 2-9
Inspiration: 1995 Bowman Baseball
Print Run: 1,105 sets
103 Vladimir Guerrero Jr., Toronto Blue Jays
104 Ronald Acuna Jr., Atlanta Braves
105 Xander Bogaerts, Boston Red Sox
106 Alex Bregman, Houston Astros
107 Blake Snell, Tampa Bay Rays
108 Paul Goldschmidt, St. Louis Cardinals
Set 19 – 1970 Topps Super Glossy Football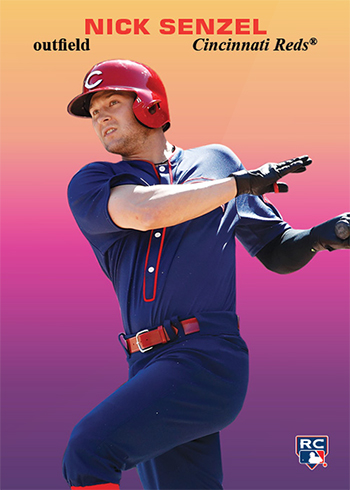 Date: May 9-16
Inspiration: 1970 Topps Super Glossy Football
Print Run: 735 sets
109 Nick Senzel, Cincinnati Reds
110 Luke Voit, New York Yankees
111 Tim Anderson, Chicago White Sox
112 Fernando Tatis Jr., San Diego Padres
113 Willson Contreras, Chicago Cubs
114 Carter Kieboom, Washington Nationals
Set 20 – 1962 Topps Football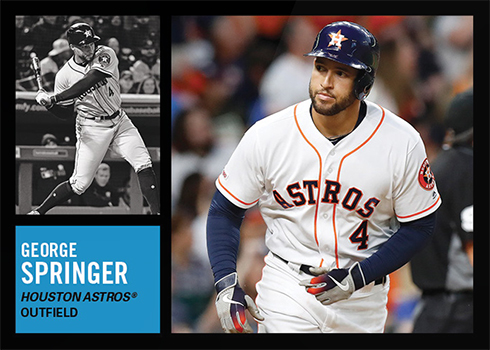 Date: May 16-23
Inspiration: 1962 Topps Football
Print Run: 1,194 sets
115 Vladimir Guerrero Jr., Toronto Blue Jays
116 George Springer, Houston Astros
117 Pete Alonso, New York Mets
118 Gio Urshela, New York Yankees
119 Eloy Jimenez, Chicago White Sox
120 Adalberto Mondesi, Kansas City Royals
Set 21 – 1991 Topps Stadium Club Baseball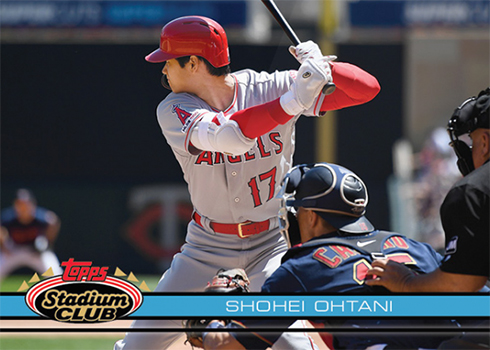 Date: May 23-30
Inspiration: 1991 Topps Stadium Club Baseball
Print Run: 772 sets
121 Shohei Ohtani, Los Angeles Angels
122 Chris Paddack, San Diego Padres
123 Mookie Betts, Boston Red Sox
124 Nick Senzel, Cincinnati Reds
125 Josh Bell, Pittsburgh Pirates
126 Keston Hiura, Milwaukee Brewers
Set 22 – Bay Area and Toronto Players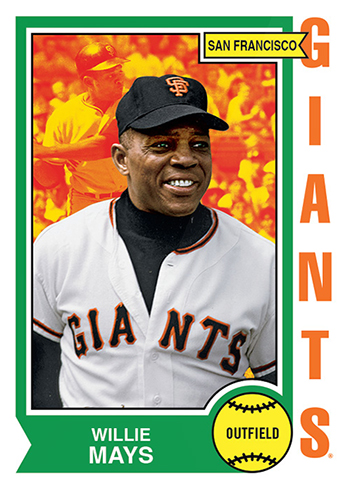 Date: May 30-June 6
Inspiration: 1974-75 Topps Basketball
Print Run: 885 sets
127 Cavan Biggio, Toronto Blue Jays
128 Buster Posey, San Francisco Giants
129 Vladimir Guerrero Jr., Toronto Blue Jays
130 Ramon Laureano, Oakland Athletics
131 Roberto Alomar, Toronto Blue Jays
132 Willie Mays, San Francisco Giants
Set 23 – 2019's Hottest Players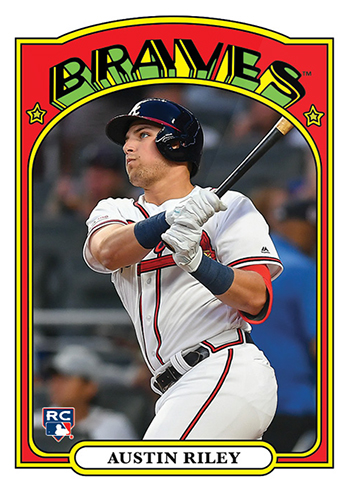 Date: June 6-13
Inspiration: 1972 Topps Baseball
Print Run: 1,031 sets
133 Austin Riley, Atlanta Braves
134 Gary Sanchez, New York Yankees
135 Michael Chavis, Boston Red Sox
136 Hyun-Jin Ryu, Los Angeles Dodgers
137 Pete Alonso, New York Mets
138 Jorge Polanco, Minnesota Twins
Set 24 – 1985 Topps Cyndi Lauper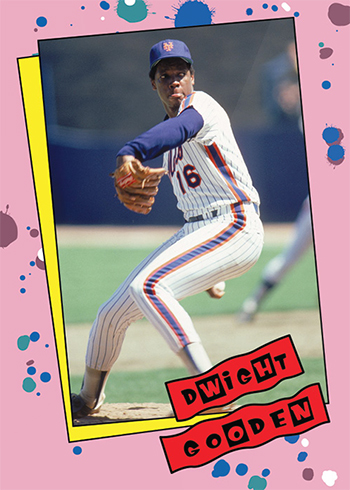 Date: June 13-20
Inspiration: 1985 Topps Cyndi Lauper
Print Run: 518 sets
139 Fernando Tatis Jr., San Diego Padres
140 Mike Trout, Los Angeles Angels
141 Brandon Lowe, Tampa Bay Rays
142 Bryce Harper, Philadelphia Phillies
143 Don Mattingly, New York Yankees
144 Dwight Gooden, New York Mets
Set 25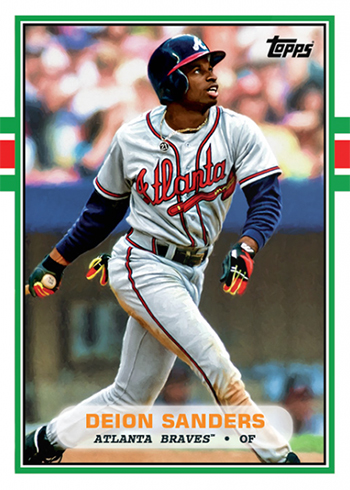 Date: June 20-27
Inspiration: 1989 Topps Football
Print Run: 691 sets
145 Trevor Story, Colorado Rockies
146 Vladimir Guerrero Jr., Toronto Blue Jays
147 Lucas Giolito, Chicago White Sox
148 Eloy Jimenez, Chicago White Sox
149 Deion Sanders, Atlanta Braves
150 Bo Jackson, Kansas City Royals
Set 26 – All-Time All-Stars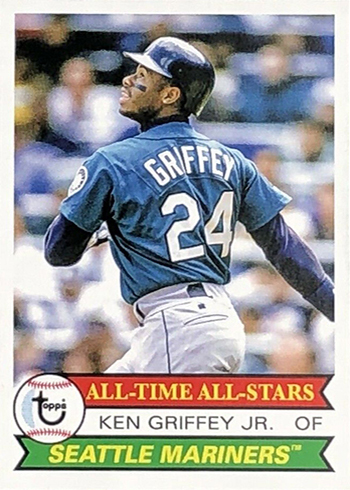 Date: June 27-July 4
Inspiration: 1979 Topps Baseball "All-Star"
Print Run: 761 sets
151 Hank Aaron, Atlanta Braves
152 Willie Mays, San Francisco Giants
153 Cal Ripken Jr., Baltimore Orioles
154 Ted Williams, Boston Red Sox
155 Ken Griffey Jr., Seattle Mariners
156 Mariano Rivera, New York Yankees
Set 27 – First-Time All-Stars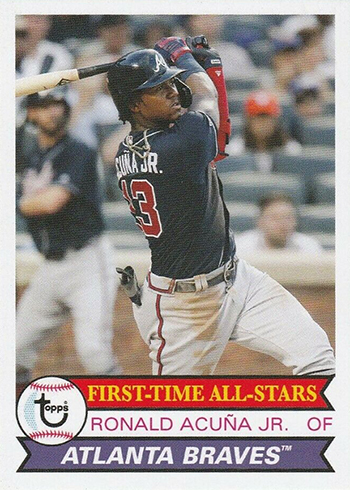 Date: July 4-11
Inspiration: 1979 Topps Baseball "All-Star"
Print Run: 745 sets
157 Ronald Acuna Jr., Atlanta Braves
158 Pete Alonso, New York Mets
159 Walker Buehler, Los Angeles Dodgers
160 Jorge Polanco, Minnesota Twins
161 Carlos Santana, Cleveland Indians
162 Austin Meadows, Tampa Bay Rays
Set 28 – Powerful All-Star Duos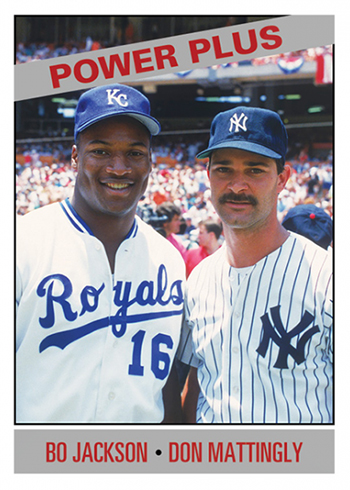 Date: July 11-18
Inspiration: 1966 Topps Baseball "Power Plus"
Print Run: 404 sets
163 Francisco Lindor, Cleveland Indians/Manny Machado, Baltimore Orioles
164 Ken Griffey Jr., Seattle Mariners/Mark McGwire, St. Louis Cardinals
165 Bo Jackson, Kansas City Royals/Don Mattingly, New York Yankees
166 Mike Trout/Albert Pujols, Los Angeles Angels
167 Kris Bryant/Anthony Rizzo, Chicago Cubs
168 Alex Bregman, Houston Astros/Christian Yelich, Milwaukee Brewers
Set 29 – Hall of Fame Teammates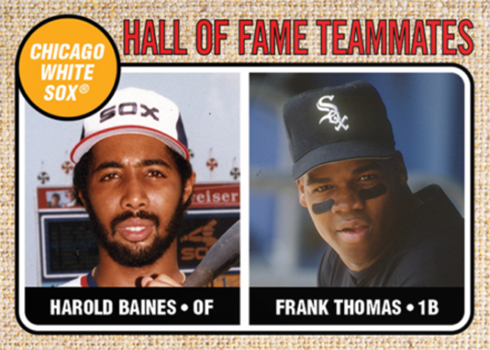 Date: July 18-25
Inspiration: 1968 Topps Baseball "Rookie Stars"
Print Run: 851 sets
169 Derek Jeter/Mariano Rivera, New York Yankees
170 Edgar Martinez/Ken Griffey Jr., Seattle Mariners
171 Cal Ripken Jr./Mike Mussina, Baltimore Orioles
172 Jeff Bagwell/Craig Biggio, Houston Astros
173 Harold Baines/Frank Thomas, Chicago White Sox
174 Johnny Bench/Joe Morgan, Cincinnati Reds
Set 30 – Moon Shots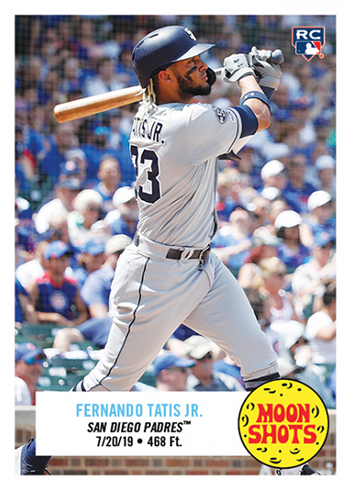 Date: July 25-August 1
Inspiration: 1969 Topps Man on the Moon
Print Run: 713 sets
175 Nomar Mazara, Texas Rangers
176 Gary Sanchez, New York Yankees
177 Pete Alonso, New York Mets
178 Mike Trout, Los Angeles Angels
179 Eloy Jimenez, Chicago White Sox
180 Fernando Tatis Jr., San Diego Padres
Set 31 – 1995 Stadium Club Crystal Ball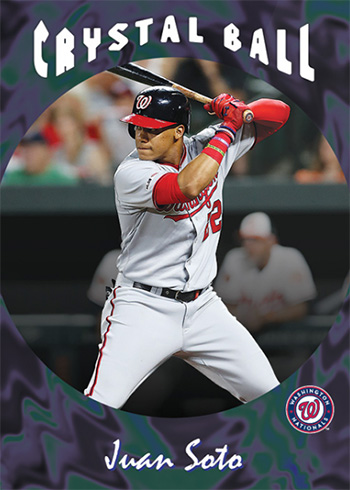 Date: August 1-8
Inspiration: 1995 Topps Stadium Club Baseball Crystal Ball
Print Run: 806 sets
181 Ronald Acuna Jr., Atlanta Braves
182 Shohei Ohtani, Los Angeles Angels
183 Vladimir Guerrero Jr., Toronto Blue Jays
184 Chris Paddack, San Diego Padres
185 Pete Alonso, New York Mets
186 Juan Soto, Washington Nationals
Set 32 – Two-Sport Athletes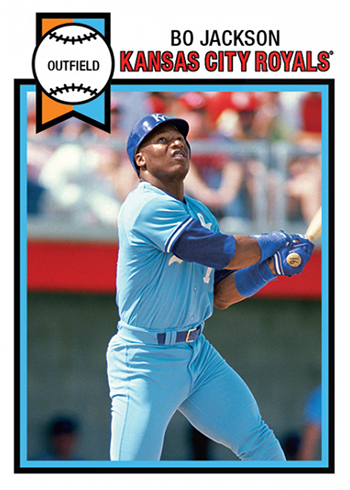 Date: August 8-15
Inspiration: 1979 Topps Football
Print Run: 327 sets
187 Tony Gwynn, San Diego Padres
188 Todd Helton, Colorado Rockies
189 Bo Jackson, Kansas City Royals
190 Deion Sanders, Atlanta Braves
191 Frank Thomas, Chicago White Sox
192 Joe Mauer, Minnesota Twins
Set 33 – Teenage Debuts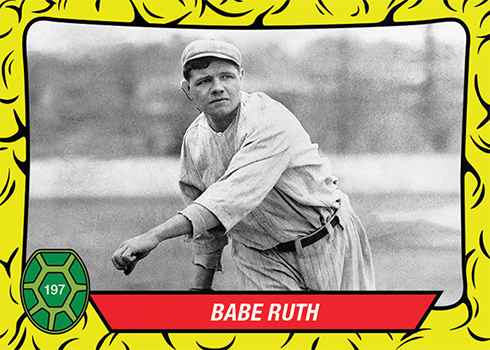 Date: August 15-22
Inspiration: 1989 Topps Teenage Mutant Ninja Turtles
Print Run: 557
193 Ken Griffey Jr., Seattle Mariners
194 Bryce Harper, Washington Nationals
195 Juan Soto, Washington Nationals
196 Mike Trout, Los Angeles Angels
197 Babe Ruth, Boston Red Sox
198 Manny Machado, Baltimore Orioles
Set 34 – 1993 Topps Black Gold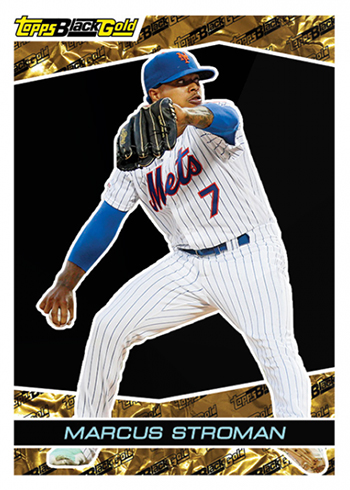 Date: August 22-29
Inspiration: 1993 Topps Baseball Black Gold
Print Run: 362 sets
199 Gio Urshela, New York Yankees
200 Bryan Reynolds, Pittsburgh Pirates
201 Clayton Kershaw, Los Angeles Dodgers
202 Justin Verlander, Houston Astros
203 Yasiel Puig, Cleveland Indians
204 Marcus Stroman, New York Mets
Set 35 – Premier Power Hitters
Date: August 29-September 5
Inspiration: 2002 Topps American Pie Sluggers
Print Run: 677 sets
205 Christian Yelich, Milwaukee Brewers
206 Mike Trout, Los Angeles Angels
207 Pete Alonso, New York Mets
208 Cody Bellinger, Los Angeles Dodgers
209 Ronald Acuna Jr., Atlanta Braves
210 Gleyber Torres, New York Yankees
Set 36 – 1969 Topps Football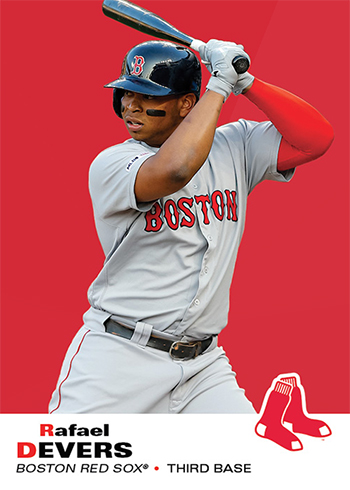 Date: September 5-12
Inspiration: 1969 Topps Football
Print Run: 832 sets
211 Vladimir Guerrero Jr., Toronto Blue Jays
212 Ketel Marte, Arizona Diamondbacks
213 Mike Yastrzemski, San Francisco Giants
214 Aaron Judge, New York Yankees
215 Keston Hiura, Milwaukee Brewers
216 Rafael Devers, Boston Red Sox
Set 37 – Breakout Seasons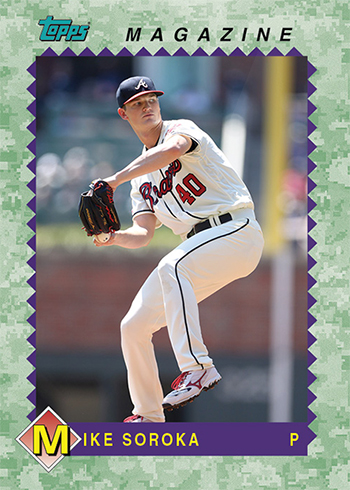 Date: September 12-19
Inspiration: 1990 Topps Magazine
Print Run: 331 sets
217 Javier Baez, Chicago Cubs
218 Jeff McNeil, New York Mets
219 Cavan Biggio, Toronto Blue Jays
220 Mike Soroka, Atlanta Braves
221 Bryce Harper, Philadelphia Phillies
222 Gerritt Cole, Houston Astros
Set 38 – 1988 Topps Big Baseball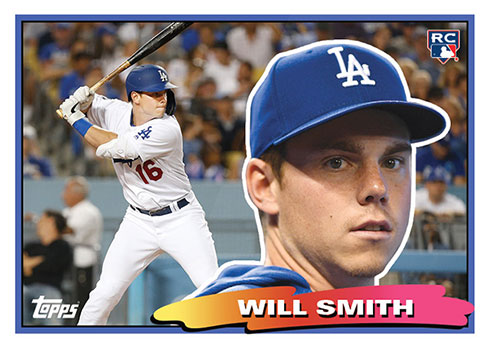 Date: September 19-26
Inspiration: 1988 Topps Big Baseball
Print Run: 677 sets
223 Eugenio Suarez, Cincinnati Reds
224 Pete Alonso, New York Mets
225 Alex Bregman, Houston Astros
226 Will Smith, Los Angeles Dodgers
227 Anthony Rendon, Washington Nationals
228 Austin Riley, Atlanta Braves
Set 39 – Out of This World Players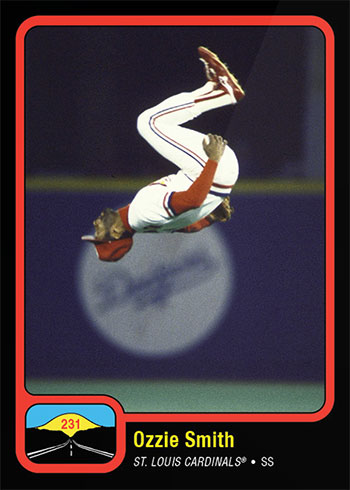 Date: September 26-October 3
Inspiration: 1978 Topps Close Encounters of the Third Kind
Print Run: 453 sets
229 Rickey Henderson, Oakland Athletics
230 Giancarlo Stanton, New York Yankees
231 Ozzie Smith, St. Louis Cardinals
232 Shohei Ohtani, Los Angeles Angels
233 Randy Johnson, Arizona Diamondbacks
234 Mike Trout, Los Angeles Angels
Set 40 – 2019 Postseason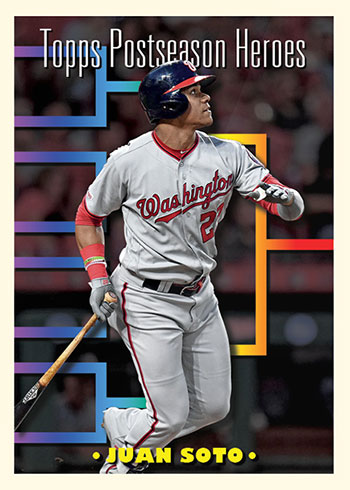 Date: October 3-10
Inspiration: 1993-94 Topps Basketball "Future Playoff MVP"
Print Run: 445 sets
235 Cody Bellinger, Los Angeles Dodgers
236 Justin Verlander, Houston Astros
237 Aaron Judge, New York Yankees
238 Ronald Acuna Jr., Atlanta Braves
239 Keston Hiura, Milwaukee Brewers
240 Juan Soto, Washington Nationals
CL-2 Vladimir Guerrero Jr., Toronto Blue Jays
Set 41 – Present and Past Franchise Stars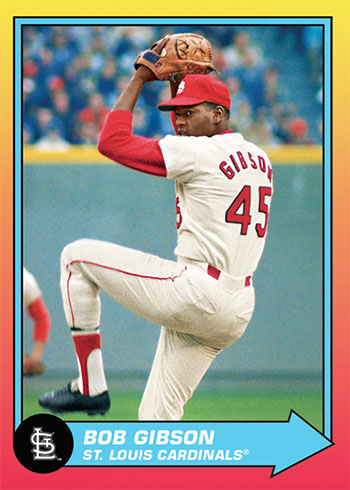 Date: October 10-17
Inspiration: 1989 Topps Back to the Future Part II
Print Run: 363  sets
241 Juan Soto, Washington Nationals
242 Vladimir Guerrero, Montreal Expos
243 Bob Gibson, St. Louis Cardinals
244 Jack Flaherty, St. Louis Cardinals
245 Aaron Judge, New York Yankees
246 Babe Ruth, New York Yankees
Set 42 – 1988 Topps Baseball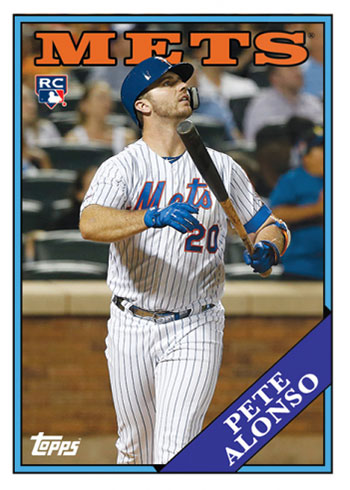 Date: October 17-24
Inspiration: 1988 Topps Baseball
Print Run: 875  sets
247 Gleyber Torres, New York Yankees
248 Vladimir Guerrero Jr., Toronto Blue Jays
249 Max Scherzer, Washington Nationals
250 Pete Alonso, New York Mets
251 George Springer, Houston Astros
252 Derek Jeter, New York Yankees
Set 43 – Iconic Postseason Performances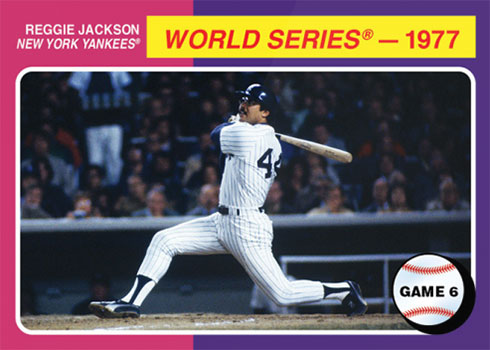 Date: October 24-31
Inspiration: 1975 Topps Baseball "World Series"
Print Run: 293  sets
253 Kris Bryant, Chicago Cubs
254 David Ortiz, Boston Red Sox
255 Reggie Jackson, New York Yankees
256 Carlton Fisk, Boston Red Sox
257 Tom Seaver, New York Mets
258 Luis Gonzalez, Arizona Diamondbacks
Set 44 – 2019 World Series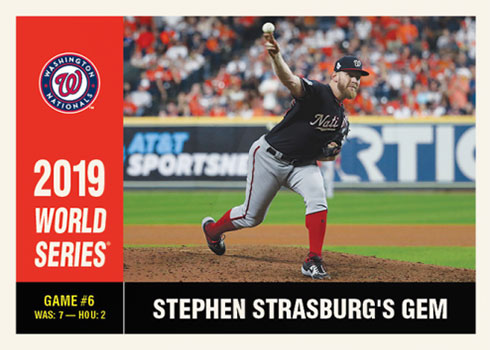 Date: October 31-November 7
Inspiration: 1960 Topps Baseball "World Series"
Print Run: 455  sets
259 Juan Soto, Washington Nationals
260 Kurt Suzuki, Washington Nationals
261 Michael Brantley, Houston Astros
262 Alex Bregman, Houston Astros
263 Gerrit Cole, Houston Astros
264 Stephen Strasburg, Washington Nationals
265 Patrick Corbin, Washington Nationals
Set 45 – 2019 Rookies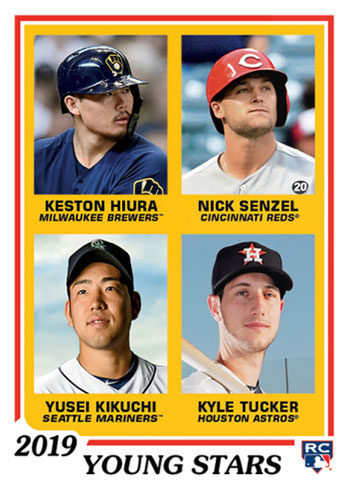 Date: November 7-14
Inspiration: 1978 Topps Baseball "Rookies"
Print Run: 1,296  sets
266 Pete Alonso, New York Mets/Chris Paddack, San Diego Padres/Jake Bauers, Cleveland Indians/Austin Riley, Atlanta Braves
267 Keston Hiura, Milwaukee Brewers/Nick Senzel, Cincinnati Reds/Yusei Kikuchi, Seattle Mariners/Kyle Tucker, Houston Astros
268 Eloy Jimenez, Chicago White Sox/Michael Chavis, Boston Red Sox/Willians Astudillo, Minnesota Twins/Carter Kieboom, Washington Nationals
269 Fernando Tatis Jr., San Diego Padres/Brendan Rodgers, Colorado Rockies/Luis Urias, San Diego Padres/Christin Stewart, Detroit Tigers
270 Vladimir Guerrero Jr., Toronto Blue Jays/Griffin Canning, Los Angeles Angels/Rowdy Tellez, Toronto Blue Jays/Mike Yastrzemski, San Francisco Giants
271 Cavan Biggio, Toronto Blue Jays/Justus Sheffield, Seattle Mariners/Dakota Hudson, St. Louis Cardinals/John Means, Baltimore Orioles
Set 46 – Single-Season Home Run Feats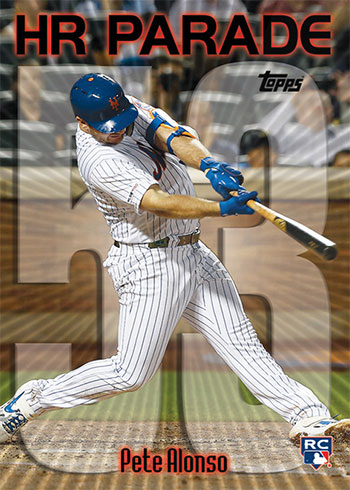 Date: November 14-21
Inspiration: 1999 Topps Baseball "Home Run Parade"
Print Run: 498 sets
272 Pete Alonso, New York Mets
273 Aaron Judge, New York Yankees
274 Sammy Sosa, Chicago Cubs
275 Mark McGwire, St. Louis Cardinals
276 Giancarlo Stanton, Miami Marlins
277 Albert Pujols, St. Louis Cardinals
Set 47 – 2019 Award Winners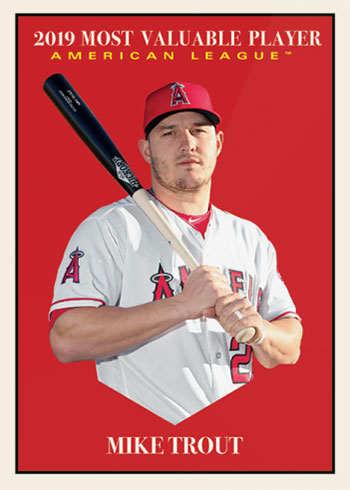 Date: November 21-28
Inspiration: 1961 Topps Baseball "MVP"
Print Run: 879 sets
278 Mike Trout, Los Angeles Angels
279 Cody Bellinger, Los Angeles Dodgers
280 Justin Verlander, Houston Astros
281 Jacob deGrom, New York Mets
282 Stephen Strasburg, Washington Nationals
283 Pete Alonso, New York Mets
Set 48 – 2019 Impact Rookies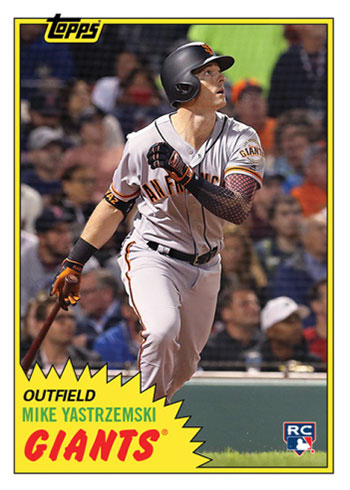 Date: November 28-December 5
Inspiration: 1981-82 Topps Basketball
Print Run: 1,156 sets
284 Fernando Tatis Jr., San Diego Padres
285 Vladimir Guerrero Jr., Toronto Blue Jays
286 Chris Paddack, San Diego Padres
287 Mike Soroka, Atlanta Braves
288 Pete Alonso, New York Mets
289 Mike Yastrzemski, San Francisco Giants
Set 49 – 1992 Topps Kids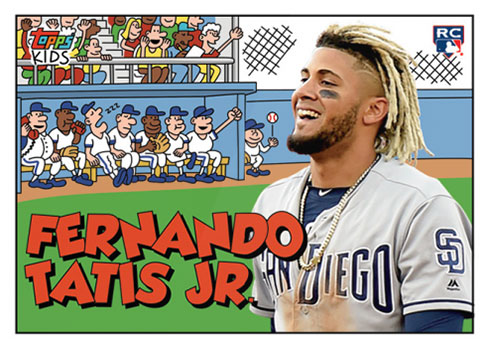 Date: December 5-12
Inspiration: 1992 Topps Kids Baseball
Print Run: 347 sets
290 Ronald Acuna Jr., Atlanta Braves
291 Juan Soto, Washington Nationals
292 Fernando Tatis Jr., San Diego Padres
293 Vladimir Guerrero Jr., Toronto Blue Jays
294 Cody Bellinger, Los Angeles Dodgers
295 Gleyber Torres, New York Yankees
Set 50 – Power-Hitting Outfielders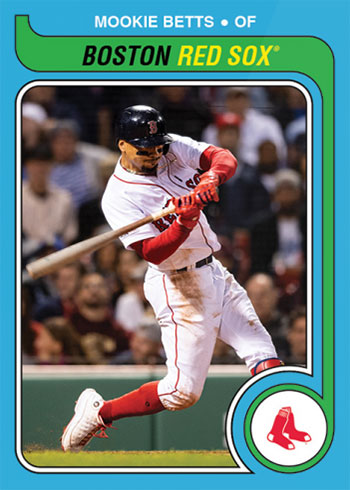 Date: December 12-19
Inspiration: 1979-80 Topps Hockey
Print Run: 347 sets
296 Mike Trout, Los Angeles Angels
297 Aaron Judge, New York Yankees
298 Bryce Harper, Philadelphia Phillies
299 Cody Bellinger, Los Angeles Dodgers
300 Mookie Betts, Boston Red Sox
301 Christian Yelich, Milwaukee Brewers
CL-3 Christian Yelich, Milwaukee Brewers
Set 51 – Homer at the Bat
Date: December 19-26
Inspiration: 1990 Topps Simpsons
Print Run: 385 sets
302 Ken Griffey Jr., Seattle Mariners
303 Don Mattingly, New York Yankees
304 Darryl Strawberry, New York Yankees
305 Ozzie Smith, St. Louis Cardinals
306 Jose Canseco, Oakland Athletics
307 Wade Boggs, Boston Red Sox
Set 52 – Elite Rookies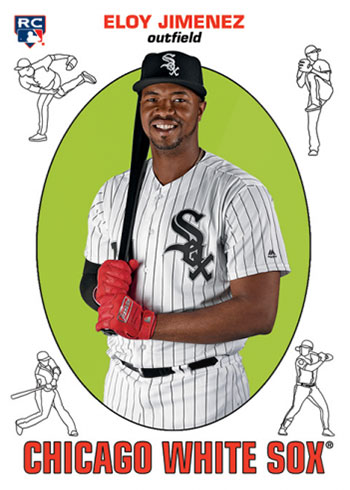 Date: December 26-January 2
Inspiration: 1969-70 Topps Basketball
Print Run: TBA
308 Pete Alonso, New York Mets
309 Vladimir Guerrero Jr., Toronto Blue Jays
310 Eloy Jimenez, Chicago White Sox
311 Fernando Tatis Jr., San Diego Padres
312 Austin Riley, Atlanta Braves
313 John Means, Baltimore Orioles
Team Sets