2019 Topps Star Wars: Rise of Skywalker trading cards mark the end of an era — at least for a while. It's not the last we're likely to see of Star Wars trading cards, but the release does put the bookend on the Skywalker films that began more than 40 years earlier.
Hobby boxes stick with a familiar format for a lot of recent Topps sets for the franchise. Each one has a pair of hits, one of which is guaranteed to be either an autograph or sketch card.

2019 Topps Star Wars: Rise of Skywalker Base Set Basics
The main set arrives with 99 cards covering characters, scenes from the movie and artwork. It's not yet known if the cards will cover the entire film. The first two films in the new trilogy have both received a second series that dove deeper into the story versus the largely spoiler-free Series 1 releases.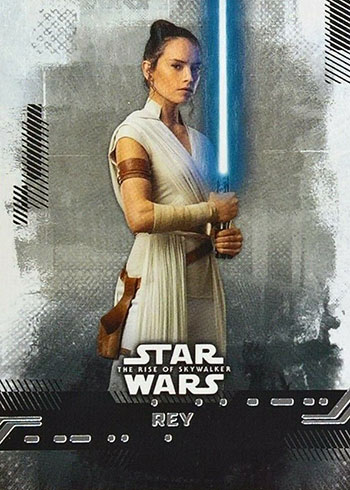 Collectors will find at least one parallel in every pack. Colors include Blue, Green (1:2 packs), Purple (1:4), Orange (/99), Gold (/25), Printing Plates (1/1) and Black (1/1). Orange and Printing Plates are only in hobby packs.
Autographs and Memorabilia Cards
Autographs come with signatures from actors appearing in Rise of Skywalker. Highlights include Daisy Ridley (Rey), John Boyega (Finn) and Billy Dee Williams (Lando Calrissian). Dominic Monaghan and Naomi Ackie are among those on the checklist appearing in their first Star Wars film.
Sticking with recent years, autographs have parallels with colors running in tandem with other inserts: Green (/99), Purple (/50), Red (/25), Orange (/10), Gold (/5), Printing Plates (1/1) and Black (1/1).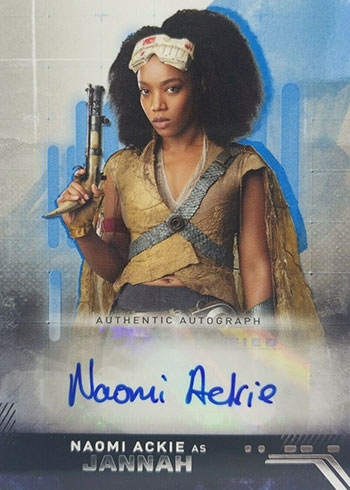 Dual and Triple Autographs are also available as is a double-sided Six-Person Autograph card.
Among the other premium cards are Costume Relics that have Orange (/50), Gold (/25) and Black (1/1) versions.
2019 Topps Star Wars: Rise of Skywalker also debuts the first Millennium Falcon relic cards. These have pieces from the ship. They're not easy to come by, though, with base versions having just 15 copies each.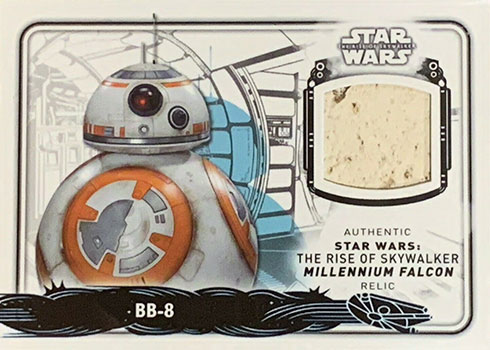 Additional Inserts
Regular inserts also combine to land one per pack. These include five themes: Crush the Resistance, Illustrated Characters, Long Live the Resistance, May the Force Be With You, and Ships and Vehicles.
On top of the regular versions, these inserts have several parallels: Green (/299), Purple (/199), Orange (/99), Gold (/25), Printing Plates (1/1) and Black (1/1).
Character Stickers aren't rare but they do rank among the tougher of the set's regular inserts. These also don't have parallels.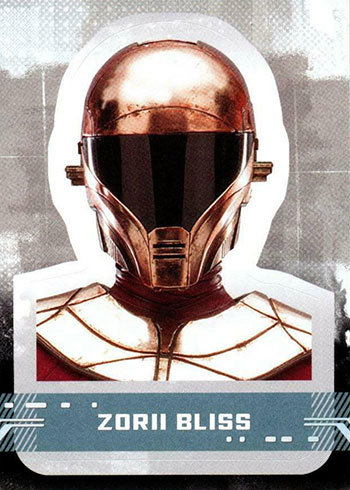 There are also Commemorative Medallions available in Purple (/99), Orange (/50), Gold (/25) and Black (1/1). Select medallion cards also have autographs.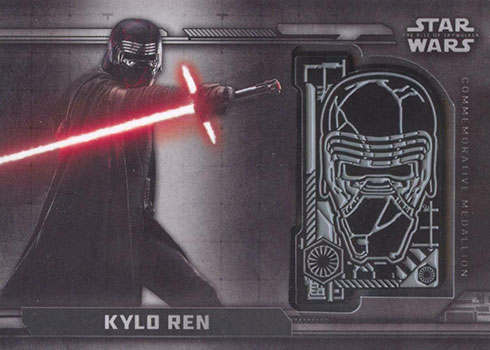 Sketch Cards have original are of characters from the film. Besides standard sketch cards, there are also shaped cards that are cut to look like a Sith Trooper helmet.
2019 Topps Star Wars: Rise of Skywalker trading cards at a glance:
Cards per pack: 8
Packs per box: 24
Boxes per case: 12
Set size: 99 cards
Release date: December 20, 2019
What to expect in a hobby box:
Autographs or Sketch Cards – 1
Additional Autographs, Sketch Cards, Printing Plates, Memorabilia Cards or Medallion Cards – 1
Kylo Ren Continuity Inserts – 1
Additional Inserts – 24
Parallels – 24
2019 Topps Star Wars: Rise of Skywalker Checklist
Base
Autographs
Memorabilia
Inserts
Sketch Cards