2019 Topps PKWY Baseball Cards Sock It to Collectors
First, they came with our underwear. Now, it's socks. 2019 Topps PKWY Baseball cards are exclusive to specially marked pairs of MLB-licensed socks made by PKWY.
Similar to the recent promo set included in Utz products, the cards are virtually the same as the 2019 Topps Baseball set. The only major difference is the addition of the PKWY logo on the front.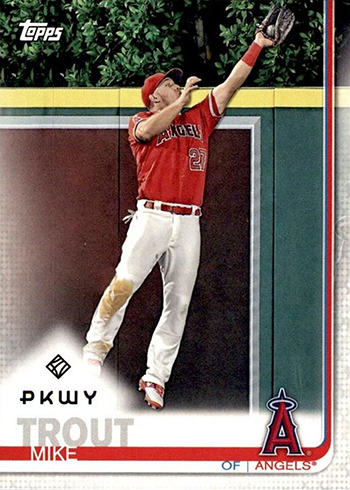 Images are the same as the ones used for the flagship set. This means that Paul Goldschmidt is still a member of the Arizona Diamondbacks despite an off-season trade to St. Louis.
Card backs drop stats in favor of details on the promotion.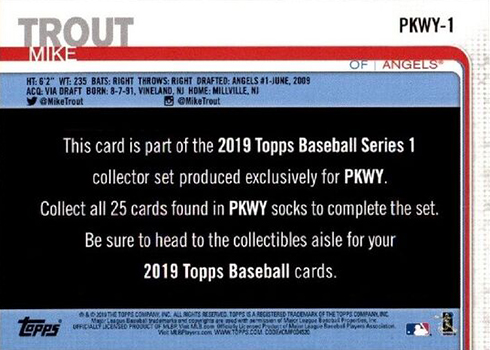 The 2019 Topps PKWY Baseball checklist has a total of 25 cards. Understandably, it focuses on top stars like Mike Trout, Mookie Betts and Aaron Judge.
2019 Topps PKWY Baseball packs each have three cards.
Specially marked socks can be found in stores as well as online through various retailers such as Target. Socks with the baseball cards are noted on the front of the package.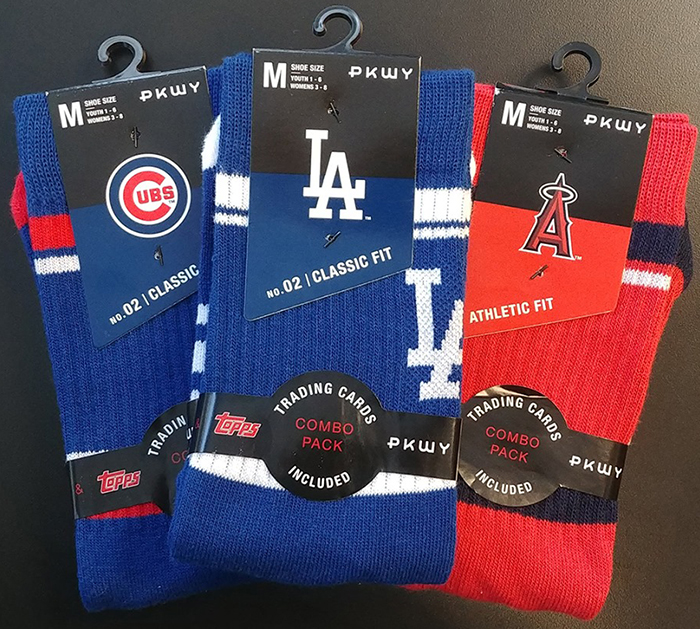 And while they don't appear to be overly common, for those who can't find socks locally or have no interest in them, cards can also be found on eBay.
2019 Topps PKWY Baseball Checklist
25 cards.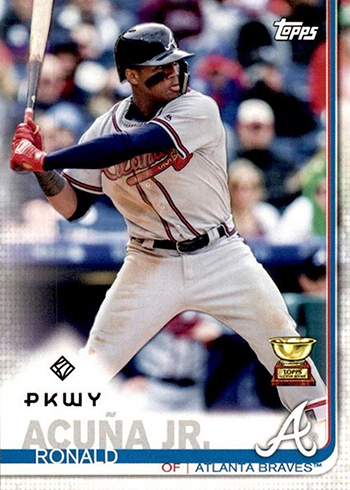 If you're looking for a specific card, click on the link to see what's currently available on eBay.
PKWY1 Mike Trout, Los Angeles Angels
PKWY2 Shohei Ohtani, Los Angeles Angels
PKWY3 Paul Goldschmidt, Arizona Diamondbacks
PKWY4 Ronald Acuna Jr., Atlanta Braves
PKWY5 Freddie Freeman, Atlanta Braves
PKWY6 Mookie Betts, Boston Red Sox
PKWY7 Christian Yelich, Milwauee Brewers
PKWY8 Kris Bryant, Chicago Cubs
PKWY9 Javier Baez, Chicago Cubs
PKWY10 Joey Votto, Cincinnati Reds
PKWY11 Francisco Lindor, Cleveland Indians
PKWY12 Nolan Arenado, Colorado Rockies
PKWY13 Carlos Correa, Houston Astros
PKWY14 Jose Altuve, Houston Astros
PKWY15 Justin Verlander, Houston Astros
PKWY16 Clayton Kershaw, Los Angeles Dodgers
PKWY17 Corey Seager, Los Angeles Dodgers
PKWY18 Jacob deGrom, New York Mets
PKWY19 Aaron Judge, New York Yankees
PKWY20 Gleyber Torres, New York Yankees
PKWY21 Rhys Hoskins, Philadelphia Phillies
PKWY22 Buster Posey, San Francisco Giants
PKWY23 Matt Carpenter, St. Louis Cardinals
PKWY24 Yadier Molina, St. Louis Cardinals
PKWY25 Max Scherzer, Washington Nationals