2019 Topps Now AAF Football Cards Highlight Action of New League's Debut Season
2019 Topps Now AAF Football captures the action and events of the Alliance of American Football's debut season.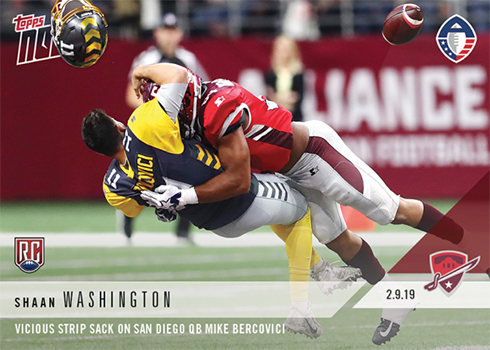 Available exclusively on the Topps website, the set has a print-on-demand format. Cards go up for sale with a 24-hour window. What's ordered is what gets printed. Once things are tallied, print runs are announced. This means varied quantities for different cards.
If you're buying individual cards, the cost is $9.99. Discounts are available for bundles of the same card as well as the week's set. Often, Topps Now cards can be found for a discount on eBay as well while they're still available for pre-sale.
While players get the spotlight, 2019 Topps Now AAF Football is more about the story of the season. It's the big plays, moments , milestones and more.
In addition to 2019 Topps Now AAF, the card maker has a traditional Alliance of American Football set that comes in packs as well.
2019 Topps Now AAF Football Checklist
If you're looking for a specific card, click on the link to see what's currently available on eBay.
Week 1
1 Jalin Marshall, Orlando Apollos – First Touchdown in Alliance of American Football History (2.9.19) – 614
2 Orlando Apollos – Debut "Orlando Special" in Offensive Drubbing (2.9.19) – 320
3 Terence Garvin, Orlando Apollos – 51-Yard Pick-Six Highlights Two-Interception Debut (2.9.19) – 312
4 Shaan Washington, San Antonio Commanders – Vicious Strip Sack on San Diego QB Mike Bercovici (2.9.19) – 736
5 Trent Richardson, Birmingham Iron – Two Touchdowns Lead Offense in Birmingham Iron Debut (2.10.19) – 338
6 Birmingham Iron – Defensive Shutout in 1st Game in Franchise History (2.10.19) – 307
7 Rashad Ross, Arizona Hotshots – 2 TDs, 103 Yards Leads Offense in Week One Win (2.10.19) – 329
Week 2
8 Jamar Summers, Birmingham Iron – Forced Fumble on Special Teams Leads to TD and Ignites Comeback (2.16.19) – 279
9 Zac Stacy, Memphis Express – First Ever 100-Yard Rushing Game in the AAF (2.16.19) – 220
10 Justin Stockton, Arizona Hotshots – 45-Yard Touchdown Run Ignites Comeback WIn (2.16.19) – 279
11 Ja'Quan Gardner, San Diego Fleet – 104 Yards, 2 TDs Propel Comeback Win (2.17.19) – 281
12 Kenneth Farrow, San Antonio Commanders – Acrobatic Dive for 15-Yard Touchdown Run Opens Scoring (2.17.19) – 258
13 Garrett Gilbert, Orlando Apollos – 393 Yards and 2 TDs Power 37 Point Offensive Outburst (2.17.19) – 224
14 Charles Johnson, Orlando Apollos – 192 Receiving Yards, 1 TD in 37-29 Victory (2.17.19) – 212
15 Keith Reaser, Orlando Apollos – Pick-6 in 4th Quarter Gives Apollos 37-29 Win (2.17.19) – 212
Week 3
16 Garrett Gilbert, Orlando Apollos – Impressive 21-Yard Touchdown Run Highlights Win (2.23.19) – 214
17 Trent Richardson, Birmingham Iron – 3-TD Game Seals 28-12 Victory for the Birmingham Iron (2.24.19) – 249
18 A.J. Tarpley, San Diego Fleet – 27-Yard Pick-Six Puts San Diego Fleet Ahead 12-8 in the Second Quarter (2.24.19) – 213
19 Ja'Quan Gardner, San Diego Fleet – 83-Yard Touchdown Run Marks Longest Play in AAF History (2.24.19) – 258
Week 4
20 Ron Brooks, San Diego Fleet – First Punt Return Touchdown in AAF History (3.2.19) – 145
21 Charles Johnson, Orlando Apollos – Hauls in 9 Catches for 105 Yards (3.2.19) – 156
22 Kenneth Farrow, San Antonio Commanders – Sets New AAF Single-Game Rushing Record with 142 Yards (3.3.19) – 216
23 Ed Reynolds Jr., Atlanta Legends – First Safety in AAF History (3.3.19) – 148
24 Aaron Murray, Atlanta Legends – Takes Over as QB and Leads Atlanta Legends to First Franchise Win (3.3.19) – 164
Week 5
25 Keith Reaser, Orlando Apollos – 40-Yard Pick-Six Highlights 30-14 Victory (3.9.19) – 219
26 Donny Hageman, San Diego Fleet – Nails Game-Winning Field Goal as Clock Expires (3.9.19) – 222
27 Younghoe Koo, Atlanta Legends – Hits Game-Winning Field Goal with 0:13 Remaining (3.9.19) – 242
28 Aaron Murray, Atlanta Legends – 300-Yard Passing Game Leads Atlanta to Victory (3.9.19) – 229
29 Derron Smith, San Antonio Commanders – 66-Yard Pick-Six Highlights 2-INT Game (3.10.19) – 246
Week 6
30 Karter Schult, Salt Lake Stallions – 2 Sacks, 4 QB Hits Leads Dominant Defense (3.16.19) – 373
31 Jhurrell Pressley, Arizona Hotshots – 2 Touchdowns Lead Arizona to Upset Victory (3.16.19) – 272
32 Greg Ward Jr., San Antonio Commanders – 79-Yard Punt Return TD Highlights Commanding Victory (3.17.19) – 272
33 Dontez Ford, San Diego Fleet – 3 Receptions of 40+ Yards Highlight Huge 182-Yard Receiving Performance (3.17.19) – 261
34 L'Damian Washington, Birmingham Iron – AAF-Record, 83-Yard Receiving TD Highlights 128-Yard, 2-TD Game (3.17.19) – 274
35 Johnny Manziel, Memphis Express – Signs with Memphis Express in Return to Football (3.17.19) – 585
Week 7
36 De'Veon Smith, Orlando Apollos – 3 Rushing Touchdowns Highlight Apollos Victory (3.23.19) – 226
37 Orlando Apollos – Dominant 36-6 Victory Clinches Playoff Berth (3.23.19) – 251
38 Trey Williams, San Antonio Commanders – Diving 36-Yard TD Caps 19-15 Victory (3.23.19) – 246
39 John Wolford, Arizona Hotshots – Totals 3 Touchdowns in 32-15 Victory (3.24.19) – 248
40 Johnny Manziel, Memphis Express – Scrambles for First Down in AAF Debut (3.24.19) – 391
41 Brandon Silvers, Memphis Express – TD Pass Secures First Overtime Victory in AAF History (3.24.19) – 339
Week 8
42 Trent Richardson, Birmingham Iron – Rushes for 83 Yards, Scores 11th Rushing TD (3.31.19)
43 Rashad Ross, Arizona Hotshots – 58-Yard TD Reception Highlights 23-6 Victory (3.31.19)