There Are Monster Baseball Cards and Then There's This from 2019 Topps Luminaries
When you click on links to various merchants on this site, like eBay, and make a purchase, this can result in this site earning a commission.
Typically, when someone lands a big baseball card, it's used to describe something highly coveted, scarce or valuable. But sometimes a big baseball card is actually, well, big. Such is the case with a pull made by Jaspy's Case Breaks on Tuesday, night.
During a group break, they pulled a 2019 Topps Luminaries Home Run Kings Ultimate Book Card. On the card? Signatures from 50 different players.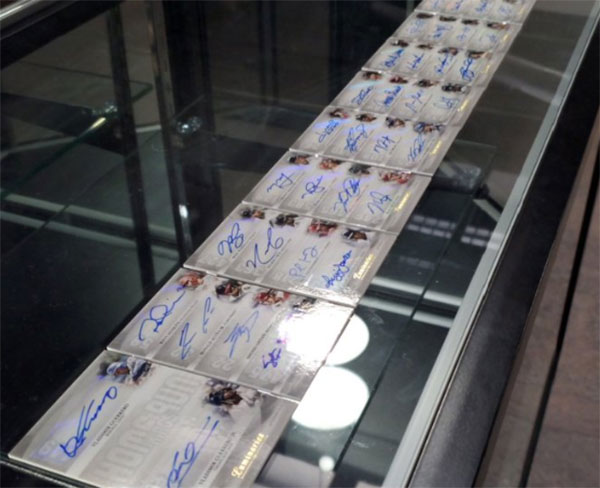 "I was sorting some previous breaks in the back and heard Joe shouting. I knew he was breaking Luminaries, a high-end product so it had to be something good," said Nick Jasperson. "We were both pretty shocked. We have never seen a card like this and we've both been breaking since 2014."
Here's our reaction video pulling it live on https://t.co/NuPxX7tA2x ? pic.twitter.com/FYmyWyX09f

— JaspysCaseBreaks.com (@jaspysbreaks) September 11, 2019
The card is a one-of-one and uses stickers for the signatures. 2019 Topps Luminaries has a similar Hit Kings Ultimate Book Card with many overlapping names. But that card has only 40 signatures.
Understandably, fitting so many autographs requires a lot of space. The book card starts with Vladimir Guerrero and Vladimir Guerrero Jr. on one panel before stretching out to 14 total panels. Not including the hinges that hold the whole thing together, that's about three feet of baseball card.
WHAT A MONSTER 1 OF 1 FROM 2019 @TOPPS LUMINARIES BASEBALL!

WOO WOOOOO! ?#collect #thehobby #groupbreaks #casebreak pic.twitter.com/2GYSEejOJL

— JaspysCaseBreaks.com (@jaspysbreaks) September 11, 2019
Jasperson did say that while the pull came during a break, it wasn't done as part of a team break. That would likely have required a random draw to determine who got the card given so many teams are represented. Instead, it was part of a random box break. There were three spots for three boxes. The boxes were numbered before they were opened and spots were assigned randomly.
"The customer who hit it, John, says he is not going to sell it," Jasperson said. "Instead, he will likely keep it and pass it down to his son and let him decide what to do with it."