2019 Topps Heritage Minors Variations Gallery and Guide
The 2019 Topps Heritage Minors variations take on a couple of forms. Both take different approaches, but neither is too difficult identify.
However, finding one of the SSP cards might be. Both variation types are tough, each falling 1:486 packs.
Image Variations
For starters, there are Image Variations. These are standard photo swaps. Similar to the MLB version of 2019 Topps Heritage, these variations switch out the portraits and other static shots from the base set and replace them with action photos. Players are hitting, pitching and fielding versus just standing around or posing with a grade school smile.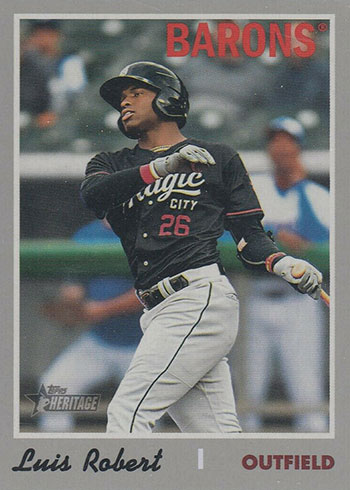 Missing Name Variations
Perhaps even easier to spot are the second type of SSP cards.
Missing Name Variations have no player name on the front. The block where it usually appears is empty. These jump out and are immediately noticeable if you come across one.
Both types of 2019 Topps Heritage Minors variations have ten cards. Six players overlap onto both checklists include Wander Franco, Luis Robert and Tim Tebow.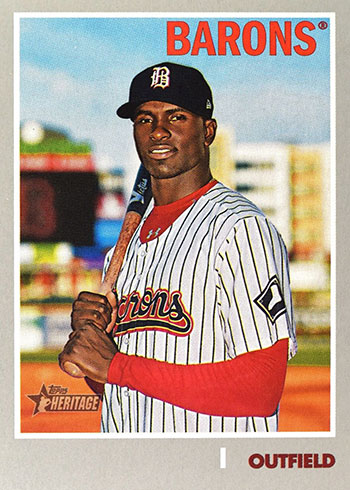 Code Confirmation
If you're not 100 percent sure whether you have a variation (despite the gallery below), you can also use the cards backs to confirm them.
The bold part at the end of the fine print has a code that's used to identify different types of cards. These are the endings you can use to tell a regular base card from the variations:
Base 636
Image Variation 651
Missing Name 652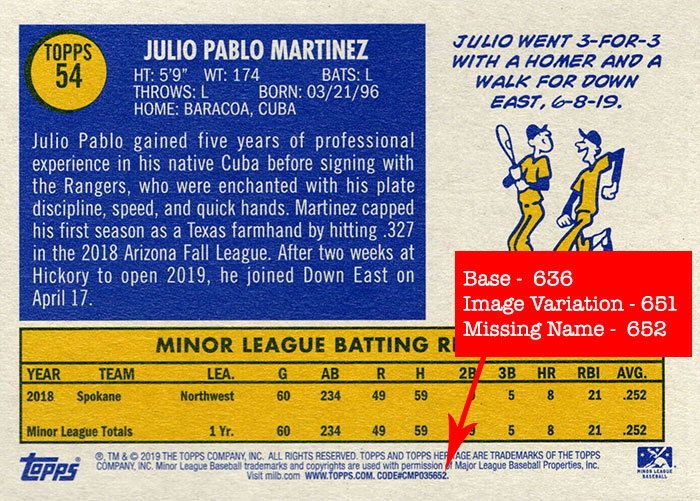 2019 Topps Heritage Minors Baseball Variations Checklist
1 Wander Franco – Image | Missing Name
23 Nolan Gorman – Image | Missing Name
32 Tim Tebow – Image | Missing Name
50 Casey Mize – Image | Missing Name
54 Julio Pablo Martinez – Missing Name
98 Blaze Alexander – Missing Name
114 Jo Adell – Image
119 MacKenzie Gore – Image
124 Jarred Kelenic – Missing Name
126 Dustin May – Image
133 Alec Bohm – Image
154 Luis Robert – Image | Missing Name
173 Brock Deatherage – Missing Name
180 Victor Victor Mesa – Image | Missing Name
2019 Topps Heritage Minors Variations Gallery
1 Wander Franco, Bowling Green Hot Rods
23 Nolan Gorman, Peoria Chiefs
32 Tim Tebow, Syracuse Mets
50 Casey Mize, Erie SeaWolves
54 Julio Pablo Martinez, Down East Wood Ducks
98 Blaze Alexander, Kane County Cougars
114 Jo Adell, Mobile BayBears
119 MacKenzie Gore, Lake Elsinore Storm
124 Jarred Kelenic, West Virginia Power
126 Dustin May, Tulsa Drillers
133 Alec Bohm, Clearwater Threshers
154 Luis Robert, Birmingham Barons
173 Brock Deatherage, Lakeland Flying Tigers
180 Victor Victor Mesa, Jupiter Hammerheads