2019 Topps Heritage Minors Baseball puts the 1970 spin on the game's prospecting and young stars. Going in several similar routes as its MLB counterpart, the checklist includes several familiar designs. This is also where collectors can find on-card autographs from minor league players.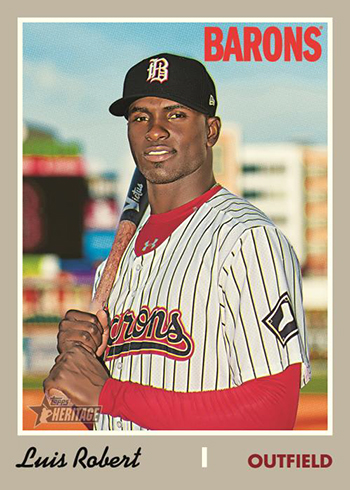 Each box of the hobby-only product has one autograph and one relic.
2019 Topps Heritage Minors Baseball Base Set Basics
The main set, which draws from 1970 Topps Baseball, has a total of 200 cards. Besides basic player cards covering every level of MiLB, there are a couple of subsets. Sporting News All-Stars burst out from the newspaper with key players. League Leaders spotlight those with the best numbers.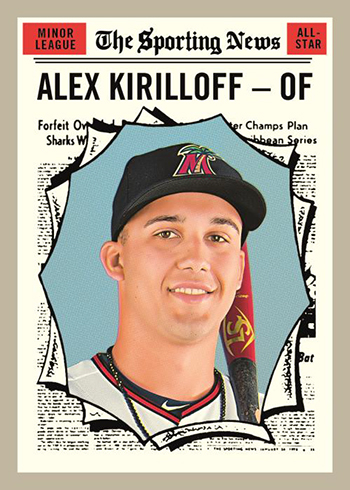 In true Heritage fashion, short prints round out the base set, making things a little more challenging in the process.
Parallels come in four levels including Blue Border (/99), Black Border (/50) and one-of-one Red Border. New for 2019 are Gold Border cards, which are a case hit.
Select cards also have short print Image Variations. These are stealth inserts that look like regular base cards but have different photos and are much tougher to find.
Autographs, Memorabilia Cards and Other Inserts
Real One Autographs highlight the signature chase. These are signed on-card and look similar to the main set. Parallels come in Blue Border (/99), Black Border (/50), Player Name Color Change (/25) and Red Border (1/1).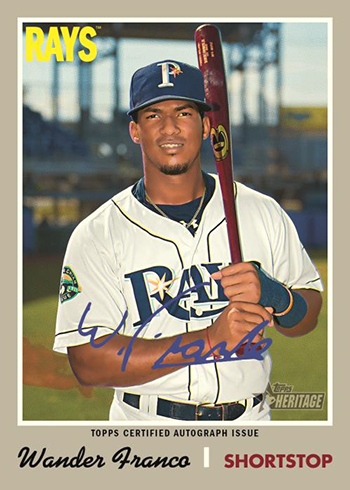 Image Variation Autographs have 50 copies each while Real One Dual Autographs are numbered to 20.
Other signature inserts in 2019 Topps Heritage Minors include Bazooka Autographs (/50, Red – 1/1) and Fresh on the Scene Autographs (/99).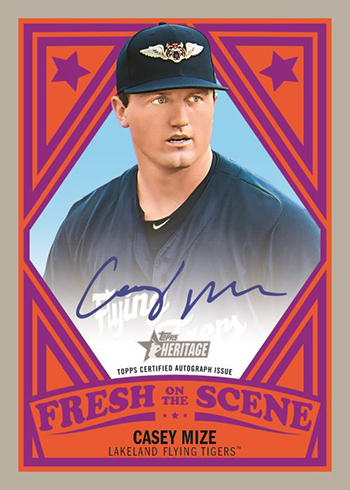 On the memorabilia side, there are Clubhouse Collection Relics. These use both game-used jersey and bat swatches. In addition to the base versions are Blue (/99), Black (/50), Orange (/25) and Red (1/1) parallels.
'70 Mint Relics (/99) have a coin embedded in them. Parallels are available in Black Quarter (/50) and Red Quarter (1/1). Some cards also have autographs (/10).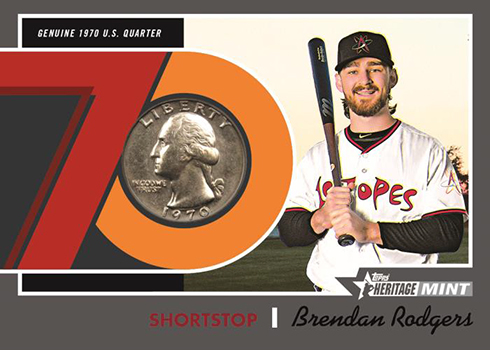 Two new insert sets join the checklist: Fresh on the Scene and Fantastic Feats.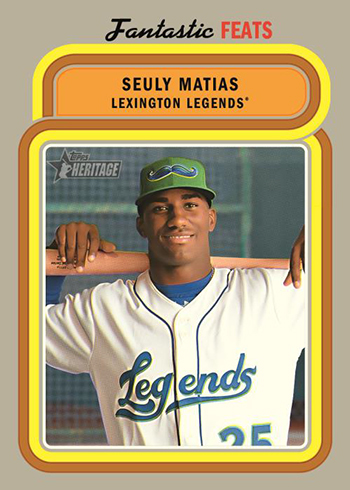 Outside of the regular packs, each hobby box also has a 1970 Topps Super Baseball Box Loader. Autograph versions have 25 copies each.
Make Your Pro Debut
The Make Your Pro Debut promotion returns in 2019 Topps Heritage Minors Baseball. Inside each box are two entries for a grand prize that includes both a one-day contract with the Rocket City Trash Pandas but a card in 2020 Topps Pro Debut Baseball as well.
2019 Topps Heritage Minors Baseball cards at a glance:
Cards per pack: 8
Packs per box: 18
Boxes per case: 12
Set size: 200 cards
Release date: September 25, 2019
What to expect in a hobby box:
Autographs – 1
Memorabilia or Manufactured Relic Cards – 1
1970 Super Baseball Box Loaders – 1