2019 Topps Gold Label Baseball Checklist and Team Set Lists
2019 Topps Gold Label Baseball isn't a product with a massive checklist. While it has some inserts, there aren't a lot of them. And what is there is virtually all autographs or different spins on base cards.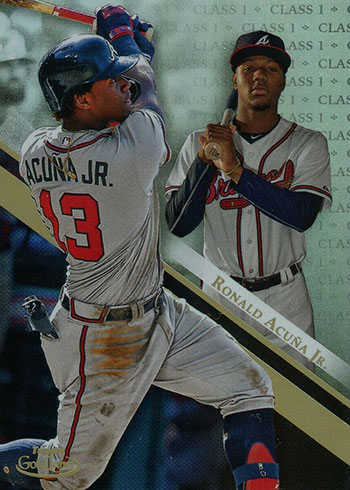 Once again, there are a couple of anchors that stand out in the release. The first is the base set, which offers three different versions for each player. The other is framed autographs, which combine to land one per hobby box.
2019 Topps Gold Label Baseball Base Set Basics
The main part of the checklist features 100 players. However, each card has three different versions: Class 1, Class 2 and Class 3. Class 1 is the most common and is considered to be the base set. However, the names and numbers don't change as you shift into the other two classes.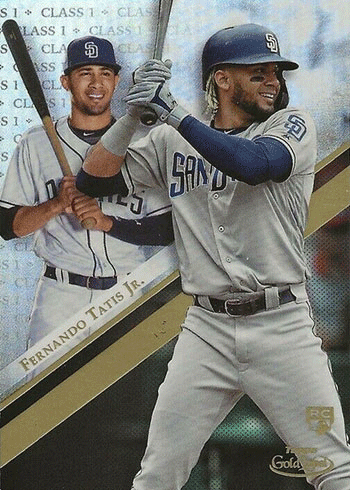 What does change is the image.
In addition to the different tiers, each has a similar mix of parallels: Black (Class 1 – 1:2 packs, Class 2 – 1:6 packs, Class 3 – 1:20 packs), Blue (Class 1 – /150, Class 2 – /99, Class 3 – /50), and Red (Class 1 – /75, Class 2 /50, Class 3 – /25). There's also Gold versions, which are one-of-ones no matter the level.
Autographs and Memorabilia Cards
Framed Autographs make up the bulk of the signature content in 2019 Topps Gold Label Baseball. Parallels for these come in similar colors to the base set: Black (/75), Blue (/50), Red (/25) and Gold (1/1).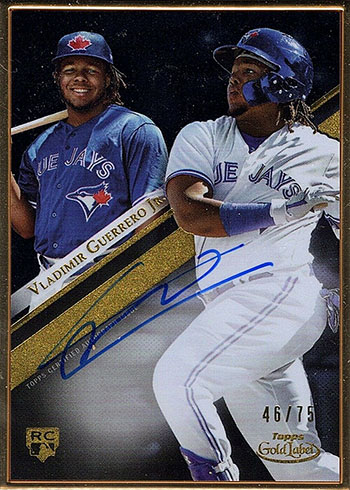 One of the new additions this year are Framed Dual Autographs, which have signatures from a pair of players. Black (/5) and Gold (1/1) are the only parallels here.
Golden Greats Framed Autograph Relics add memorabilia. Black versions come numbered to 75 while Gold are one-of-ones.
As far as traditional memorabilia cards go, only past players are included in the returning MLB Legends Relic cards. Two levels of parallels both come with 5 copies or less.
Going in a different direction with "relics" are Gold Prospect cards. Highlighting young MLB players, these have small gold pieces instead or uniform swatches. Black parallels come with five copies while Black are one-of-a-kind.
2019 Topps Gold Label Baseball cards at a glance:
Cards per pack: 5
Packs per box: 7
Boxes per case: 16
Set size: 100 cards
Release date: October 16, 2019
What to expect in a hobby box:
Autographs – 1
Class 2 Black Parallels – 1
Class 1 Black Parallels – 3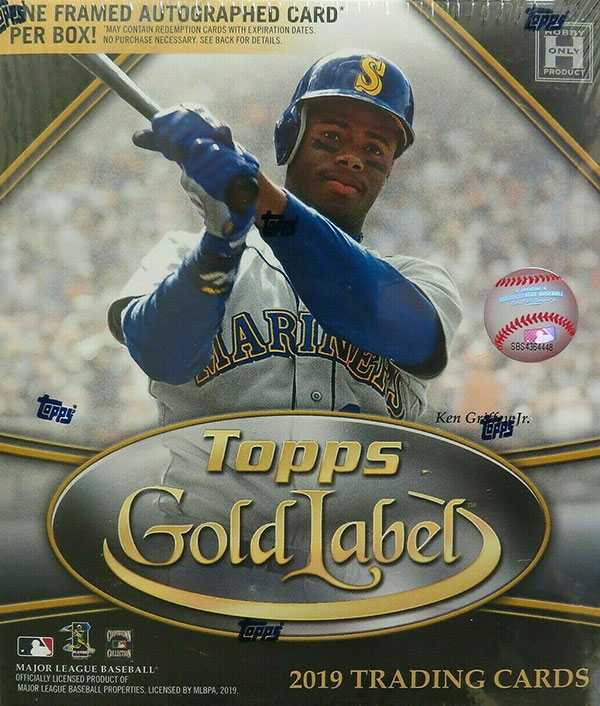 2019 Topps Gold Label Baseball Checklist
Base
Autographs
Memorabilia
Team Sets